Twins X 2 Boost Unbeaten Mattawan
January 22, 2019
MATTAWAN — With two sets of twins on his team, seeing double is nothing new for Mattawan boys basketball coach Ward Helakoski.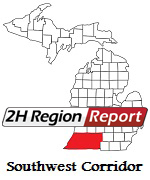 Jaden and Kelby Mabin are fraternal twins, but Matthew and Luke Pelak are identical. Telling the latter two apart was never much trouble for Helakoski, a Mattawan Middle School counselor who has known them since sixth grade, because Matthew and Luke were different sizes.
Then this year happened.
"Matt's caught up (to Luke) this year, so that's created some confusion," Helakoski said. "They came in off the summer both tan from golfing,
"Hair was exactly the same. You'd almost have to look at them to see which was which. That was tougher for a while."
Helakoski has figured it out, and the two sets of twins have found their best ways to contribute to Mattawan's 10-0 start this winter.
The twins are four of eight seniors on the team and keys to the Wildcats' success so far, said Helakoski, in his sixth year coaching the team. The Mabins and Matthew Pelak are starters, while Luke Pelak is first off the bench.
Between them, the Pelaks average 14 points, five rebounds and three assists per game. The Mabins combine for 13.2 points, eight rebounds and three assists.
And being a twin has its advantages, all four say.
Jaden Mabin said it is not so much the double looks he and his brother get, but "It's just fun having a brother who's been there with you for years right by your side.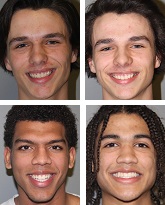 "We always want to see each other do the best. We're always competing. I want to get more points than you, I want to make more shots than you. It's kind of a friendly rivalry."
Kelby Mabin, quick with a quip, does not quite agree.
"He might think we have competition, but we don't," he said of his twin. "It's a one-sided battle if it is.
"I do outscore him; I do outplay him. It's not competition," he added, laughing.
The Mabins have three older siblings, and Kelby is the youngest of the two by three minutes. The Pelaks are the middle two of 11 children and the only twins, with Matthew the older of the two.
The Pelaks use their friendly rivalry to keep each other sharp on the court. "We always guard each other in practice and take it at each other," Luke Pelak said.
But being identical can be confusing to opponents and referees.
"It's obviously a lot of fun," Luke said. "Even my parents confuse us sometimes if we're facing the other way.
"Kids on the court actually confuse us, too. They'll get in arguments about who's guarding who."
Mattawan is anchored by 6-foot-10 Division I college prospect Nolan Foster, and has been augmented this season by the addition of 6-4 senior guard Dexter Shouse, another Division I recruit whose father Dexter played a season in the NBA and overseas.
Mattawan has a one-game lead on Stevensville Lakeshore in the Southwestern Michigan Athletic Conference West and finishing second to Kalamazoo Central in the SMAC East last winter. Jaden Mabin said a key is the team has really stepped it up on defense – the Wildcats have allowed only Lakeshore to score 50 points, and that was in a double overtime win earlier this month. He added that the team has upped its tempo as it looks to improve on last season's 15-7 finish.
Luke Pelak adds a boost off the bench, and brother Matthew said he admires his brother's composure as the sixth man.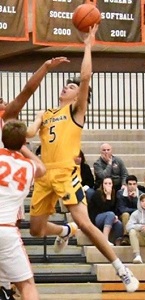 "It was kind of tough seeing him not being able to start because I know how good he is, but I think he took it really well and he's playing his role this year," he said.
While all four enjoy the twin thing, all four are going to different colleges this fall. Of the four, only Kelby Mabin is hoping to play basketball.
"I love the talent it requires," said Mabin, who has not yet settled on a college destination. "I feel that unlike other sports, you have to play defense and offense but you also have to have the IQ.
"It's not just running the ball up and down the field and whoever has the most endurance, but who has the most skill and talent and athleticism."
Jaden Mabin grew up thinking he would play basketball in college and beyond. But he opted for a football scholarship to Grand Valley State University instead although he received Division III basketball interest.
"It would be cool (to go to the same school as Kelby), but I want to be myself," said Jaden Mabin. "I don't want to be referred to as 'Jaden-Kelby.' I want 'Jaden.' I've been with him long enough.
"It's been 17 years, so I think it's time for us to be apart. A lot of twins dress alike. That's not us. I want to be as opposite him as possible."
The Pelaks are both headed to college on golf scholarships, Luke to Wayne State and Matthew to Eastern Michigan.
"It will be the first time we're separated," Matthew Pelak said. "It was more just wanting to have our own experiences with college, but we're still close enough where we can hang out sometimes.
"We just wanted to have our own individual college experience."
Tanner Knapp and Thomas Unold are the other two seniors on Mattawan's boys basketball team. Juniors are Michael Lampos, Drew McNulty, Jalen Jones and Parker Miller. Luke Kerrins is the lone freshman on varsity. Assistant coach is Josh Brown.

Pam Shebest served as a sportswriter at the Kalamazoo Gazette from 1985-2009 after 11 years part-time with the Gazette while teaching French and English at White Pigeon High School. She can be reached at pamkzoo@aol.com with story ideas for Calhoun, Kalamazoo and Van Buren counties.
PHOTOS: (Top) Mattawan's Jaden Mabin (32) looks to make a move in the post. (Middle) From top left: Matthew Pelak, Luke Pelak, Kelby Mabin and Jaden Mabin. (Below) Luke Pelak works to get a shot up Friday against Portage Northern. (Action shots by Erfan Pirbhai, head shots by Pam Shebest.)