Western Ends Perfect Run with 1st Title
By Bill Khan
Special for Second Half 
EAST LANSING — Even in their own city, even after all they'd accomplished this season, Detroit Western International's basketball players were somewhat of a curiosity when they showed up at Calihan Hall to play in the MHSAA Class A Quarterfinals on Tuesday. 
Western had been this far only twice in its long history — and neither occasion was recent history. The Cowboys reached the Quarterfinals in 1922 and the semifinals in 1974, long before any of the current players were born.
"That's why so many eyebrows were raised," junior guard Brailen Neely said. "When we were at Calihan, they hear Western and they're like, 'Western? They've never had a program.'" 
The Cowboys do now — the undisputed No. 1 program in Michigan in 2014-15. 
Western completed a perfect season by beating sixth-ranked Saginaw Arthur Hill, 62-59, in the MHSAA Class A championship game Saturday at the Breslin Center.
The Cowboys finished 26-0, including a 69-57 overtime victory over Arthur Hill in their second game. On only five occasions did a team come within single digits of Western. It was the first MHSAA championship in any sport for the school, which was the 1972 Class A runner-up in baseball and had been past the Regionals only five times in bracketed sports.
"It's really big for the community," senior guard Josh McFolley said. "The community hasn't had this in a very long time. It's really big for the school. It's really big for coach (Derrick McDowell) and the team. We've worked hard for this from day one." 
Not only has Western historically played in the shadows of Detroit's powerful programs, but the Cowboys were coming off a season in which they gave little indication that they would take the state by storm this winter. Western showed promise two years ago, going 12-7 in McDowell's second season at the school, but the Cowboys slumped to 6-13 last winter. 
Even Neely admits he never expected such a dramatic turnaround.
"I thought we would do better, but never state champs," said Neely, who was on the varsity as a freshman.
Neely said the big difference was that the team paid better attention to McDowell, who coached now-defunct Detroit Redford to Class A runner-up finishes in 1997 and 2002. 
"It was a process," Neely said. "Our freshman year, we were young and had only one senior. We had a lot of growing to do. Our next year, our 10th-grade year, we thought we had it. We weren't listening. We were knuckleheads, and it showed in our game. We didn't have our best year. People weren't coming to see us, which humbled us. This year, we're on coach Mac's page and he led us to tremendous success."
With sophomore Brian Bowen scoring 10 of his game-high 21 points in the second quarter, Arthur Hill (24-4) grabbed a 25-21 lead heading into halftime. 
There were seven lead changes in less than four minutes during the third quarter before Western took the lead for good at 33-32 on two free throws by Neely with 2:28 to go in the period. Those shots ignited what proved to be a decisive 16-2 run, as Western's lead grew to 47-34 with 5:19 remaining in the fourth quarter.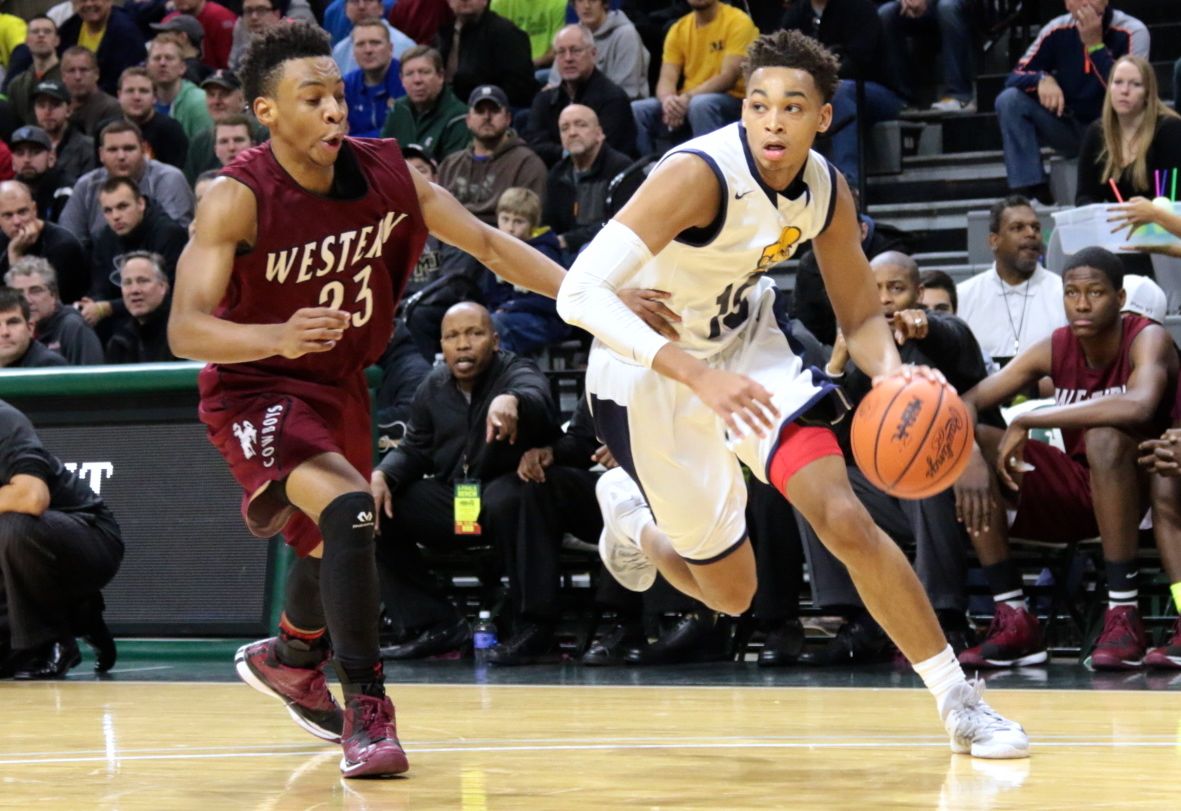 McFolley overcame an ankle sprain that he sustained before halftime to lead the surge, scoring 10 points during the third quarter. He hit two 3-pointers and scored twice when he stole the ball and went in for layups. He limped noticeably after the game, but showed no signs of the injury during the second half. 
"I knew the adrenaline was going to go through me," McFolley said. "I was going to forget about the pain. It's the biggest game of my career. My team needed me. I had to go back out there."
With Bowen scoring nine fourth-quarter points, the Lumberjacks battled back to within four points twice in the final minute. Nate Moore scored with four seconds left to get Arthur Hill within three, but the Lumberjacks were out of timeouts and Western didn't need to inbound the ball. 
"We knew it was going to be tough," McDowell said. "We played them the first time down in Detroit. They were up 13 at the half. The only way we got back in the game was from the defense the first time we played them. At halftime, that was the big emphasis, getting them in the full court, making them work to get down the court. We kind of looked at it like a football field where you have to work to get to the goal line."
Western was led by McFolley with 19 points and Gerald Blackshear with 16 points and 12 rebounds. As transfer students this winter, neither played in the first Arthur Hill game or during their team's 8-0 start. 
"To be honest with you, I knew they were coming, but I had all the pieces anyway," McDowell said. "Those were just extra pieces, I thought. We weren't looking for them to come in and be Superman and Batman and save us. We had enough to win, which showed early in the year when we won without them. What that did was shut up the naysayers who thought the only way we could do it was with those two. We proved them wrong. When they became eligible, it just added to it."
Karim Murray added 15 points for the Cowboys. 
Arthur Hill fell short in its bid to win its third MHSAA title to go with championships in 1944 and 2006.
Guard Eric Davis, the Mr. Basketball runner-up, placed the burden for the loss on his shoulders. 
"We just missed a couple of opportunities," said Davis, who had 15 points, six rebounds and three assists. "I take full responsibility for today's effort and our loss today. I want to thank my teammates and our coaching staff. They did a great job this year. I take full responsibility. I feel like I didn't step up like I needed to, but I've just got to move on now."
Arthur Hill coach Greg McMath appreciated the show of leadership from his four-year star, but wouldn't let Davis take the blame. 
"Like I told Eric (Friday) night, he's a kid who really transformed himself and put the program back where we wanted it to be, because he sacrificed a lot for his team, becoming a point guard and cutting down on his scoring to get everybody else involved to help these guys get better," McMath said. "We're a team. We win as a team; we lose as a team. Him accepting that, we'll take it, but we know it's not his fault, because he gave it everything he had."
Billy Burton had 10 points for Arthur Hill. 
Click for the full box score and video from the postgame press conference.
PHOTOS: (Top) Detroit Western International's Josh McFolley celebrates with his teammates the school's first MHSAA championship. (Middle) Arthur Hill's Eric Davis (10) works to get around McFolley.