The runners on the Fenton girls and boys cross country teams admired and respected coach Jesse Anderson before he placed 20th overall at the 2018 Boston Marathon.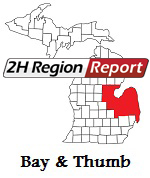 But that performance definitely didn't hurt his credibility.
"Like everyone else on the team, I was shocked and very proud when I heard the news," Fenton senior Nolan Day said. "It's so crazy to think that our coach that we see every day took 20th out of 30,000 in one of America's most prestigious marathon races. We all feel very lucky to have him as a coach as it is, and this just adds to it."
Anderson, who finished the marathon in 2 hours, 29 minutes and 19 seconds, is in his fourth year as coach at his alma mater. The 2008 graduate was a two-time all-state finisher and four-time MHSAA Finals qualifier for the Tigers. While he didn't run competitively while attending University of Michigan, he wound up picking the sport back up on his own and competed in road races before making the jump to marathons in 2013.
"The (Fenton) position came open in 2015, and I was encouraged to apply for the spot because I was running a business in town and I had picked up competitive running at the time after college," Anderson said. "I cared a lot about the program and wanted to have an impact at that level. It has surpassed my expectations."
In his first three seasons, the Fenton boys have qualified twice for the Division 1 Finals (2015 and 2017), and the girls qualified in 2017. Both teams are projected to finish first in their regions by Athletic.net, although the boys hypothetical Regional meet sees the Tigers tying Highland Milford for first and just one point ahead of Walled Lake Central. On the girls side, junior Alexa Keiser – who earned all-state finishes in both of her first two seasons at Fenton – has a top time this fall that once again would put her on stage at Michigan International Speedway on Nov. 3.
Anderson gives a lot of the credit for the team's success to his assistant coaches, Sue Larsen and Nathan Loersch.
"I couldn't do what I do without those two," he said.
He also said that both his experience as a high school runner and as a currently competitive runner are what he's needed to be a complete coach.
"They kind of go hand in hand," he said. "When I'm talking to the kids and communicating a workout, my experience as a runner in high school is more valuable, especially when it comes to racing tactics," he said. "But training to be consistent over road races has really taught me about making consistent habits. I wouldn't feel as complete as a coach without one or the other experience."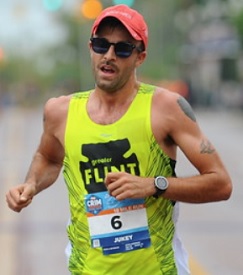 While Anderson acknowledges training for marathons is different than training for 5Ks, he also points out that there are plenty of similarities, which his experiences make him uniquely qualified to see.
The mileage an athlete is running per week may be different, but he said the rhythm of that week – when to rest, what to work out – is very much the same. And, of course, he has a willing participant to test the effectiveness of his workouts – himself. That helps him communicate why his high school athletes are running what they're running, and what it will do for them, something Anderson feels very strongly about.
His athletes appreciate all of the experience he brings to the table.
"As a person and a coach, we think very highly of him, and his decorated running resume backs his already trustworthy judgment and advice," Day said. "Just when I think that I couldn't have any more respect for him as a person and as a coach, his achievements keep on grabbing even more of my respect.
"When it comes to relating to his runners and understanding what they are going through, Coach Anderson's skills are unparalleled. He knows the stretches and fixes for every injury, and knows how to push his runners to their highest potential while not being detrimental. For these reasons, among many others, I truly feel Coach Jesse Anderson is the best cross country coach in the state of Michigan."
Of course, not all of Anderson's lessons are taught from his successes. In 2013, he attempted for the first time to run the Boston Marathon and had to drop out. It's the only race, Anderson said, he's hasn't finished.
"I didn't prepare very well," he said. "I was in the midst of starting up a business in town, and I had kept myself busy that weekend and drove out the day before. I didn't drink enough water. I drank too much coffee. I made a lot of mistakes, and I use it as an example now for coaching."
The 2013 race also served as a personal learning experience as Anderson prepared for the 2018 marathon, helping him to his biggest triumph at the site of what was previously his rare racing failure.
It was made more special by the group of Fenton runners he has been mentoring seeing that success.
"They've always been super supportive, and it was really heartwarming to have a bunch of people reach out to me," he said. "I really try not to make too much out of it because a lot of circumstances went into being able to place that high, but I would like to think I was just trying to practice what I preach to the kids. This wasn't the result of some Herculean effort. That said, it was pretty cool, and Boston is pretty recognizable to most people, so it was really cool to see the kids get excited about it."

Paul Costanzo served as a sportswriter at The Port Huron Times Herald from 2006-15, including three years as lead sportswriter, and prior to that as sports editor at the Hillsdale Daily News from 2005-06. He can be reached at paulcostanzo3@gmail.com with story ideas for Genesee, Lapeer, St. Clair, Sanilac, Huron, Tuscola, Saginaw, Bay, Arenac, Midland and Gladwin counties.
PHOTOS: (Top) Fenton coach Jesse Anderson is surrounded by his runners during their preseason camp at Sleeping Bear Dunes. (Middle) Anderson crosses the finish line 10th at the Aug. 25 Crim 10-mile run in Flint. (Top photo courtesy of Fenton cross country, middle by RunMichigan.com.)