Walker, Fremont Break Away for Sweep
November 6, 2020
Second Half reports
BROOKLYN — It was a dream that formulated in the mind of a young runner before he ever put on a Fremont High School cross country singlet.
"It's something I've been working for the last five, six years probably," senior Nathan Walker said after winning the MHSAA Division 2 championship Friday at Michigan International Speedway.
"It's a dream come true. I've come to state meets since when I was in middle school. I was like, 'That would be pretty cool to do.'"
Even cooler — and of more importance to Walker — was winning a second straight team championship with longtime teammates. Fremont scored 61 points to outdistance runner-up St. Johns, which had 126.
Fremont has won four Division 2 championships and finished second five times over the last 20 years.
"Fremont pulled the back-to-back," Walker said. "I put that above the individual title for me."
Walker led the way, cruising to an emphatic individual victory with a time of 15 minutes, 19.39 seconds on a windy afternoon with temperatures in the low 70s.
He covered the 3.1-mile MIS course alone, leading by eight seconds after a 4:51.4 opening mile and 27 seconds after reaching the two-mile mark in 9:49.0.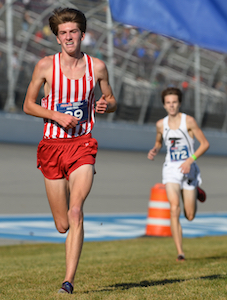 "I was just trying to get out there in the first mile, get comfortable, get into a rhythm," Walker said. "In the middle part of the race, stay smooth and relaxed, try to crank it in the last mile. That didn't go completely to play. It is what it is."
Pinckney junior Caleb Jarema was second in 15:42.97, establishing himself as the favorite for next year.
Walker was a four-time all-stater, placing 28th as a freshman, fifth as a sophomore and fourth as a junior.
"Honestly, I did not feel the greatest," Walker said. "It heated up. The wind kind of ate me up a little bit. I was sticking tough in the second half of the race, but it probably wasn't my greatest showing. It's done now. I'm happy with the placing."
Fremont's top five runners all made all-state by placing among the top 30. Conor Somers was fifth in 16:02.55, Ben Paige was 18th in 16:31.55, Joshua Zerfas was 26th in 16:37.39 and Adam Ward was 27th in 16:38.57 to complete Fremont's scoring.
"It's been an honor racing with those guys, some of them the last six, seven years," Walker said. "It's definitely helpful to have that culture, along with the coaches that we have."
PHOTOS: (Top) Fremont's Nathan Walker approaches the finish line well ahead of the Division 2 field Friday at MIS. (Middle) Fremont's Conor Summers and St. Johns' Ryan Brown close in on top-10 finishes. (Click for more from RunMichigan.com.)