1st-Day Leader Hackett Finishes Title Run
By Dean Holzwarth
Special for Second Half
ALLENDALE – Aiden Gillig didn't want to leave Kalamazoo Hackett Catholic Prep without accomplishing a goal that had eluded him in previous tries.
Gillig's soccer teams had fallen short twice in pursuit of Division 4 titles, but it turns out a smaller white ball did just the trick.
Hackett won its first MHSAA Finals since 2013 on Saturday, shooting the second round of a two-day 652 that bested runner-up Grosse Pointe Woods University Liggett by 11 strokes at The Meadows at Grand Valley State.
"This is my first state title, and I've been chasing one for the last four years," said Gillig, the lone senior on Hackett's team. "It's been tough to get runner-up twice for soccer, so this means a lot to get this one.
"I thought we came in underrated, and we showed the state we were the best team. And these young guys have the potential to win two more, and hopefully they do."
The Irish had a pair of golfers finish among the top 10. Junior Will Verduzco tied for fifth with a 156, and sophomore Tommy Keyte was seventh at 157.
Also contributing were sophomores Ryan Chafty (162) and Ben Bridenstine (177).
"We've been there all year, and we have three guys that can shoot in the 70s and Aidan and Ben are in the low 80s," Verduzco said. "That's what you need to compete in this tournament, and this is something we've thought about all year and worked toward.
"I think some people didn't see it coming, outside of the team, but it feels good to get it done."
Last season's Division 4 champion NorthPointe Christian moved to Division 3 this spring. But Hackett, after coming in fourth in 2018, returned its top four players from last season and won its Regional two weeks ago by a whopping 45 strokes.
"I think they knew a little more of what to do this year, and it was definitely an advantage for them to play in the Finals last year," Irish coach Jim Holton said. "The Meadows is a tough course, and you have to keep it out of the tall grass. We played pretty good yesterday, and I'm pretty happy overall with how they played. It was a total team effort today."
The Irish led by 14 strokes entering the final round after a first-day total of 323. Leland, Clarkston Everest Collegiate and Grosse Pointe Woods University Liggett all were tied for second at 337 after the first round.  
"This is a tough course to come from behind," Holton said. "As long as we played smart and didn't give up strokes, I knew it would be tough for a team to come from behind."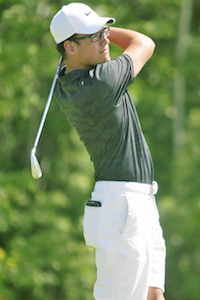 Clarkston Everest Collegiate senior Mitch Lowney, meanwhile, captured the individual title by shooting a 147 to win by a single stroke over two other players.
Lowney outlasted Clinton's Austin Fauser and Mount Pleasant Sacred Heart's Michael Zanoni. They both shot 148.
"Being a senior, I wanted to end on a good note," Lowney said. "Obviously, I wanted the team win, but a goal of mine was to win the individual state title and I knew I could do it. It was pretty intense out there at the end."
Lowney carded a first-day 73 and then followed it up with a 2-over-par 74. He finished his round with eight consecutive pars.
"I played very smart," Lowney said. "I hit driver a total of two times over the past two days, and I just played this course smart. I took my medicine when I did and played good overall."
Ironically, Lowney placed runner-up to Fauser as a sophomore. Lowney was fifth a year ago.
"I've been in the mix a lot, and it feels good to actually get one," Lowney said.
The Knights, which recorded their best Finals' finish since 2015, posted the lowest team total of Saturday (326).
"For very difficult conditions and a tough course, we played great," Liggett coach Dan Sullivan said. "They had the best round of the day, and we made up some ground on the first-place team by three strokes so I was very proud of them for that. And my three players that carried me at the end were two freshmen and a sophomore."
Junior Colin Degnore fired a final-round 76 for the Knights and finished tied for eighth at 157.
Sullivan said he believed Hackett was the team to beat.
"I thought Hackett was the best team in the state when I looked at scores of various tournaments," he said. "I thought they were head-and-shoulders above everybody else, and they would have to have a rough tournament for anyone else to have a chance. I thought we would be fighting with those other teams for second place."
PHOTOS: (Top) Hackett's Will Verduzco watches one of his shots during Saturday's second-round play at The Meadows. (Middle) Clarkston Everest Collegiate's Mitch Lowney hits an approach during his run to the individual championship. (Click to see more from HighSchoolSportsScene.com.)