Consistency Pays for Painesdale-Jeffers
May 30, 2013
By Justin Marietti
Special to Second Half
ESCANABA — The boys MHSAA Division 3 Upper Peninsula Golf Finals were not without their fair share of surprises Thursday.
But some of the teams and golfers who didn't expect to have success weren't arguing against it when they saw their names at the top of the leaderboard.
Painesdale-Jeffers came out victorious as the team champion, led by Stephen Butina's score of 80. The team's highest score was just an 88, and the scoring four shot a combined 333 overall.
"Anytime you win the U.P. title, you are happy," Painesdale coach Jason Koski said. "It's a tough course with a lot of elevated greens. But we were consistent and that's why we were able to win."
Koski said his team consists of four juniors and a sophomore, so it will be returning next year in their entirety.
"The guys golf a lot and put a lot of time in during the summer, and that's why they are successful," he added.
Following the champion was Bessemer, which fired a 335 and had two golfers finish among the top five individually. Derek Gheller tied for second with a 78, and Kevin Gerovac tied for fourth with an 80.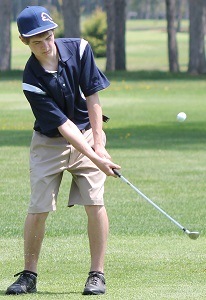 "I was really surprised actually," Bessemer coach Mark Movrich said. "We've had one meet and a practice and then we're here at the U.P. Finals. I knew we had some good golfers; I just didn't know what to expect. To come in second is a great accomplishment, and I'm really proud of them."
He added that like so many other U.P. teams, they had to fight against the weather this year to get practice in. However, although he said he was surprised, he knew his team was capable of putting up these numbers.
"It would have been nice to shave three strokes somewhere and get first place," he said. "But Jeffers had five guys within a few strokes of each other, and that's pretty tough to beat."
Powers North Central finished third with a team score of 344, and Tyler Polfus was eighth overall with a personal score of 82.
"All the boys came in at the mid to high 80s, so I feel great," Jets coach Denise Porath said. "We've been up and down all year, and I think the boys really came through. Some of the boys brought their strokes down by five or six, and that really helps."
Munising rounded out the four spot with a 352, followed by St. Ignace and Cedarville with 352.
The top individual score for the day was carded by Michael Mcgrath of Watersmeet, who edged several competitors with a 77.
"I had a good start, and I was able to finish well," Mcgrath said. "I can't believe it, honestly. Just one good day."
Hunter Eichhorn, Carney-Nadeau's eighth grade sensation, tied with Gheller for second place.
Although he had one of the top scores, Eichhorn felt he could have done much better.
"I didn't chip well to begin with, and I wasn't playing very well, but I didn't feel very good," he said. "It was alright, but there were a couple of places where I could have cut off a bunch of strokes. I could have done a lot better, but it is what it is."
Trevor Ongie of Lake Linden-Hubbell put up a 79, which was good enough for third place.
Butina of Painesdale-Jeffers, Gerovac of Bessemer, and Sam Eberts of Cedarville all shot 80.
Full results will be linked when available.
PHOTOS: (Top) The Painesdale-Jeffers golf team poses with its trophy after finishing in first place at the Division 3 U.P. Final. From left to right: Alex Outinen, Zach Nicholas, Stephen Butina, Tyler Bailey, and Christopher Outinen. (Middle) Drew Bennetts of Bessemer takes a swing during play in Escanaba. His team finished second overall. (Photos by Justin Marietti.)