D2 Champs Follow 1st-Place Friday with Celebration Saturday
BATTLE CREEK — Brockton English had dreamed for more than a year about winning the individual Lower Peninsula Division 2 golf championship, but he was far from confident going into this weekend's tournament at Bedford Valley Golf Club. 
"I played in a big invitational in Indiana earlier in the week, and I played really bad. Just really bad," said the Pontiac Notre Dame Prep senior. "I knew the (Bedford Valley) course was going to be easier than what I played in Indiana, but, still, I was a little nervous."
A fast start Friday, with five birdies in the first 10 holes, cured the nerves, and he carded identical rounds of five-under 67 to win the individual title by five strokes over Bloomfield Hills Brother Rice's Lorenzo Pinili, who shot 68 on Saturday to finish at 139.
Pinili's Brother Rice team won the team title, however, recording identical rounds of 290 to finish 18 strokes ahead of Flint Powers Catholic. 
Warriors coaches Leon Braisted and David Sass, who co-coached the Bloomfield Hills Marian girls to the Division 3 title in the fall, became the first coaches to win Finals with boys and girls golf teams in the same school year. 
"It's a very good feeling," Braisted said. "We're tickled pink, and we're going to let it soak in. It's been a very productive school year."
Brother Rice got off to a rough start on Saturday as the pressure of being the leader at the halfway point took its toll early. 
"Part of that was nerves," said senior Colin O'Rourke, who finished with a 74-70—144 score. "Around hole 4 or 5 our five guy settled in, and we started playing."
The Warriors led by eight strokes over Flint Powers going into Saturday and added 10 strokes to that lead.
"That was pretty special," O'Rourke said. "We caught a groove and never looked back."
Pinili shot a 68 on Saturday after teammate Matt Baer had done so the day before.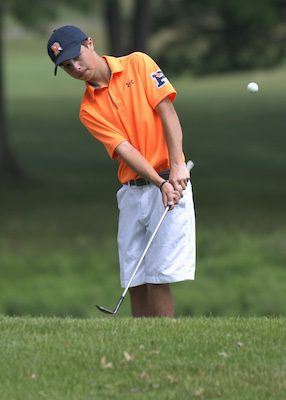 "I was patient the whole day," Pinili said. "I was giving myself chances by sticking it to 10 feet or less (from the cup). A couple (putts) didn't fall,  but I stayed patient and most of them did. I got lucky on some shots and I got some breaks and put a good round together."
While Pinili was staying patient, English had some nervous moments down the stretch. 
"On 16 I was trying to go for the green in two to get another birdie and two-putt, but I pulled my 2-iron way left of the green, next to a tree, and I had to take an unplayable lie," he said. "That really put me on edge. I took a bogey there, and I knew Lorenzo was really close. 
"On 17, I was really nervous because I had to sink a 4-footer to save par," he added, "and then I was able to roll in a birdie on 18, and that's when I knew I had my momentum back."
That last putt, English said, was bliss.
"It's a weird feeling. You can't think about it too much because you don't want to make a mistake," he said. "But the last putt is a great feeling. There's no pressure any more. You make it, or you two-putt. It doesn't matter."
For O'Rourke, his last putt was bittersweet.
"It was a sad and happy moment at the same time," he said. "It was my last high school tournament, but I'm fortunate to take (golf) to the next level and play in college."
While O'Rourke will play at the University of Dayton next year, the Warriors will have both Pinili and Baer, who was a junior this year, back in 2022. 
But this year's Brother Rice team was talented, deep — and unselfish.
"We have nine guys who averaged 78 or better for 18 holes," Braisted said. "We were blessed with talent, and we were in a lot of pressure situations. We're in a strong league, and that experience rubbed off for us today."
English, who will play golf on scholarship at Drexel University, credited his personal swing coach for keeping him ready through the winter, and his coaches at Pontiac Notre Dame Prep for preparing him mentally during the season.
"Mike Erskine, Kevin Ogg and John Briceland were always pushing me," he said. "Every practice, they pushed me, giving me the hardest shots to hit against my teammates, and we had some putting contests to put some pressure on me. They didn't let me stay satisfied. They kept me hungry for more."
PHOTOS: (Top) Bloomfield Hills Brother Rice celebrates its Division 2 team championship Saturday at Bedford Valley. (Middle) Flint Powers Catholic's Robert Burns chips during his second round. (Click for more from High School Sports Scene.)