Eichhorn Ends Stellar Career with Sweep
June 1, 2017
GLADSTONE — It was business as usual for Hunter Eichhorn at Thursday's Upper Peninsula Division 3 Boys Golf Finals.
The Carney-Nadeau senior fired a 6-under-par 66 on this sunny and mild day at Irish Oaks Golf Course for his fourth consecutive U.P. title.
He also helped the Wolves secure their third straight team championship with 327 strokes, 13 fewer than runner-up Cedarville. North Central placed third at 361.
This marked a nine-stroke improvement from a year ago for Eichhorn, who shot 75 on the same course.
"I hit the ball real well today," said Eichhorn, who will continue his golf career at Marquette University in Milwaukee. "I didn't get any bogeys, which is a huge part of it. There's a little more pressure and more people watching you in the U.P. Finals, but it's just something you have to get used to.
"I think playing Division I golf is going to be awesome. It's something I'm prepared for. I'm looking forward to seeing how my game stacks up with the best college golfers in the world. I'm very excited to go there."
Eichhorn, who will major in business communications, was every bit as happy with the Wolves again taking the team title.
"Winning as a team is a great feeling," he said. "We've had the same team for basically three years, and this was our best score as a group. Everybody kept getting better, which put us in position to succeed."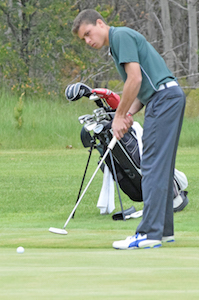 Cedarville senior Avry Freel, who's attending Ferris State University this fall in preparation for his player's ability test, earned runner-up honors with a 70. Carney senior Mason Linder and North Central junior Ben Snyder shared third place at 80.
"This is the best score I've had in a tournament," said Freel. "My approach shot was working pretty well, and the course and weather conditions were nice. I was a little nervous and three-putted the first hole. Then, I birdied the second hole and settled in. It was hard to get used to the greens at first. We've had Finals here the last two years and we practiced here yesterday (Wednesday). I knew which clubs I needed to use.
"I've played with Hunter the past three years. I always try to beat him, but he's such a good player. I have a feeling he's going to do quite well in college."
First-year Carney coach Mike Polfus said this was a fun season for him and the players.
"The kids were great and fun to be around," he added. "Hunter has been phenomenal. He's an unbelievable leader, and the kids got along real well. There would sometimes be little bit of good-natured ribbing when a kid would miss a shot, and they always complimented each other on a good shot.
"We knew Cedarville would probably the closest team to us, and their kid (Freel) shot a real nice score. It's good for Hunter to have that competition. It makes him play better and concentrate more."
Cedarville coach Rob Freel said he was happy with where the Trojans finished.
"I think they played very well," he added. "Avry had an excellent round. I think Avry and Hunter gave us a real good show. Our boys did as well as they could. It was a little emotional on the last hole."
PHOTOS: (Top) Carney-Nadeau's Hunter Eichhorn chips a shot near the green at Thursday's U.P. Division 3 Golf Finals at Gladstone's Irish Oaks Golf Course. Eichhorn was medalist with a 66 and led the Wolves to the team title. (Middle) Cedarville's Avry Freel watches a putt on the way to finishing individual runner-up. (Photos by Mike Mattson.)