Late Surge Pushes NorthPointe to D3 Win
June 8, 2019
By Tom Kendra
Special for Second Half
BIG RAPIDS – Grand Rapids NorthPointe Christian trailed Big Rapids by eight strokes Saturday, with time running out.
Sensing his team needed a boost, both physically and mentally, fourth-year NorthPointe coach Erik Fahlen handed out Snickers bars to all five of his players with four holes remaining.
Those Snickers must have really satisfied.
The Mustangs staged a furious rally, with four golfers making birdies during the closing stretch to pull off a three-stroke victory in the Lower Peninsula Division 3 Final over hard-luck Big Rapids, which was playing at home on Katke Golf Course in Big Rapids.
"We had an incredible final four holes," said Fahlen, whose team repeated as a Finals champion after winning the Division 4 title last year. "We gave them those candy bars just as way of reminding them that it's close and they need to finish strong."
NorthPointe finished with a two-day total of 624, with Big Rapids second at 627. Grosse Ile was a distant third at 664, followed by Napoleon (672) and Grand Rapids West Catholic (676).
Erik Fahlen Jr., the coach's senior son and reigning Division 4 medalist, placed second this time and led the way for his team with steady, back-to-back rounds of 73.
Junior Lance VanErmen bounced back from an 81 on Friday with a 77 in windy conditions Saturday. But the key score Saturday for NorthPointe came from freshman Luke Schrock, who followed up an 83 with a 79 to give the Mustangs three scores in the 70s and provide the winning margin.
"It feels really good to help the team win," said Schrock, who stayed calm despite a mid-round triple bogey. "We knew it was going to be close. I just tried to focus on every shot and not mess up."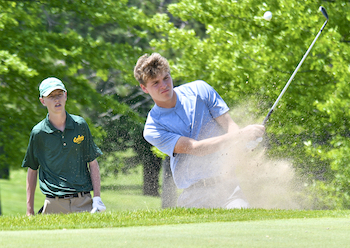 Schrock's clutch round capped off a memorable end of the season for the 15-year-old. His 83 as the fifth man actually delivered the Mustangs a Regional title May 29, after the top four players tied with West Catholic's.
Also figuring in the scoring for NorthPointe at the Final were sophomore Sam Nelson (76-82-158) and senior Ben Ng (85-82-167).
Hanover-Horton junior Jack Brockie captured the individual medalist honor after firing an impressive 3-under-par 69 on Saturday. His two-day total of 2-under 142 (73-69) was good for a four-stroke victory over Fahlen and Cheboygan senior Zachary Gilder (72-74-146).
"My putting was much better today," explained Brockie, who qualified for the Final as an individual. "The strength of my game is my driving, and when I struggle, it's around the greens. But today I was good on the greens."
It proved to be a tough result to stomach, once again, for Big Rapids, which placed second for the third straight year. The perennially strong Cardinals last won a Finals title in 2008, but since have finished second five times.
Last year, the Cardinals actually tied for first with Hanover-Horton, but lost on the fifth-man tiebreaker.
This year, it looked like they would take the next step after having four players shoot 80 or better on Friday and build a five-stroke lead over NorthPointe Christian. Plus, they had the advantage of playing on their home course, with their school located adjacent to Katke's 12th fairway.
Big Rapids maintained its lead for most of Saturday, led by senior standout Pierce Morrissey (74-75-149), before NorthPointe's late-round heroics.
"It just goes to show that you can't ever give up during a round of golf," said Fahlen Jr., who will play on the golf team next year at Taylor University. "It was really a total team win. I mean, to have a freshman like Luke Schrock shoot a 79 in these conditions, is huge. The wind really picked up later in the day, and it got pretty tough out there.
"I think that's the best part about today – we came through under pressure."
PHOTOS: (Top) Golfers watch from the tee during Saturday's LP Division 3 second round. (Middle) A competitor fires an approach from the sand. (Click to see more from HighSchoolSportsScene.com.)