Tawas Closes with History-Making Round
June 11, 2016
By Scott Keyes
Special for Second Half 
EAST LANSING – It's no secret. Lansing Catholic has owned the Lower Peninsula Division 3 Golf Finals over the past decade.
After the Cougars rolled to a double-digit victory over Tawas at their Regional, it looked like they were primed to capture a fourth straight Division 3 title on a course they were quite familiar with in Forest Akers East on the campus of Michigan State University.
Think again.
Lansing Catholic wasn't in contention; however, the team that looked vulnerable at Regionals turned out to be he one everyone was chasing Saturday afternoon.
Tawas won its first-ever MHSAA Finals championship in any sport by overcoming a 13-stroke deficit on the final day.
Tawas shot a two-day score of 600 (303, 297), with Saturday's 297 setting a school record 18-hole round.
Jackson Lumen Christi came in second (603), Big Rapids took third (619), Grand Rapids NorthPointe Christian took fourth (625) and Houghton Lake rounded out the top five (631).
"Tawas has never won a state championship in any team sport," ninth-year coach Keith Martin said. "So we were really excited, but thanks to the tracking we were able to do, we kind of knew we had it."
Martin knows in tournament play you never know what is going to happen until the final hole, so to watch his team overcome double-digit strokes was a huge accomplishment – not to mention doing so with a first championship on the line.
It appeared it wasn't Tawas' day through the first nine holes when the Braves fell 13 strokes behind perennial power Jackson Lumen Christi.
"We started out really slow on the front nine, and Lumen Christi was playing really well," Martin said.  "One of our kids chipped in for eagle on the 10th, and the positive vibes spread pretty quick after that.
"Then we knocked in a couple birdies and really regained our composure."
After shooting 153 as a team on the front nine, sophomore Daniel Shattuck chipped-in on the 10th to start the momentum toward the team's best nine-hole score this season, 144. Martin called that shot the turning point in the match, not to mention calling it one of the most incredible shots he's witnessed first hand, 
"We shot 144 on the back which is – that's pretty dang good."
Shattuck said he was mulling through his round, but the shot gave him new life. He wound up shooting the best nine holes of his life.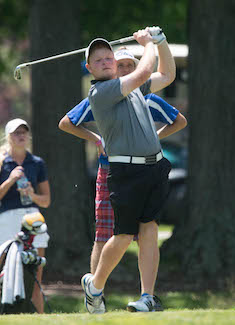 "It's crazy how things work out," Shattuck said. "All you need is a break or a confidence boost, and that's what happened. I looked up and realized I made eagle in the final round of the state championship. It doesn't get any better than that."
Tawas has a six-man rotation, and two split one of the five spots in the Finals lineup.
Mason Buresh and Kyle Costigan played on Friday and Saturday, respectively, and combined to shoot a 153 – which finished third among the team's five scores.
Buresh shot an 80 on Friday, while Andrew Volk had a consistent weekend with a 152 (74-78), which put him just two strokes outside the individual top 10.
Senior Bryce Myles who led the team with a two-day total of 148 – 73 Friday and 75 Saturday – and finished tied for fourth individually with a 148.
Winning the individual championship was Macomb Lutheran North's Scott Sparks with a 141; he also won an individual title two seasons ago as a sophomore. Dundee's Justin Kane and Big Rapids' Carter Bechaz tied for second at 147, and joining Myles at 148 were Freeland's Benjamin Balen and Jackson Lumen Christi's Will Double.
Myles said there was nothing like saving one of his best rounds of his career for his final high school tournament.
"To be able to win a state championship, finish all-state all in your final high school tournament is an incredible feeling," he said.
As for Lumen Christi, which was tied with Tawas after the first day and at one point held a 13-stroke lead – the Titans settled for their third runner-up finish over the past four seasons.
"Lumen Christi is an amazing program with a Hall of Fame coach," Martin said. "They played really well, but I guess it was our day today."
PHOTOS: (Top) Tawas' Bryce Myles responds enthusiastically during Saturday's second round of the Lower Peninsula Division 3 Final. (Middle) Macomb Lutheran North's Scott Sparks watches a shot at Forest Akers East. (Click to see more from HighSchoolSportsScene.com.)