Through the Years: Golf 1926/73-2015
By Geoff Kimmerly
Second Half editor
Winters may keep golfers off the greens for at least a few months in Michigan. But this state certainly makes the most of its golfing weather the rest of the year, with plenty to boast from both peninsulas and the high school level included.
Today's "Through the Years" takes a look at both the MHSAA boys and girls golf tournaments; the boys started in 1926, while the girls teed off for the first time in 1973.
This feature is from the spring issue of benchmarks, built and written by Rob Kaminski. Scroll to the bottom of the page for a link to our first installments. We'll look at more MHSAA postseason events every Tuesday and Friday throughout this summer.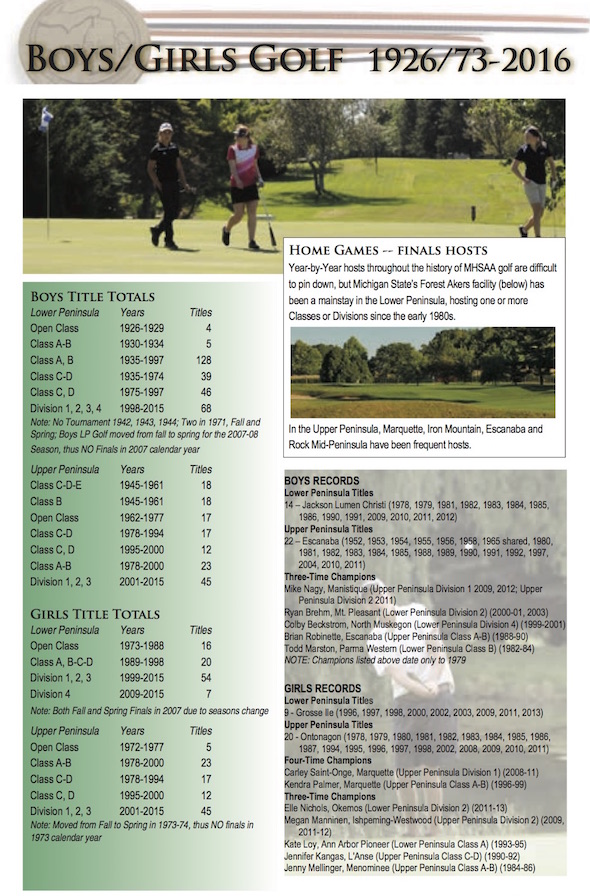 Previous installments 
July 12: Girls Soccer - Read
July 8: Boys Track & Field - Read
July 5: Girls Track & Field - Read
July 1: Baseball - Read
June 28: Softball - Read