West Iron County Takes Back Title Trophy
May 29, 2015
ISHPEMING — Riley Thompson was just 5 years old when the West Iron County boys were last crowned Upper Peninsula Division 2 golf champions. 
Thompson, now a junior at West Iron, earned medalist honors Friday and helped the Wykons gain their first U.P. title in 12 years with 331 strokes.
"We're very pleased," said West Iron coach Mark Martini. "We took the team picture the same way as we did 12 years ago, with the trophy on my grandson's head. As coaches we more or less talk about the team aspect of it. It's kind of neat when both things happen. It's kind of a two-way street. The medalist helps the team and the team helps the medalist." 
Iron Mountain was runner-up at 336, followed by Norway with 338 strokes, Hancock 348 and Ishpeming Westwood 361.
Thompson fired a 74 at Wawonowin Country Club on this cloudy and warm day, to finish four strokes better than Norway's Austin Hansen. 
Thompson shot 45 through the midway point and followed that with a 38 over his second nine.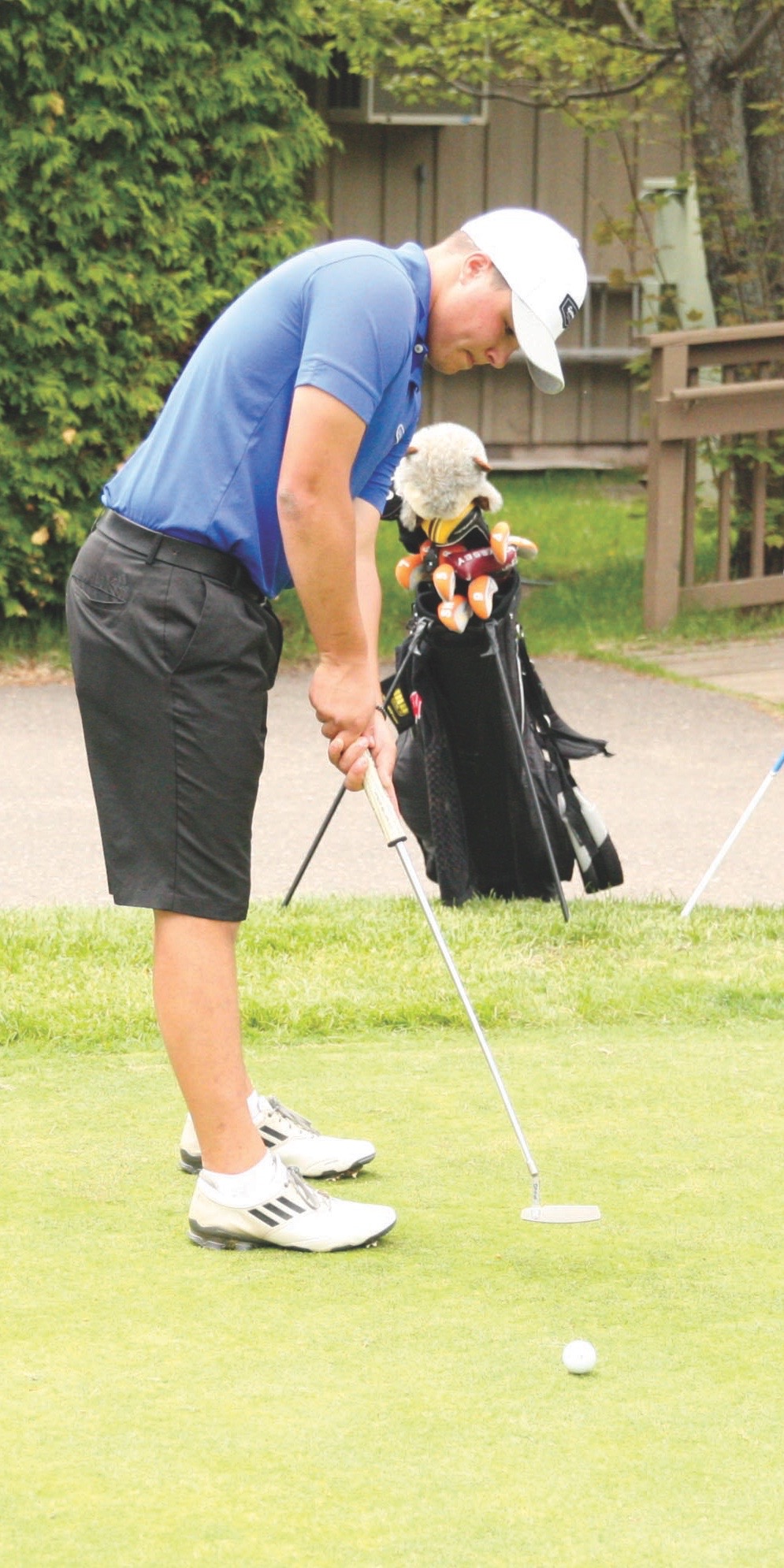 "I just played well today," said Thomson, who became West Iron's first individual champion since 2005. "My goal was to keep the ball in play, and I was able to do that. I got pretty good distance on my tee shots, which set me up for the approach. I had good irons on the approach shots and gave myself a chance on the greens, then I made my putts. A four-stroke victory is not what I expected. I thought it was closer than that. I just wanted to par the last hole and I got a birdie putt, which was a big relief. 
"This is the first U.P. title for our school in quite a while, which makes this all that much sweeter. One is icing on the cake for the other."
Manistique sophomore Louie Berry and Iron Mountain's Austin Blomquist shared third at 79, with Hancock's Dylan Paavola fifth at 80. 
"Louie has also been working real hard all year," said Taylor. "We're a young team. We're looking for bigger things next year."
Raymond Miron of L'Anse placed sixth at 82. Iron Mountain's Matt Opolka and West Iron's Kyle Maki and Max Maloney tied for seventh with 83 strokes. Westwood's Connor and Cameron Mason, Manistique's Zack Powers and Norway's Justin Anderson finished in a four-way tie for 10th at 86.
PHOTOS: (Top) L'Anse's Raymond Miron fires an approach shot during his round at Wawonwin Country Club. (Middle) Riley Thomson of West Iron County puts in some work on the putting green following his round Friday during the Division 2 Final. Thomson was medalist with a 74, including a 1-under 35 on the front nine. (Photos by Keith Shelton.)