Wykons Sweep UPD2 Boys Championships
May 30, 2019
By Adam Niemi
Special for Second Half
IRON RIVER – West Iron County defended its home turf, sweeping the boys and girls MHSAA Upper Peninsula Division 2 Finals on Thursday.
The Wykons' boys carded a team score of 319 at George Young Resort, located 10 miles east of Iron River.
Norway (366) took second place, followed by Hancock (362), St. Ignace (366) and Newberry (388) to round out the top five.
Trey Bociek paced West Iron County with a first-place 74. Norway's Drew Anderson (77) was second, and teammate Jeff VanHolla (78) tied with the Wykons' Nathan Thomson for third.
The team championship was West Iron's second straight and third in five seasons.
"Obviously No. 1, very pleased," West Iron County head coach Mark Martini said. "No. 2, I think it's overlooked how both teams (boys and girls) started poorly and fought through it like a fourth-quarter football game. They fought right back, and I'm kind of proud of that. That was really good."
West Iron County's girls team won with a 433.
Norway head coach Joby Sullivan said the UP Finals bring out the best in the team aspect of golf.
"I know that some of the boys thought they weren't playing a great round of golf. But holistically, that's what's great about these individual-dual sports is you may not be doing so well but the overall team, the big picture of it, can come around," Sullivan said. "A couple West Iron kids might have triple-bogeyed a par-3, and then one of their other kids on 15 had a bad hole. That opened the door for us to make a push down the stretch. We didn't capitalize on that, which would've been what we needed to do to make it close.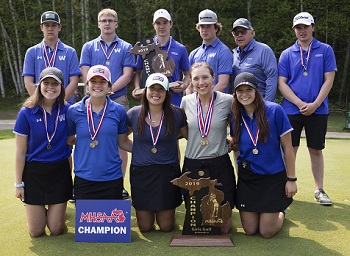 "It's exciting. When there's something that's happening, it's like the mile relay in a track meet where one team can end up winning it based on the results of that. Down the stretch, it was going to be close for that. It would've been nice to capitalize on that stretch on 13 through 18."
Sullivan said Anderson's 77 was his personal best.
"Drew came in with a 77, which was I think that's his best round ever," Sullivan said. "He was one under all the way through until a double bogey on 16 for his back-nine score. Which was great. Jeff (VanHolla) came in and played well with a 78. He had a couple putts at the end to finish out. He really played some good golf. He and Drew really did a nice job."
The course was personally designed by the late George Young, a millionaire and passionate golfer whose design for each hole on the Iron County course was derived from the favorite holes he played from different courses around the world.
A wet course from recent rains slowed the greens and made various parts of multiple fairways a mud hazard of sorts. But the sand traps were dry and fooled golfers who landed in bunkers from a wet fairway, causing some to anticipate a heavy sand impact and instead overshoot the green.
If that wasn't enough, the woods hug most fairways. Some tee shots resulted in the echoing sound of a ball bouncing off tree branches, trunks and a heavy sigh from golfers.
The course difficulty and conditions meant Thursday was simply about limiting mistakes.
Austin Salani placed eighth for Hancock with an 85. His brother Colton tied for 12th with a 92. Brimley's Justin Carrick and St. Ignace's Reid Marshall also carded a 92.
PHOTOS: (Top) West Iron County's Nathan Thomson fires an iron shot during Thursday's championship round. (Middle) The Wykons girls and boys championship teams. (Photos by Adam Niemi.)