Marquette Shines Again in Repeat
February 24, 2014
By Chris Dobrowolski
Special to Second Half
BELLAIRE — The pressure was on.
But Marquette still managed to thrive at the MHSAA Division 1 Boys Skiing Final at Schuss Mountain.
Despite winning the title last year, and even though it recorded a perfect score at the Regional to enter this year's championship meet as the prohibitive favorite, the Redmen didn't have any type of letdown in winning the school's second consecutive skiing crown.
"To win back-to-back, it's really difficult to do," Marquette coach Marty Paulsen said. "There was huge pressure. I preferred being the underdog. Coming in last year we were a little bit of an underdog.
"We were a little under ranked at the beginning of the year. We came down for Petoskey's invitational and showed a little bit of the depth that the boys have. At our Regionals (at Marquette Mountain) we had a little bit of a home hill advantage. They really shined there, and then we come here and the pressure's on. Our boys, it wasn't spotless. We've been getting perfect scores, but they held together in slalom, skied like a team and they won as a team."
The Redmen finished with 49 points, well ahead of second-place Traverse City Central, which had 92.5. Clarkston was third with 134.
Marquette had three in the top 10 in giant slalom and three in the top four of slalom to run away from the field. 
Marquette's Luke Johnson was the top slalom finisher with a combined total of 1:00.02, while Nick Weber was brilliant in both disciplines, taking second in giant slalom (47.21) and third in slalom (1:01.89). Bradley Seaborg finished fourth in slalom (1:02.25) and was ninth in giant slalom (48.68), and Dylan Larson took 11th in giant slalom (48.85) and 12th in slalom (1:03.86). Matt Anderson captured a seventh-place finish in giant slalom (48.19) for the defending champs.
"This is a really special group of seniors we have," said Paulsen, who has helped guide Marquette to two titles and a runner-up finish in four years coaching at the school. "You could see their potential when they were freshmen."
Traverse City Central had seen what the Redmen were capable of when it saw them win the Regional title earlier in the month. So finishing second wasn't a disappointment whatsoever for Central boys coach Nick Stanek.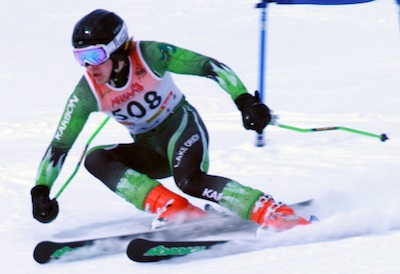 "We were happy to get second," said Stanek. "It was kind of our goal to get second because we knew Marquette had such a strong team. We knew how good their team was, and we just wanted to try and close the gap. Ultimately, we knew second was an option, and Clarkston was our main competition for that so we were able to handle and take down Clarkston.
"(Marquette) is probably one of the best teams, the best group of kids I've seen in the time I've coached. You've got six kids right there, and every one of them could potentially win the state title themselves." 
Dirk Phelps topped the Trojans with a sixth-place finish (1:02.96), Tyler Sepanik was eighth (1:03.4), Kurt Frick took 10th (1:03.6) and Zak Collins claimed 16th (1:04.37). Led by giant slalom champion Derek Vanitallie (46.69), Clarkston finished second as a team in giant slalom, but Central was close enough (52.5 points) to make it count in the final overall standings.
"We definitely wanted to win it all, but we were happy getting second because we all skied solid today," said Sepanik, who added a 14th-place finish (49.2) in giant slalom for Central. "It was pretty awesome." 
Frick added a fifth-place finish to lead Central in giant slalom (48.1).
"It was a good way to close out my high school career," Frick said. "I did what I could for the team." 
Lars Hornburg (15th, 49.22) and Phelps (18th, 49.55) rounded out Central's GS counters.
PHOTO: (Top) Marquette skiers celebrate their latest championship. (Middle) Lake Orion's Justin Pavliscak comes around a gate during one of his runs. (Middle photo courtesy of Schuss Mountain.)