Performance: Marquette's Aaron Grzelak
February 28, 2020
Aaron Grzelak
Marquette senior – Skiing
The four-year standout capped his high school career with an individual sweep at Monday's Division 1 Finals at Boyne Highlands, winning the slalom and giant slalom to lead Marquette to its eighth-straight team championship. The two individual titles gave him three total during his high school career and earned Grzelak the MHSAA "Performance of the Week."
Grzelak's combined time from two giant slalom runs was 59.53 seconds, nearly half a second ahead of the next finisher. His 79.23 combined finish in the slalom set the pace by nearly two seconds. Grzelak also won the slalom in 2018 as a sophomore, and he's one of only 13 skiers who have won that race twice at an MHSAA Finals. The Redmen, meanwhile, tied Petoskey (2011-18) and Traverse City (1988-95) for the longest team championship winning streak. It was a good day for the Grzelak family as a whole; freshman sister Anna finished sixth in slalom and 10th in giant slalom for the winning Redettes, and cousins Holly and Jenna Grzelak led Grand Rapids Forest Hills Northern/Eastern to second place in the team standings – Jenna posting top-four finishes in both events and Holly coming in second in giant slalom.
Aaron Grzelak is an accomplished skier on a variety of levels nationally as well, and last year claimed the male overall championship at the Eastern Championships in New Hampshire. He also is an avid mountain biker and general lover of the outdoors, and is considering attending college close to home in part so he can continue to partake in those favorite activities. He carries a 3.4 grade-point average, and while he is finalizing his college plans would like to continue skiing at that level.
Performance Point: "Being in high school for four years and finally being able to win GS and slalom was a great accomplishment for me – along with (reward for) all the other skiing that's helped me build up to this point," Grzelak said of Monday's individual sweep. "I had to ski pretty conservatively just because I needed to finish for our team to be able to win. Then a lot of kids were blowing out, which made me ski good and not just go full send at it and risk blowing out. So I had to ski pretty clean and I had to pull out some good runs, which ended up letting me win at the end."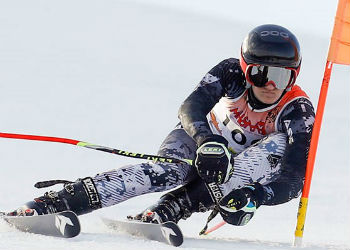 Fun in Team: "I do a lot of other race leagues and (skiing is) more of an individual sport. But what I think is cool about high school is that it's just a team sport, which is pretty cool because that's the only time I get to be with a team. And having you do good on a run helps your entire team out towards winning. … It's just a fun thing to do. With the local races in the UP, which aren't too competitive, it's just a fun thing to get out and go have run racing with your team. And going to states is pretty cool because there's so many kids there from Michigan, which is a pretty awesome thing."
8 straight is great: To tie the state record … to be able to pull that off for eight years in a row, that seems pretty crazy to me honestly – to be able to produce that great of skiers to be able to pull that off. Through all the race programs … every day we're always down here training, and it's just a super good training program.
Outdoors, every season: "I've just always fallen in love with skiing, training, and like skiing park and back country in the woods, just having fun with it all the time. Biking is one of those things that started out because of skiing, and I started out with cross country biking just to get in shape for the ski season. Biking all summer and skiing all winter … those are pretty much my two favorite things to do. … You don't even have to be competitive to ski or bike. You can just go out and do what you want for fun."
Runs in the family: "I think we've all just been skiing since we were younger. My dad skis, my uncles ski, my grandpa skis. It's just kinda a family thing I guess. It's just something all of us has been doing for so long, and none of us has left skiing. .. My dad (taught me) when I was younger, and then going into these training programs with Wendy Maas and GLSA (Great Lakes Ski Academy), that was probably the number one thing right there that made me a good skier, training every day and pushing farther and farther to be the best that I could be."
– Geoff Kimmerly, Second Half editor
Past honorees
Feb. 21: Kailee Davis, Detroit Renaissance basketball - Report
Feb. 13: Jamison Ward, Carson City-Crystal wrestling - Report
Feb. 6: Elena Vargo, Farmington United gymnastics - Report
Jan. 31: Michael Wolsek, Trenton swimming - Report
Jan. 24: Kensington Holland, Utica Ford bowling - Report
Jan. 17: Claycee West, White Pigeon basketball - Report
Jan. 10: Seth Lause, Livonia Stevenson hockey - Report
Dec. 5: Mareyohn Hrabowski, River Rouge football - Report
Nov. 28: Kathryn Ackerman, Grand Haven swimming - Report
Nov. 21: Emily Van Dyke, Southfield Christian volleyball - Report
Nov. 14: Taylor Wegener, Ida volleyball - Report
Nov. 7: Carter Solomon, Plymouth cross country - Report
Oct. 31: Jameson Goorman, Muskegon Western Michigan Christian soccer - Report
Oct. 24: Austin Plotkin, Brimley cross country - Report
Oct. 17: Jack Spamer, Brighton cross country - Report
Oct. 10: Kaylee Maat, Hudsonville volleyball - Report
Oct. 3: Emily Paupore, Negaunee cross country - Report
Sept. 26: Josh Mason, South Lyon soccer - Report
Sept. 19: Ariel Chang, Utica Eisenhower golf - Report
Sept. 12: Jordyn Shipps, DeWitt swimming - Report
PHOTOS: (Top) Marquette's Aaron Grzelak leans into a turn during Monday's slalom at Boyne Highlands. (Middle) Grzelak gets around a gate during the giant slalom. (Photos by Daniel Teetor.)