Petoskey Boys Rule D2 Mountain Again
By Brett A. Sommers
Special for Second Half
HARBOR SPRINGS — King in the North.
Petoskey's hold on the crown grew even tighter with the program's seventh consecutive boys team skiing championship Monday.
The Northmen (61) nearly halved the score of runner up Great North Alpine (109.5), winning both disciplines — slalom and giant slalom (GS) — with a dominant Division 2 victory at Boyne Highlands Resort.
Mitch Makela led the Northmen with an individual title in the GS and a runner-up finish in the slalom.
"There is definitely a little pressure (to keep winning)," Makela said. "I know a lot of the guys that started the streak a long time ago. They text me each year I've been a part of it, 'Better not loose the streak.'
"Two individual championships would have been awesome, but I'm not going to complain with just one."
Makela had time to make up following his first slalom run, during which he registered the fourth-fasted time. But Makela (1:00.31) slid 11 hundredths of a second ahead of Charlevoix's Brad Klinger (1:00.42) for the win following the second set of runs.
"I knew I had room to make up," Makela said. "I knew there were definitely mistakes and things I could clean up. I put it out there and got down there as fast as I could."
Klinger posted the fastest time in the first run, but the fourth-fastest in the second. Makela had the fastest final run.
"I knew my second run was wasn't as good as my first one," Klinger said. "I had a little hiccup in the middle. I knew it was going to be close.
"I'm happy. Me and Mitch are always neck and neck. We're good buddies."
Petoskey head coach Erik Lundteigen said it is skiers like Makela that keep the Northmen program going strong.
"It's nice when you have the best skiers in the state," he said. "It helps the program because all the kids have someone to look after and emulate. I guarantee there are other kids who will want to be up (on the podium) where Makela was. We've been fortunate over the years to have quite a few of those kids. It builds on itself."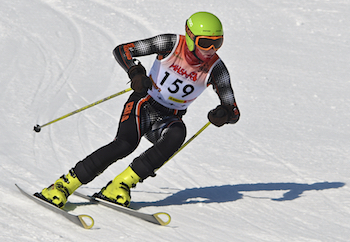 Makela's teammate Ethan Siegwart (1:01.45) finished third in the slalom; Flint Powers Catholic's Devin Hope (1:01.53) was fourth. Great North Alpine's Christian Stellin (1:01.67) and Finn Husband (1:01.86) finished 5-6, and Cadillac's Alex Netzley (1:01.91) was seventh. Cranbrook Kingswood's Jevon Hovey (1:03.21) was eighth, Grand Rapids Forest Hills Central's Ben Finkelstein (1:03.25) ninth and Benzie Central's Gabriel Johnson (1:03.53) 10th.
Netzley wasn't disappointed with his slalom finish after beginning the day with an individual title in the GS (56.91).
The Vikings sophomore won by four tenths of a second over Makela, who Netzley had been battling all season in Big North Conference competition.
"We've had a lot of good skiers come through Cadillac, so it's cool to put my name up with them," Netzley said. "I'm just really excited. It's fun to go out there and ski. I'm just happy I had a good result today."
Netzley said he used last season's trip to the MHSAA Finals, as a freshman, as a learning tool, and he hopes Monday's championship will provide much the same in his next two years.
Great North Alpine — in its first season using the team name — completed another successful run as the runner-up.
The Grand Traverse-area co-op, formerly referred to as Elk Rapids-Traverse City St. Francis, was runner-up in 2016 as well.
"It's awesome to be up there with that trophy two years in a row," Stellin said. "Last year was cool, but this year with the name it's more of a team. You feel closer to every one and more unified. It was really cool to bring the trophy to that name."
Great North Alpine coach Doug White commended the champion Northmen simply by saying, "You're not going to catch Petoskey."
Stellin (57.46) finished third in the GS, giving him two top-five finishes on the day. Klinger (58.29) was fourth, Siegwart (58.73) fifth, Harbor Springs' Max Sydow (58.85) sixth and Charlevoix's Matt Good (59.36) seventh. Harbor Springs' Sam Bailey (59.40) was eighth, East Grand Rapids' Johnny Southwell (59.56) ninth and Cranbrook Kingswood's Hovey (59.73) 10th.
Cranbrook Kingswood (121) finished third as a team, Harbor Springs (129.5) fourth, Cadillac (150) fifth, Flint Powers Catholic (172) sixth, East Grand Rapids (180.5) seventh, Caledonia (236) eighth and Pontiac Notre Dame Prep (237.5) ninth. 
PHOTOS: (Top) Petoskey's Mitch Makela approaches a gate during the Division 2 Finals on Monday at Boyne Highlands. (Middle) Great North Alpine's Jonas Pryde leans into a turn during one of his runs. (Click for more from HighSchoolSportsScene.com.)