Traverse City Supports in Force on Ski Hill
February 12, 2021
By Tom Spencer
Special for Second Half
This might seem like the logical time for Traverse City West's girls Alpine ski team to discontinue its long-standing support of its cross-town rival at the upcoming MHSAA Finals.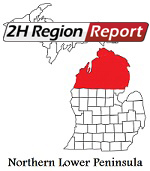 While Traverse City's Central's girls won Wednesday's Regional at Crystal Mountain, the Titans girls didn't finish among the top three. So the West girls won't be at the Feb. 22 Final. 
Or will they?
Three qualified as individuals. And not many would be surprised if the rest of the Titans girls squad and their supporters make the 70-some mile trip to Nub's Nob – and continue cheering on not only the Titans boys team, but of both Central teams as well.
The West and Central boys and girls have been competing with and against each other since their beginning days on the slopes. Their families all know each other well. And no one denies the special relationship the girls have.
"We've known them (West's girls) for our whole skiing careers," said Central junior Elle Craven after the Trojans girls' Regional win. "So we always cheer for each other, and we always want each other to do great.
"They've been on my team until my freshmen year – that's when we get split up," she continued.  "They are our great friends, and we hang out with them outside of school also."
Central's Sarah Beattie, a senior captain, echoed the sentiment.
"They are a great group of girls too," she noted.  "They are hilarious and so fun to be around.  
"We all live in Traverse City and see each other around town, and our families know each other and that makes us closer."
West freshman Charlie Schultz, one of the three Titans' individual qualifiers, admitted it was tough seeing her Central friends move on but not her team.  
West missed the final qualifying berth by eight points.
"We pretty much have been skiing together our whole lives, so we're all pretty close," she said. "It is competitive, but it is like friendly competitive.  
"Our team was kind of bummed.  We're just hoping next year we can (reach the Finals)."
Lila Warren and Ellie Gruber also qualified for the Final for West. Central was led by Beattie and Craven. Trojans Maddy Cox, Lily Kuberski, and Pearl Hale also had top-10 finishes in the Regional.
West junior Aiden Lewandowski won both the slalom and giant slalom in the boys Regional as West topped the field including Central and third-place qualifier Grand Rapids Forest Hills Northern.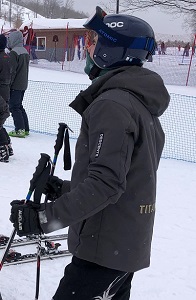 The other top-10 West finishers on the boys side were Andy Hill, Luke Wiersma and  Caleb Lewandowski. Max Werner, Will Russell, Michael Booher and Gus Dutmers posted top-10 finishes for Central.
West coach Ed Johnson has seen a lot during his more than 30-year tenure coaching West's boys and girls. The closeness of the boys and girls teams from each school really adds to the fun for him.
"It doesn't matter which side of town they're from or which school they go to, they are all really close friends," he said.  "It is a close-knit group, and it is really fun to see.
"The coaches get along great. The athletes get along great. (Skiing) is a fun program for both schools."
Central boys and girls coach Amy Kudary agrees.
"They have grown up together," she said.  "It is very cool when other teams look at us when we're cheering for our biggest rivals.  
"And, I think that is teaching the kids a lot beyond the ski hill too."
Championships are in the sight for both Central squads and the West boys due to all three teams' depth. Marquette's boys, Division 1 champs the past eight years, finished fourth at the same Regional and did not qualify for the Finals. The Marquette girls, Division 1 champions the last five years, finished 33 points behind Central at the Regional.  
"Today (at Regionals) that (depth) was why both of our teams did so well," said Kudary. "They all skied as a team.  We didn't have to rely on one or two skiers. 
"We each had a couple skiers go down," she continued. "The other skiers stepped in and performed like they needed to. It was truly team skiing today, and that is what is most fun to see as a coach."
Now, both coaches have the difficult, but welcomed, challenge of selecting the six skiers from their deep squads to compete for the Division 1 championships.
"That's tough for those alternates," Kudary acknowledged.  "I have to tell them they're not racing for the Regionals and states when they could be one of the top skiers on any other team in the state."

Tom Spencer is a longtime MHSAA-registered basketball and soccer official, and former softball and baseball official, and he also has coached in the northern Lower Peninsula area. He previously has written for the Saginaw News, Bay County Sports Page and Midland Daily News. He can be reached at tomspencer@chartermi.net with story ideas for Manistee, Wexford, Missaukee, Roscommon, Ogemaw, Iosco, Alcona, Oscoda, Crawford, Kalkaska, Grand Traverse, Benzie, Leelanau, Antrim, Otsego, Montmorency, Alpena, Presque Isle, Cheboygan, Charlevoix and Emmet counties.
PHOTOS: (Top) Traverse City West and Central skiers support each other's teams together during their Division 1 Regional, from left: Maddy Cox, Pearl Hale, Mackenzie Cronk, Avery Sill, Charlie Schultz, Lola Hisenkcamp and Ellie Gruber. (Middle) One of the Titans' boys competitors keeps an eye on the hill. (Photos by Tom Spencer.)