Traverse City West Follows Another Lewandowski to 2nd-Straight Title
BOYNE FALLS — Traverse City West's two-year ski dynasty is bookended by two Lewandowski brothers. 
Sophomore Caleb Lewandowski won the slalom championship Monday at the Division 1 Finals at Boyne Mountain to lead the Titans to the second of their first back-to-back ski team titles since the school opened in 1997. His older brother Aiden had led West's 2021 championship run with a giant slalom win. 
Aiden also had won the respect of Rochester Adams senior Nathan Dehart, Monday's GS winner. The two schools are separated by nearly a four-hour drive and 227 miles, but Dehart knew the Lewandkowski brothers well. He competed with Aiden in USSA Team Michigan events across the country. 
"I've raced against (Aiden) for a long time," Dehart said after he gave Caleb a celebratory carry at the finish line.
"I trained really hard to get into this situation, and I try to win every week. It feels good to finally win one my senior year."
The two first-time Finals champions were runners-up in each-others disciplines, with Dehart edging Lewandowski in GS and Lewandowski racing past Dehart in slalom. They congratulated each other, they celebrated with each other on the podium, and Dehart even spent most of the awards ceremony hanging out with the Titans' boys team. 
"I was trying to make it down, but also get a fast time. The team was doing really well, so I had to finish for them too," Lewandowski. "I still have two more years to try and win some more." 
Traverse City West claimed the title over Traverse City Central by 36.5 points. The Titans should next season return several from a sophomore-heavy group, including Lewandowski.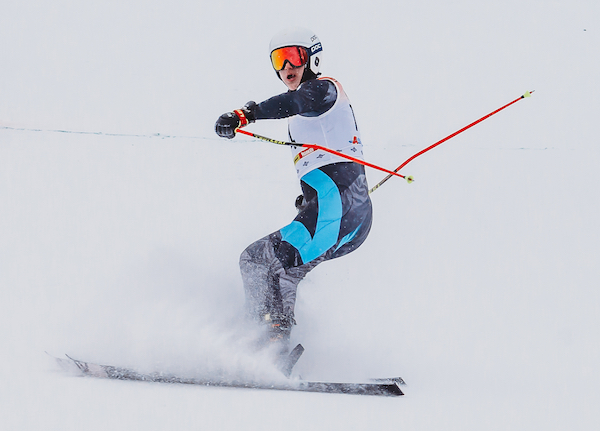 A few seniors graduate — including all-state slalom finisher and captain Andy Hill — but West also returns several fast underclassmen. For example: TC West's all-state sophomore Charlie Licht (3rd) wasn't even on the Finals title roster last year. Juniors Luke Wiersma (fifth in GS, eighth in slalom) and Ben Schramski (seventh in GS, fifth in slalom) both had two all-state finishes. 
"Any one of those top 4-5 boys could have won today," TC West coach Ed Johnson said. "All of them skied where they needed to within their abilities. It was exciting to see Caleb win and then be able to have his teammates kind of stack up right behind him." 
Crosstown foe Traverse City Central finished runner-up to the Titans with a trio of all-state finishers. Asher Paul (eighth in GS, fifth in slalom) came home with two medals. Jace Rowell took third in GS, and Michael Booher claimed eighth in slalom.
The Trojans have now hit the 30 mark in boys skiing trophies, capturing their program's 11th runner-up nod with 19 Finals championships. They finished fourth last year and have been runners-up in five of the past eight seasons. 
It wouldn't be fair to call the two schools rivals — well, at least for skiing. The two schools celebrated with each other for nearly a half hour. 
Central coach Amy Kudary said the Trojans have been solid all year long and a runner-up nod to West is still a great accomplishment. The Trojans defeated the Titans at the Peppi Town Slalom meet earlier in the year — the biggest ski meet within the city limits of Traverse City. 
"We knew that was a possibility, but still a lot of stars had to align to make it happen," Kudary said. 
Adams took third with a score of 90, led by Dehart's all-state finishes. The Highlanders had a good showing in slalom, with Brayden Tapert (eighth) and Bryce Tapert (seventh) both landing in the top 10.
Individual all-state medalists not from the top-three finishing teams were Marquette's Sam Dehlin (fourth in GS, fifth in slalom), Grand Rapids Forest Hills Northern-Eastern's JD Amann (sixth in GS), Hart's Bryce Natter (ninth in GS, 10th in slalom), Clarkston's Luke Farella (10th in GS) and Okemos' Michael Benevegna (seventh in slalom).
PHOTO (Top) Traverse City West's Caleb Lewandowski leans into a turn during a slalom run Monday at Boyne Mountain. (Middle) Rochester Adams' Nathan Dehart pulls into the finish of a giant slalom run. (Click for more from Sports in Motion.)