Performance: FHN's Jonathan Kliewer
September 28, 2018
Jonathan Kliewer
Grand Rapids Forest Hills Northern junior – Soccer
The junior goalkeeper had eight saves – a number of them "brilliant" according to a Grand Rapids Press report – to lead the Division 2 top-ranked Huskies to a 1-0 win over No. 2 Grand Rapids Christian on Sept. 17, earning Kliewer the Michigan Army National Guard Performance of the Week. The win also avenged last season's Regional Semifinal loss to the Eagles, while providing a confidence boost as Forest Hills Northern pursues its first MHSAA championship in boys soccer.
The Huskies are 13-0-1 with 11 shutouts this season, and Kliewer has nine of those shutouts in goal while playing in the field for the other two. Heading into Thursday's 2-2 tie against Grand Rapids Northview, he'd saved 93.8 percent of shots he'd faced in goal this season with a 0.27 goals-against average; FHN has outscored its opponents by a combined 57-5. Kliewer was the varsity backup as a freshman and then split starts last fall with Carter Clark. The keepers agreed early last season that whoever had better statistics would receive the team's all-state push, and Carter ended up with a slight edge and all-state honorable mention – although FHN coach Daniel Siminski said both keepers performed at that elite level. They were set to split starts again this fall, at least during the regular season, but Clark was injured in August and Kliewer has taken over fulltime.

After playing in a summer tournament in Spain, Kliewer received an invitation to join the academy for the German Bundesliga's Werder Bremen, but he elected to return to the U.S. and finish high school. He's grown nearly six inches since freshman year and is pushing 6-foot-4, and more soccer opportunities surely are on the way. He also carries a 3.8-4.0 weighted grade-point average and is interested in studying chemical engineering or business after high school. Those decisions will be made later; in the meantime, he's hoping to help FHN to a historic finish. 
Coach Daniel Siminski said: "Jon is a very tall and athletic goalie. He is a vocal leader out of the backfield that owns the box even in heavy traffic. This year, he has improved exponentially by also showing up in fantastic shape, which has helped with agility and range. He has shed the baby pudge and now looks like a chiseled statue back there. Overall, he does not have a lot of holes in his game, and he has been a fantastic last line of defense when things break down defensively. Between his stellar play, and the great play of our defense, we've only given up three goals on the season."
Performance Point: "What I think was probably the best part was how the team came together," Kliewer said of the Grand Rapids Christian win. "It was obviously a close game, and we knew that Grand Rapids Christian was really good. But we knew that we were better, and we came out and performed super well. … I was pretty pumped up because they kicked us out of Regionals last year. A lot of people probably don't think playing them midseason is a big deal, but I think it was a big deal for our team, just to prove to ourselves that we can win state championships this year if we put our hearts into it. I think it's going to really matter if we play them in Regionals this year; we can reflect back on that win and say we beat them that time, so we can beat them again."
Last line of defense: "It's been tough, but also a challenge that I really want to step up (and meet). It's a lot of fun playing for the team, but when it comes to games there's a lot of pressure to perform well. I deal well with that pressure, but I also need to work to get better. It's a challenge I like."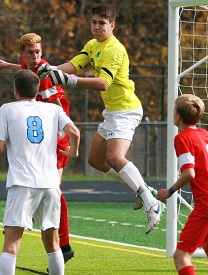 Prepared to play: "I came in (this fall) and I really wanted the starting position. I thought to myself, I don't want to give Coach any reason to tell me I'm not good enough – so I'm going to get in shape, do everything as good or better than the field players running-wise and getting in shape. And then I also did some special training over the summer with a goalkeeper coach out in Detroit, just to get back into the routine of playing goalie."
Standing tall: "I grew a lot since my freshman year, over my sophomore year, and just getting used to my new body. Getting up off the ground is a lot harder. It's a lot more distance to cover. But (being taller) also helps in the air because I can come out and grab a lot of stuff faster, and I'm taller so I can come out and punch the ball, stuff like that."
Trophy time: "(Winning the Division 2 title) would just mean the world to me right now. We've really bonded with the seniors, and they really want to win it. Coach really wants to win it – he's gotten super close multiple times. We really have a good team this year, and that's pretty much all we've been talking about. It would just mean a lot to us, honestly, as a whole team."
- Geoff Kimmerly, Second Half editor
Every week during the 2018-19 school year, Second Half and the Michigan Army National Guard will recognize a "Performance of the Week" from among the MHSAA's 750 member high schools.
The Michigan Army National Guard provides trained and ready forces in support of the National Military Strategy, and responds as needed to state, local, and regional emergencies to ensure peace, order, and public safety. The Guard adds value to our communities through continuous interaction. National Guard soldiers are part of the local community. Guardsmen typically train one weekend per month and two weeks in the summer. This training maintains readiness when needed, be it either to defend our nation's freedom or protect lives and property of Michigan citizens during a local natural disaster. 
Past 2018-19 honorees
September 20: Kiera Lasky, Bronson volleyball - Read
September 13: Judy Rector, Hanover-Horton cross country - Read
PHOTOS: (Top) Forest Hills Northern's Jonathan Kliewer dives to make a stop. (Middle) Kliewer goes high as opposing strikers converge on the net. (Photos courtesy of the Forest Hills Northern soccer program.)