Season Split Elevates Spring Lake, Fruitport, with Possible Rematch Ahead
October 8, 2021
The phrase "good loss" is both an oxymoron and a way for coaches to spin a bad outcome into something positive.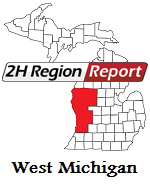 It's also a comment which both coaches referenced after visiting Spring Lake's 3-1 boys soccer victory Wednesday over neighboring rival Fruitport, which came into the game undefeated and sporting a lofty No. 3 state ranking in Division 3.
Spring Lake coach Jeremy Thelen said a 4-2 loss to Fruitport earlier this season provided the fuel his team needed to turn its season around.
"It's more effort and more focus," said Thelen, explaining how his team, which started this season with just two wins in its first six games, has put together a 10-game unbeaten streak.
"We have the mentality that it is going to be complete work from start to finish. I'm really proud of the guys for bouncing back."
In that first meeting on Sept. 1, Fruitport came out more aggressive and motivated, tallying two goals in the first five minutes to stun the Lakers, who never recovered as their season record dipped to 2-2-2. Thelen went back to the drawing board and made some tactical changes, but he believes more important than that, his team was humbled by the loss to its rival and determined to not let it happen again.
Spring Lake has been a different team since, winning its next four games by a whopping 15-1 combined margin, including a 3-0 shutout of powerhouse Hudsonville Unity Christian.
Then came a "good tie" against conference foe Grand Rapids West Catholic, in a game where the Lakers allowed the game-tying goal in the final 30 seconds.
That lone blemish over the past five weeks led to a players only meeting and another reset. While the Fruitport loss taught the team the value of a fast start, the West Catholic tie emphasized the importance of finishing.
"It was basically us senior guys that got everyone together and talked about the tradition here at Spring Lake and how we have to work to keep it going," senior forward Keegan Fritsche explained. "Since then, everything has changed."
Fritsche led the new-look Lakers attack in Wednesday's Ottawa-Kent Conference Blue Tournament semifinal game, scoring the first two goals after a scoreless first half. Senior midfielder Kole Pattyn moved up and tallied another goal to make the score 3-0, before Sean Gieske got Fruitport on the board with a breakaway goal with less than five minutes remaining.
The Lakers were the more aggressive team from the start, which showed in the final stats as they held a 10-3 edge in shots and 7-2 edge in corner kicks.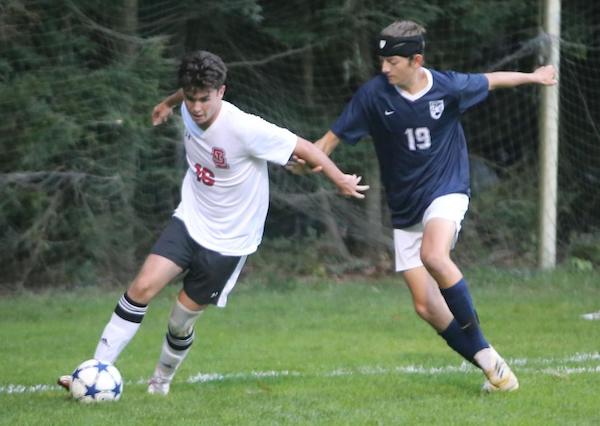 Most of the play occurred in Fruitport's end, as a great effort by Trojans junior keeper Justin Laus kept the game scoreless for the first 53 minutes. The Lakers' relentless pressure finally broke through as Fritsche scored twice in a three-minute span, assisted by Conrad Bush and Jack Mulder.
"It felt good to get some revenge on them, since they beat us in the regular season," said Pattyn, one of the team's emotional leaders. "I really think the biggest change in our team is just attitude and heart. It's crazy how much of a difference that makes."
Spring Lake was able to turn the tables despite being without two of its best players for the conference semifinal game – seniors Porter Saunders and Link Dephouse. The rest of the team rose up in their absence, starting with the leaders on the back end, senior keeper Aidan Parker and junior mid-back Jaxson Tober.
Thelen is not sure whether those two injured seniors will be back for Monday's conference championship game against visiting Unity Christian. His primary goal is to have his team at full strength starting with the District Semifinal on Oct. 19 and going forward from there.
Spring Lake, which made it all the way to the Division 2 championship games in 2011 and 2013, improved to 11-2-3 with the victory. The Lakers entered the week ranked No. 11 in the Michigan High School Soccer Coaches Association Division 3 rankings.
Fruitport (12-1-3), which was ranked No. 3 in that same poll, experienced defeat for the first time this season, which is something coach Dan Hazekamp has been hoping for – he just wishes it could have been at the hands of someone other than the Trojans' archrival.
"I've been saying for a month now that we need to lose a game," said Hazekamp, who is in his fourth year as the Trojans' coach. "We needed to get that monkey off our back and then learn from it."
Whether or not the setback turns into a "good loss" remains to be seen. Hazekamp hopes to see a more aggressive and focused team Monday when Fruitport travels to Holland Christian for the battle for third place in the conference tournament.
No matter what happens, it has been a breakthrough season to remember at Fruitport.
In addition to the win over Spring Lake, the Trojans also notched a huge 1-0 conference win over Unity Christian on Sept. 22. Fruitport also picked up satisfying nonconference wins over local rivals Mona Shores, Whitehall, North Muskegon and Oakridge.
The future looks even brighter as the Trojans are led by an outstanding junior class, notably Laus in goal, defender Noah Fehler, midfielder Bode Anspach and forwards Jackson Rebone and Gieske. Sophomores Eli Aldridge and Brady Brown also have played key roles all season.
Fruitport has a bye in the opening round of Districts, giving it eight days after Monday's conference consolation game to prepare for the postseason – which could feature a third and final matchup, a rubber game if you will, against Spring Lake.
"We're young, but we're never going to use that as an excuse for losing a game," said Hazekamp, who is assisted by Steve Hazekamp and Drew Maus. "We need to get back to work. If we handle ourselves the right way after this loss, there's a good chance we might see Spring Lake one more time."

Tom Kendra worked 23 years at The Muskegon Chronicle, including five as assistant sports editor and the final six as sports editor through 2011. E-mail him at kendra.tom@gmail.com with story ideas for Muskegon, Oceana, Mason, Lake, Oceola, Mecosta and Newaygo counties.
PHOTOS (Top) Spring Lake's Kole Pattyn (right) and Fruitport's Bode Anspach break on the ball during Wednesday's league tournament matchup. (Middle). Spring Lake's Keegan Fritsche (16) works to keep the ball from Fruitport's Noah Fehler. (Photos by Kyle Turk/Grand Haven Tribune.)