By Geoff Kimmerly
Second Half editor
We finish our look at fall MHSAA tournaments today with the perfect transition to our features for our winter events – and with perfect timing to go with the international competition playing out right now in Rio de Janeiro. 
The MHSAA's history with boys swimming & diving goes to the start of the association, in 1925, and in 1972 one of our first girls sports also found its home in the pool. Just more than four decades later, one of the best-known Michigan high school standouts – Canton's Allison Schmitt – is one of six captains of this Olympics' U.S. national swim team.
This feature is from the spring issue of benchmarks, built and written by Rob Kaminski. Scroll to the bottom of the page for a link to our previous installments. We'll continue to look at more MHSAA postseason events every Tuesday and Friday this fall.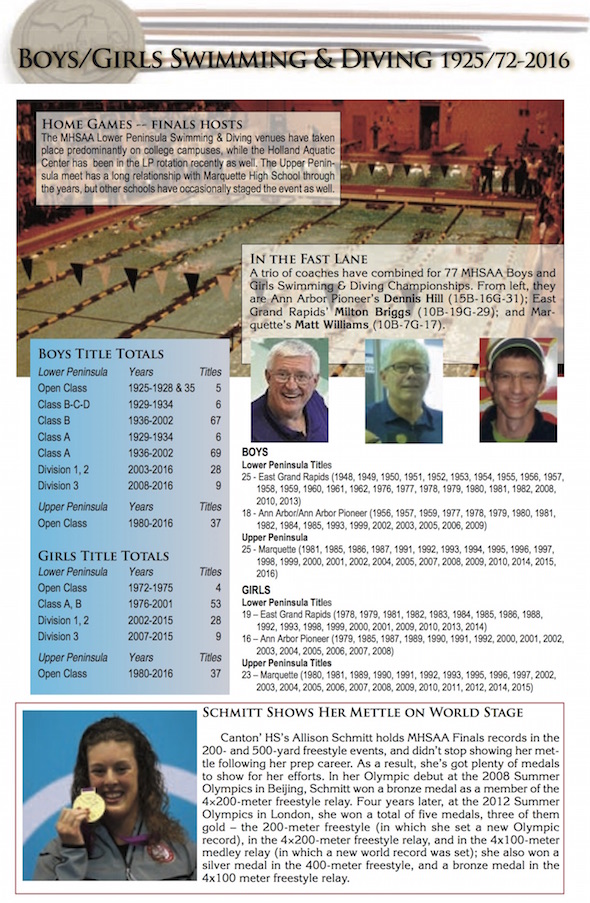 Previous installments 
August 9: Football - Read
August 5: Girls Volleyball - Read
August 2: Boys Soccer - Read
July 30: Boys Cross Country - Read
July 26: Girls Cross Country - Read
July 22: Boys/Girls Lacrosse - Read
July 19: Boys/Girls Tennis - Read
July 15: Boys/Girls Golf - Read
July 12: Girls Soccer - Read
July 8: Boys Track & Field - Read
July 5: Girls Track & Field - Read
July 1: Baseball - Read
June 28: Softball - Read