After Close Calls, Chelsea Claims Title
June 1, 2013
By Greg Chrapek
Special to Second Half
ADA – This spring's high school sports season long will be remembered for having some of the worst weather in years.
While the wet and cold weather hampered many teams across the state, the Chelsea boys track team used it to its advantage. And the payoff was an MHSAA Lower Peninsula Division 2 track and field championship Saturday afternoon at Forest Hills Eastern.
After coming close the past two years, the Bulldogs came away with this year's title as they totaled 64 points to edge second-place Grand Rapids Ottawa Hills by eight points.
Chelsea finished second two years ago, and last year the Bulldogs placed third. This year, thanks to some hard training when the weather was at its worst in the spring, Chelsea had what it took to bring home the title hardware.
"Back in March and April when the weather was bad and everyone was complaining about how bad the weather was, we talked about just concentrating and working harder," Chelsea coach Eric Swager said. "Rain, sleet or snow everyone was out there working their hardest, and it paid off. … Everyone just worked that much harder when the weather was bad."
The hard work resulted in Chelsea having a deep team capable of scoring points in a variety of events.
"Everybody contributed," Swager said. "The sprints, the relays, the distance runners, field events. The entire team has been focused and working hard from day one. We have some individual talent, but everybody stuck together and that was the key."
Berkley Edwards was one of the individual talents that helped pave the way for the Bulldogs. One of the state's top sprinters, Edwards wrapped up his high school track career by winning both the 100 and the 200-meter dashes.
Edwards turned in a time of 10.58 in the 100-meter dash and then came back to edge Gary Jones of Allegan in a 200-meter dash that came down to the end. Edwards finished with a time of 21.37.
"Things went well for me today, better than expected," Edwards said. "I ran a 10.58 which was a p.r. (personal record) in the 100, and then I ran a 21.37 which was a p.r. in the 200."
The highlight for Edwards was holding on to win the 200.
"It was definitely a photo finish," Edwards said. "It was a real close race. My strategy was to get out to the lead and hold it on the curve. I heard him (Jones) coming. I didn't want to stress. I just stay relaxed."
Sweeping both the 100 and 200 was a major key to Chelsea's title and part of the strategy going into the Finals.
"My coaches told me I had an opportunity to win two races," Edwards said. "They thought I could get the 100 and possibly the 200, and if I did we had a real good chance of winning."
The Bulldogs also picked up points in the field events as senior Michael Hovater won the pole vault by clearing 14 feet, 10 inches. Chelsea also won the 3,200-meter relay as the team of Zach Rabbitt, Jacob Stubbs, David Trimas and Tony Vermilye turned in a time of 7:55.84.
Chelsea was pushed for the title by an Ottawa Hills team that had one of its best Finals performances in recent history. Key to Ottawa Hills' strong effort was the performances turned in by its sprint relay teams.
Ottawa Hills finished in the top three of three of the four relay events, led by the first-place 400-meter relay team of Shawn Kneeland, Sam Beal, Jacori Millbrooks and Teyland Avery.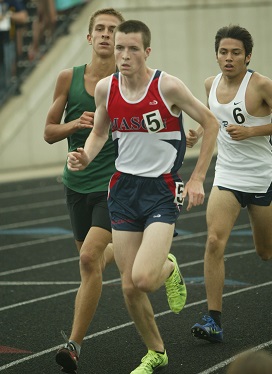 The relay was seeded second coming into the day but came away with the school's first title-winning effort at the Finals since 1997.
"This was real big," Kneeland said. "The key for us was to focus. Not to worry about anyone else and just focus on running our best."
Senior Teyland Avery ran the anchor leg for the Bengals.
"To win a state title in Grand Rapids was real special," Avery said. "We had two seniors on the relay team, and to finally win a title is special. Last year we finished third at state and we didn't do too well. This just feels great. To run in my city and to win in my city is pretty special."
For Detroit East English senior Marcell Wyckoff and the rest of his teammates, Saturday's Finals were the first in school history as East English is in its first year as a high school. Wykoff, who came in seeded second, won the 400-meter dash.
"The first thing I wanted to do was to get out fast," Wykoff said. "I knew if I got out to a good start, nobody would catch me. I had a pretty good start, and I held on."
Wykoff's title was the first in school history and was a little bittersweet for the senior.
"I came over from Crockett Tech," Wykoff said. "This year was really different. It was not like I thought my senior year would be, but it ended up pretty good winning a state championship. It feels good on the inside."
Mason senior distance runner Tanner Hinkle ended a few years of frustration both on the track and during cross country season. He won the 3,200 by more than four seconds with a time of 9:13.41.
"I have finished second two different times at state," Hinkle said. "Winning it my senior year feels real good, to finally win a state title. I also finished second at state during the cross country season. I've been very close to a state title a few times before, and to finally win one is a dream come true."
In the field events, Cadillac senior Riley Norman closed out a successful high school throwing career by winning the shot put for a second consecutive season. He turned in a winning put of 59-10, missing a Finals record by less than two feet.
"I won it last year with a 61-2 ½ and this year I had a p.r. of 62-10," Norman said. "I wanted to set a new record, but I came up a little short."

PHOTOS: (Top) Chelsea's Berkley Edwards races toward the finish line on the way to winning one of his two MHSAA titles Saturday. (Middle) Mason's Tanner Hinkle sets the pace in the 3,200. (Photos by Greg Chrapek.)