Amid Life's Hurdles, Mendon Sprinter Rises
April 11, 2018
By Wes Morgan
Special for Second Half
Sam Cleveland remembers a day back in elementary school, or at least parts of it, that changed his life forever.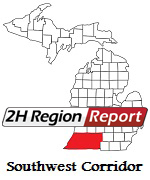 He recalled feeling lightheaded, seeing a fuzzy image of the floor before passing out. After regaining consciousness, he was taken by ambulance to the hospital.
Now a junior three-sport athlete at Mendon High School, Cleveland was diagnosed with severe hypoglycemia, a condition caused by a low level of blood sugar (glucose), which is the body's primary energy source. Since then, he has been on a strict diet that requires many meals a day.
Despite the health concern, Cleveland has been able to navigate a twisting path through life, academics and athletics. Without going into detail, his coaches noted how Cleveland had been able to remain focused in the face of a challenging home life as a youngster.
Now he lives with his grandmother, who is battling cancer and relies heavily on the support Cleveland provides. Through all of this, Cleveland has been an integral component to the success of both the Mendon football and wrestling teams. The Hornets advanced to the MHSAA Division 8 Semifinals in football, and the grapplers followed that up this past winter with a trip to the Division 4 Quarterfinals after claiming their first Regional crown in nearly three decades.
Cleveland's role in football was mostly on special teams, where he returned both a kickoff and a punt for touchdowns in one game. He missed the majority of his sophomore season in 2016 with a broken fibula. On a power-packed wrestling team, Cleveland filled the 152-pound spot when one of the Hornets' top performers, Kaden Frye, missed a good chunk of the season recovering from a severe leg fracture.
"I'm not very good at it at all," Cleveland said, noting his still-solid 11-12 record on the mat. "This year I wasn't going to wrestle. I had a lot of stuff going on personally. It wasn't appealing at all to me because the year before that I had a really bad year. But I've realized wrestling is one of those things that keeps me going. It's the pinnacle of my athletic ability because of how hard we go. There's no other practice like wrestling practice.
"I can't cut weight, or I will die. I have to eat like eight times a day on a schedule. It's a struggle to wrestle, but I do it anyway because I love my coach and the kids on that team. There's nothing like that atmosphere. Here at Mendon, wrestling and football are the hardest things you'll do. We try our best and put everything on the line."
That Cleveland decided to return for another year of wrestling didn't surprise coach Caleb Stephenson, who said the student-athlete has accepted a number of challenges he didn't necessarily ask for in life.
"A kid like Sam is exactly what you think about when you think about small-town sports," Stephenson said. "He's so crucial. You've got to have these guys that are three-sport athletes. He's going to give you everything he's got every single day, and you just love kids like that.
"He's had to deal with so much more than he ever told you. He's had a rough upbringing and has had to deal with some things kids shouldn't have to deal with at such a young age. Without Sam this year, we wouldn't have been the wrestling team we were. When Kaden got hurt, Sam stepped up. That's the way he's grown up. He's had to; he's had no choice."
On the track is where Cleveland's confidence noticeably comes alive. As a freshman, he qualified for the Division 4 Finals in the 100 meters. Last season, he secured the final (eighth) all-state spot in the event with a time of 11.5 seconds, along with a seventh-place performance with the Mendon 800 relay team and an 11th-place finish with the 400 relay. Cleveland also qualified for the Finals in the long jump.
"He's a tough kid," Mendon track coach Vic Wilczynski said. "This might be one of the first years he has started out not hurt. He's a good leader and is out there working with the younger guys. Not many guys have qualified as a freshman in the 100 (from Mendon), and he followed that up with all-state. You look up at that (program) record board, and there aren't that many guys up there in the 100, period."
He may not headline the football and wrestling rosters, but the spring is when Cleveland has a chance to shine.
"I'm pretty psyched about the 100," Cleveland said as the 2018 track season gets going. "It was never really my thing. In middle school I used to run the 800 and the 400. I never thought of myself as a sprinter, to be honest.
"Track season is the most important season to me. It keeps me in the best shape and is something I thrive at. I strive to be better every day."

Wes Morgan has reported for the Kalamazoo Gazette, ESPN and ESPNChicago.com, 247Sports and Blue & Gold Illustrated over the last 12 years and is the publisher of JoeInsider.com. He can be reached at wmorgan@joeinsider.com with story ideas for Berrien, Cass, St. Joseph and Branch counties.
PHOTO: Mendon's Sam Cleveland charges forward during a 100-meter preliminary at last season's Lower Peninsula Division 4 Finals at Houseman Field. Evart's Major Griffin is to his left, and Wyoming Potter's House Christian's Shelton Rodriguez is to his right. (Photo courtesy of JoeInsider.com.)