Cardinals Cap Unbeaten Season with 1st Title
June 12, 2017
By Geoff Kimmerly
Second Half editor
As coach Jeff Erickson searched the hallways for athletes to bolster his boys track & field team, he let them know up front this was not a sport where they'd get tons of attention and hype.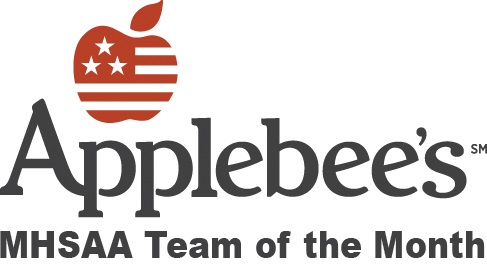 This season, those 28 athletes instead earned an MHSAA Finals championship.
With a few football players here, some basketball players there, and a boost from the cross country program started only four years ago, Whittemore-Prescott routed its Lower Peninsula Division 4 Regional opponents by 98 points and then claimed the Michigan Interscholastic Track Coaches Association Division 4 team championship over Memorial Day weekend.
Technically, those accomplishments earned the Cardinals the MHSAA/Applebee's Team of the Month award for May. But it's impossible to not also mention what Whittemore-Prescott accomplished the following weekend, on June 3 – the Cardinals won their first MHSAA Finals boys track & field title, by five points over Manton, and without an individual event champion.
"For a Division 4 school to be as deep as we were, we had kids come out this year that really helped us out and added to our depth," Erickson said. "We had the banquet (last week), and I told the kids the difference between us and everybody else was our number two and number three (in each event). Everybody is going to have one or two good kids, and sometimes that's enough to win a state meet … but we had our share of really good kids, and our key was our number two and number three."
Whittemore-Prescott won every meet it participated in this season.  
The 187 points scored at the Regional not only led to the large margin of victory, but were the most scored by a boys team at any Regional this spring. The Cardinals then won the MITCA team meet by 202 points with first place finishes in four events: junior Michael Eagen in long jump, junior Zane Aldrich in the 1,600 and by the 400 and 800 relays.
The MHSAA Finals are scored a little differently than MITCA's team meet, taking more into account a team's elite performances – but the Cardinals' depth still showed through.
Although there were no individual winners, Eagen was second in the long jump, a half-inch out of first. Senior Azaiyah Bell took fifth in the 100 meters, and junior Bradley Lomason was sixth in the 400. Senior Hunter Kensa was seventh in the 800, and Aldrich was fourth in the 3,200. The 1,600 relay of senior Ian Driscoll, Bell, sophomore Ridge Schutte and Lomason took second, only a half-second back, and after the same group placed third in the 800 relay.
"I thought we had a chance to be very, very good, but believe it or not we lost a lot from last year," said Erickson, referring to his team that finished sixth in LP Division 4 in 2016. "But teams lose kids every year. It's really about trying to fill those voids and seeing into the future. We go after the (MITCA) team meet, because to be in the position (to win) you have to have three pole vaulters, three hurdlers, and that's helped us to have that depth. We always try to have a back-up plan."
Erickson, a 1989 graduate of the school, also had an advance plan to build up the program – although all of the pieces fell into place perhaps more smoothly than could have been imagined and with a few beneficial surprises along the way.
Groundwork was laid when Erickson started an offseason "Iron Club" for athletes from any program – for example, the softball team has been one of the biggest participants as Cardinals from all sports take advantage of another chance to put in extra work. Among those Erickson recalled recruiting to the Iron Club was now-senior Nick Stern, who won Regional titles this season in both the discus and shot put.
Another significant piece was the formation of the cross country program in 2013. Erickson, then the athletic director and track & field coach, was approached by then-sophomore Clayton Lange about starting the team. Erickson told Lange he'd do so and coach if Lange could find six classmates to fill out the roster with him – and when Lange did, Erickson and assistant Leroy Oliver got that program rolling.  
In addition to Oliver, Erickson found more valuable help. Al Kushion joined his track & field staff after 31 years coaching at McBain. Doug Grezeszak, a MITCA Hall of Fame coach at Ogemaw Heights and Whittemore-Prescott alum, also came on to assist. Tim and Jody Yorton joined to instruct the throwers; Jody had been an All-American at Ferris State.  
And Erickson's contributions can't be overstated. He originally took over the program on short notice while serving as athletic director in 2007 when his coach at the time was called into active military duty. Add in his roles in the formation of the cross country program and as a recruiter in the halls both for his team and the Iron Club. And then consider that this was his first school year not at the school – he moved on before last fall to the Clare-Gladwin Regional Education Service District, about an hour drive from Whittemore-Prescott.
That daily trip meant relying more on his assistants. It also meant pushing Iron Club later into the afternoon, which meant athletes often went home and came back to work out – and Erickson said this team was especially committed to doing so.
"It was kind of a unique story from the perspective of that, and the kids and what they were able to do," Erickson said. "What the kids were able to accomplish, it was such a great thing."
Past Teams of the Month, 2016-17
April: Frankfort baseball - Report
March: Flushing girls basketball - Report
February: Grand Rapids Forest Hills Central girls skiing - Report
January: Powers North Central boys basketball - Report
December: Dundee boys basketball - Report
November: Rockford girls swimming & diving - Report
October: Rochester girls golf - Report
September: Breckenridge football - Report
PHOTOS: (Top) Whittemore-Prescott's boys track & field team stands together with its first MHSAA Finals trophy in the sport. (Middle) The Cardinals' Zane Aldrich leads the pack during the 3,200 at the Lower Peninsula Division 4 Finals at Grand Rapids Houseman Field. (Photos by Dave McCauley/RunMichigan.com.)