Clare Boys Hang On for 1st title since 2000
By Jeff Bleiler
Special for Second Half
COMSTOCK PARK – For the second straight year, the Lower Peninsula Division 3 boys track & field championship came down to the final race at Comstock Park.
Chesaning was the benefactor last season. On Saturday, it was Clare's time.
The Pioneers finished third in the 1,600-meter relay, and although Berrien Springs won the event to finish with 42 points, Clare came away with the big team trophy with 44 points. Kent City finished third with 32 points.
Clare's championship was its first in boys track since 2000, and coach Adam Burhans said he had a handle on the standings throughout most of the day.
"We came in expecting to fight a battle all day with Berrien Springs, Caro, Kent City, and that's pretty much what happened," he said. "Where one team would falter, one team would pick up points. I told the team that in this type of scoring, if you get in the realm of 40 points, you've got a shot."
Berrien Springs likely found the outcome mildly shocking as Clare was nowhere in the top four with just three events left. The standings at the point did not account for the points that hadn't been tallied in the discus, where Clare's Noah Nivison won with a throw of 156 feet, 7 inches, and teammate Zac Stickler placed sixth. Stickler was also third in the shot put, which were 16 big points in the grand scheme.
But Burhans really has senior Xavier Martin to thank. Martin anchored two of Clare's three all-state relays – and was the third leg of the other – and finished second in the 200 in 22.54 to Kent City's Giovanni Weeks (22.36).
Clare was second in the 800 relay in 1:29.64 with junior Jake Hawley, sophomore Colt Smedley and Brenden Sersaw joining Martin; third in the 400 relay in 43.91 with the same group except Sersaw anchored ahead of Martin; and third in the all-important 1,600 relay with Sersaw, Smedley, senior Justin Tickle and Martin in the lineup.
Martin said the team watched Berrien Springs put up a 3:23.42 time in the heat before the Pioneers' preliminary and knew it had a tough battle.
"It was a lot of pressure," he said. "We watched them run and were like, 'Oh my God, that's a really good time.'"
Needing a finish no worse than fourth to claim the Finals championship, the Pioneers responded in the last boys event of the day.
"It's a situation kids dream of, to make a last-second shot to win, but it's not what a coach dreams of," Burhans said, chuckling.
Elsewhere, Jackson Blanchard had some big shoes to fill at Houghton Lake in terms of the hurdle events. He's wearing them quite well.
Blanchard, a senior, successfully repeated with championships in the 110 and 300 hurdles, claiming the 110 title in a meet record 14.23 seconds. That eclipsed the time of 14.3 set by Derrick Cook of Muskegon Oakridge in 2003.
Blanchard won the 300 hurdles in 37.79 seconds, beating his nearest opponent (Kalob Bellows of Lake City) by nearly two seconds.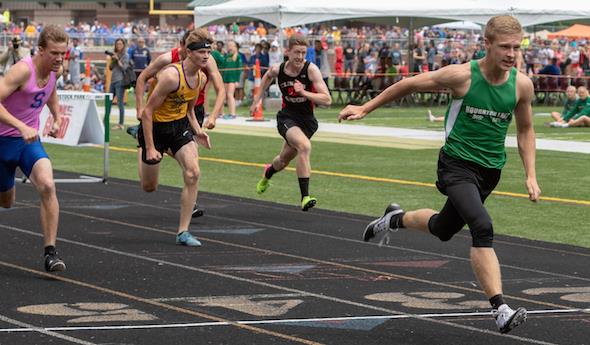 But perhaps more satisfying to Blanchard was that he took down the school records set by his father and hurdling mentor, Thomas Blanchard.
"It is amazing (to win the state titles again)," Blanchard said. "I'm getting chills just thinking about it. Getting the 110 record was really cool, too; an amazing feeling. It's a shocked, proud feeling. (After I won last year), I told my dad it was my goal to get first again, and that's what I did."
The younger Blanchard, who took up the hurdles even semi-seriously only as a sophomore, beat his father's school record in the 300 that season. He topped the 110 several times this season, punctuated by Saturday's time. Blanchard's main focus was golf during the spring sports season, so he rarely practiced for track. As a sophomore, he competed in only the minimum number of meets he needed to qualify for Regionals.
"Imagine what I could do if I practiced," said Blanchard, who next heads to Central Michigan University to run the 110 and 400 hurdles for the Chippewas.
In the field events, Jacob Ager of Boyne City sat seventh going into the final round of the shot put. On his last attempt, he launched a bomb 59 feet, 11 inches to comfortably win the championship. Jack Boyle of Roscommon was second at 58-1½.
The finish surprised even Ager.
"My first three or four attempts were not that good, but then my coach told me to explode back and focus on the snap at the end, and that's what I did," said Ager, whose best put of the day before the winner was 56-1. "It's a good feeling (to win). I was looking at the rankings and thinking about it. It's kind of surreal."
Ager, who also finished 10th in the discus, is heading to Northern Michigan in the fall and will play football.
In the pole vault, Manton senior Zach Flint won after being the only athlete to clear 13 feet, 6 inches. Flint, who entered the meet with a vault of 13-0, failed in his quest to conquer 14 feet but already had first place in his pocket.
"It feels good to finally get a medal at states," said the senior, who was 14th in Division 4 last season. "I knew I was better than that."
Flint, who cleared 14-3 on Monday in winning the Cadillac News meet, will vault for Aquinas College in the fall.
Saugatuck junior Corey Gorgas was a double winner on the day, claiming the 1,600 in 4:15.74 and later adding the 3,200 in 9:17.32.
Caro won the 3,200 relay in 8:05.71 with juniors Yami Albrecht, Caleb Cotton, Bryden Miller and Aaron Hulburt.
Junior Caleb Schuette of Grandville Calvin Christian won the 100 in 11.10 seconds, and Hart senior Logan Wells won the 400 in 48.89 seconds. Leslie senior Devin Gibbs won the 800 in 1:55.88.
Sam Spaulding, a junior at Berrien Springs, won the high jump with a 6-7, and Quincy senior Bryce Ruhl won the long jump with a 21-¾.
VIDEO: Blanchard Doubles in D3 Hurdles 
PHOTOS: (Top) Clare scored big in relays on the way to its first Finals title since 2000. (Middle) Houghton Lake's Jackson Blanchard pulls away from the field during one of his hurdles victories Saturday. (Photos by Annette Tipton. Click for more from RunMichigan.com.)