Comeback Jump as Meaningful as Record
June 4, 2016
By Bill Khan
Special to Second Half
HUDSONVILLE — Because it was wind-aided, the performance by Jackson senior Anthony Owens on Saturday won't count in the MHSAA track and field record books.
But while it won't go down officially as the best long jump ever at an MHSAA Finals, it was one of the greatest jumps, given the circumstances.
Owens was in third place going into the final jump at the MHSAA Lower Peninsula Division 1 meet on Saturday at Baldwin Street Middle School. He not only had to overtake the two jumpers ahead of him, he had to overcome the pain of a hamstring injury that he suffered on his second jump of the day.
"It really wasn't working for me and things weren't going my way," Owens said. "But my coaches talked to me and told me this is my last year, to finish strong and leave it all out there and just have fun with it. That's kind of what I did for my last jump. It paid off a lot."
Did it ever.
Owens delivered a jump of 24 feet, 1.25 inches to pass Ann Arbor Pioneer's Terius Wheatley (23-10.75) and East Kentwood's Andre Welch (23-7) and win the long jump championship. Owens' jump eclipsed the 24-1 performance by Flushing's Jeff Kline in the 2009 Lower Peninsula Division 1 meet as the longest ever in any division of an MHSAA Final. However, the wind was at 2.4 meters per second when he jumped, more than the 2.0 that is allowable for record performances.
There is precedent for not including jumps that are wind-aided in the record book. In 1996, Midland's Okoineme Giwaagbomeirel won the Lower Peninsula Class A meet with a jump of 24-6 that was wind-aided.
The guts that it took for Owens to come through and win the long jump means more to him than the record. He was third with a jump of 23-3.25 going into his final jump.
"It was a big deal for me, because I didn't think I was going to be able to get 24 feet with my hamstring pulling on me," Owens said. "The fact I fought through it means a lot. I'm glad I could compete with those guys. Those guys, if it wasn't for them, I wouldn't have got to 24-1 and got first."
While Wheatley and Welch are rivals, they are also friends who respect one another's ability.
"I know a lot of them," Owens said. "(Wheatley) is a great kid. I love competing with him. We get the best out of each other. He actually PR'd (personal record) today a lot. I think he was excited as much as me. He deserves the glory as much as I do. Without those guys, I don't think we'd be able to compete at our best, because we all know we're right there by each other."
Owens also felt inspiration from a former teammate, Maseo Moore, who died in an automobile crash on I-94 on May 24, 2015. Moore, a member of the track and field team, would have been a senior this season.
"Going into this track season, it really wasn't all about me," Owens said. "It was about the people around me. Our football coach would always tell us, 'It has everything to do with you and nothing to do with you.' When you take away what you're doing for yourself and define your 'why' and why you're doing it, you'll be successful and be a champion. Once I found my 'why' and why I was doing it and why I wanted to be at the top, it paid off. I wouldn't be here if it wasn't for my coaches and Maseo and all the support I have."
One all-division MHSAA Finals record that will stay in the books is the throw of 67 feet, 5.75 inches by Oxford senior Connor Bandel in the shot put. Bandel's throw broke the all-division record of 64 feet, 0.5 inches set by Todd Duckett of Kalamazoo Loy Norrix in the 1999 Lower Peninsula Class A meet. Bandel won by 13 feet, 1.25 inches.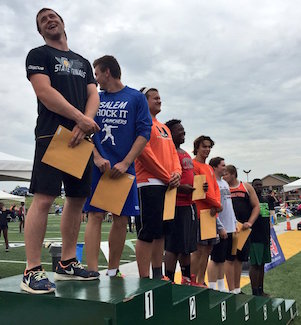 Bandel also chased the discus record of 210-1 set by Cullen Prena of Walled Lake Central in the 2012 Lower Peninsula Division 1 Finals, but he had to settle for a decisive victory with his throw of 198-11. Bandel won by 20 feet, 11 inches.
Bandel's record throw in the shot put came in the fifth of his six throws.
"It definitely felt like a good throw," he said. "I was actually kind of surprised by the distance, because I threw 57-2.5 last week, and that one actually felt better in comparison. I guess I did something a little bit different that I didn't notice and I ended up throwing a little bit farther."
While the wind aided Owens in the long jump, it may have hindered Bandel's bid for the discus record. His personal record is 204-2.
"The big difference today was the wind," said Bandel, who also swept both events last year and hit 198-11 twice on consecutive throws Saturday. "The 204-2, I had a pretty decent headwind to help lift the disc up a bit. The back wind knocked it down a bit."
In the team competition, Oak Park scored 55 points to win its first MHSAA boys track and field championship since the 1972 squad won the Class A title. Rockford was second with 46 points, while East Kentwood was third with 37. East Kentwood had won five of the previous seven Division 1 championships.
Oak Park's only victory came from junior Cameron Cooper, who took the 800 in 1:51.68. Senior Dekaryea Freeman was third in the 800, giving Oak Park 18 points in the event.
Miles Daniel was second in the 100, third in the 200 and ran on the fifth-place 400 relay team for Oak Park.
"The biggest thing we've got going for us is we got some football players to come out," Oak Park coach Robert Lynch said. "The football players came out, have been part of the track team and have put us over the edge."
East Kentwood's Khance Meyers won two events, taking the 100 in 10.73 seconds and helping the 800 relay team set a Division 1 meet record of 1:26.27. Ansel Jeffries, Shane Harris and Welch also ran on that relay team.
The other individual champions were East Lansing's Kentre Patterson (110 hurdles, 14.03); Ann Arbor Skyline's Anthony Giannobile (1,600, 4:11.48); Wayne Memorial's Montel Hood (400, 47.30); Dearborn's Adnan Hamka (300 hurdles, 39.62); Fenton's Jacob Lee (3,200, 9:07.72); Rockford's Jonny De Haan (pole vault, 15-0); and Mount Pleasant's Kalebb Perry (high jump, 6-7).
The other winning relays were run by Rockford (3,200, 7:43.92); Detroit Cass Tech (400, 42.26); and Saline (1,600, 3:19.37).
PHOTOS: (Top) Jackson's Anthony Owens prepares for launch on the way to winning the long jump championship. (Middle) Oxford's Connor Bandel stands atop the awards podium after repeating as shot put champion. (Photos by John Brabbs/RunMichigan.com.)