Copper Country Distance Stars Cap Senior Seasons with Fast Finals Finishes
CALUMET — It was quite a workout for Dollar Bay's Nik Thomas and Houghton's Eric Weiss whenever they met in area track meets this season.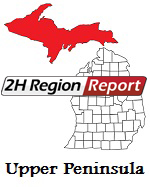 A prime example was on display during the Houghton County Invitational on May 13 at Houghton when both seniors were clocked under 10 minutes in the 3,200-meter run.
Thomas won in a school-record 9:54.91, and Weiss was runner-up at 9:56.47.
Thomas also set a school record at that time in the 1,600 while winning in 4:26.58. Weiss was clocked at a personal-best 4:30.71.
"Breaking 10 minutes in the 3,200 was a huge accomplishment." Thomas said after winning four races in the Division 3 Regional at Lake Linden on May 18. "I was really proud of that. Kolson Kytta (last year's UPD3 1,600 and 3,200 champ and now assistant track coach at Chassell) called out my splits at Houghton, and I really appreciate that. What's neat is every time I ran a PR, I set a school record."
Thomas then established Upper Peninsula D3 Finals records June 4 in the 1,600 (4:25.91) – which topped his previous school record – and 3,200 (10:05.59).
He also won the 800 (2:01.27) at the U.P. Finals in Kingsford.
Weiss was Division 1 runner-up in the 800 (2:03.18) and 3,200 (10:07.12) and third in the 1,600 (4:37.2) at the Finals.
Thomas also set the school record in the 800 (1:59.92) in the Copper Country Invitational in Houghton on May 16 and added three victories in the Copper Mountain Conference meet at Wakefield on May 24.
"Nik is crazy fast," said Weiss, who won the 3,200 in a personal-best 9:49 at the Ontonagon Invitational May 6. "I was very happy with running a 4:30 in the Houghton County Invitational. That was also a great race when I got my PR at Ontonagon. I definitely felt good that day."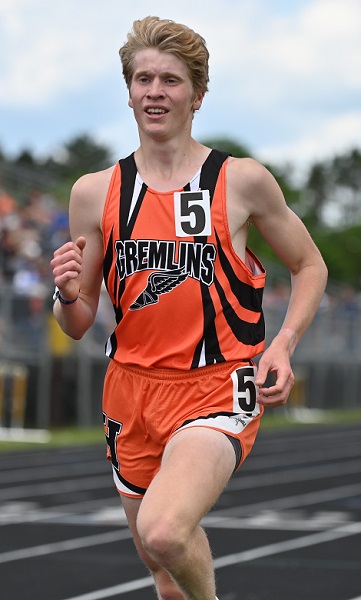 Also in the mix was Ewen-Trout Creek senior Jonah Nordine, who was the UPD3 Finals runner-up in the 800 (2:06.39), 1,600 (4:40.3) and 3,200 (10:26.51).
Weiss, who took the Western Peninsula Athletic Conference title in the 1,600 (4:37.44) and 3,200 (10:21.03) on May 31 at Calumet, became interested in distance running as a freshman.
"I went out for cross country and started enjoying it," said Weiss, who plans to continue his running career this fall at North Dakota State University in Grand Forks. "I've also done cross country skiing and a little bit of running in the winter."
Thomas, who temporarily battled paralysis during his sophomore year, says he was proud to represent his school.
"I got into such a zone," said Thomas, who also set two meet records in the Houghton County and Copper Country Invitationals. "There were times when I lost my vision. While I was paralyzed I never thought this would be possible, but everybody was so supportive.
"Going under two minutes in the 800 was unbelievable. We're such a small school. Everybody knows everybody. I don't think you'll find this kind of experience anywhere else."

John Vrancic has covered high school sports in the Upper Peninsula since joining the Escanaba Daily Press staff in 1985. He is known most prominently across the peninsula for his extensive coverage of cross country and track & field that frequently appears in newspapers from the Wisconsin border to Lake Huron. He received the James Trethewey Award for Distinguished Service in 2015 from the Upper Peninsula Sportswriters and Sportscasters Association.
PHOTOS (Top) Dollar Bay's Nik Thomas leads the pack near the end of the first lap of the UPD3 800 race at the June 4 Finals at Kingsford. (Middle) Houghton's Eric Weiss runs a straightaway during the UPD1 3,200 championship race. (Photos by Cara Kamps/Run Michigan.)