Dunn Ends with Memorable Finishes
June 1, 2019
JENISON – The Dunns are done.
Brad Dunn is the last of nine children, four of them boys, to go through Saugatuck High School – and he more than held his own on the last day of competition.
His father, Bill Dunn, is the football coach and athletic director at the school, and it's been a successful ride for him and his family. Will and Nick are the two oldest boys, but it was Blake Dunn who caught the attention of fans statewide. Blake led Saugatuck to the MHSAA Division 7 Football Final before the team lost to Pewamo-Westphalia, 21-0. He set just about all the school records in football and is in the top 10 of a number of MHSAA all-time record lists including points scored in a season (323, good for third place), career points (827, good for second) and career touchdowns (113, food for fourth).
Brad is no slouch. His 43 touchdowns this past season places him in a tie for 10th and is one better than his brother had in 2016.
On Saturday at the Lower Peninsula Division 3 Track & Field Finals at Jenison High School, Brad Dunn placed first in two individual events to end his career on a high note.
He took first in the 100-meter hurdles with a time of 14.63 seconds and then later first in the 300 with a time of 40.06.
"It's crazy being the youngest," he said. "I usually got blamed for everything. (My older brothers) set the example for me. They told me what to do and what not to do."
Blake is playing baseball at Western Michigan University and Brad, who played four sports in high school including also basketball and baseball, will attend Grand Rapids Community College and plans on being a pitcher for the baseball team. He's a lefthander who possesses an 83-mph fastball and three other pitches.
"You know, I'll miss all the sports I played," Brad said. "I'll miss the community. I looked up to Blake when I was growing up. He was awesome."
Disappointment turns into a positive
Giovanni Weeks of Kent City thought he had won the 100 dash but was edged at the finish line by Aiden Harrison of New Lothrop. Harrison won with a time of 11.07 to 11.09 for Weeks.
No matter. Weeks placed first in the long jump (21 feet, 5¼ inches) and then won the 200 dash (21.93).
All of this took place as the Grand Rapids area was inundated with thunderstorm after thunderstorm. There were three weather delays during the meet with the shortest, taking place in the middle of the meet, lasting just 30 minutes but featuring dime-sized hail.
"It was pretty hectic," Weeks said. "I had my jump just near the prelims of the 100 and I really just had one good jump. I didn't have to think about it, and that probably helped. Winning was a thought but it just depends on the day. You can't plan on this thunder and stuff."
Northern exposure
Jeremy Kloss of Harbor Springs trailed Ransom Allen of Ithaca nearly the entire 1,600 run. Allen took the lead from the start and looked unbeatable until the last 100 meters.
"(Allen) ran an awesome race," Kloss said. "He took the race by the horns.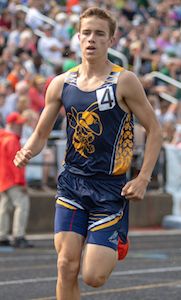 "I felt he was tiring a little with 300 to go. That momentum came to me in the last 110. I just went back to the drills, lifting my legs up. It was amazing. To have the lead all that way is crazy."
Kloss nosed in front with about 50 meters left and won by four hundredths of a second. His time was 4:15.59. Allen was second at 4:15.63.
Kloss was runner-up last year, sixth in Division 4 as a freshman and won the title in Division 4 as a sophomore.
Allen gained some payback by taking first in the 3,200 run with a time of 9:19.70.
Ready after the delay
Sal Tranchida of Marine City showed patience throughout the day. With the rain causing a wet surface as he approached the bar in the high jump, he just waited for his opportunity.
"It was weird," he said. "I was jumping 5-9, 6-1, then the long delay happened. Then after the (second) delay the track was better and I got to 6-3 and higher. I saw the other guys jumping 6-5 and it got me going."
Tranchida won the high jump with a leap of 6 feet, 7 inches, two inches higher than second-place Sam Spaulding of Berrien Springs.
"I told my coach before the meet," Tranchida said. "I knew I was ranked high, and I was going to try to win it."
His jump also was a personal best.
Close call
In one of the more closely-contested Finals, Ithaca won the team title with 45 points, one more than runners-up Pewamo-Westphalia and Saugatuck. Harbor Springs placed fourth with 43 points and New Lothrop and Kent City each had 33 to finish in a tie for fifth.
Ithaca did not score any points in the meet's final event, the 1,600 relay. Harbor Springs won that event to garner the 10 points and make a final move up the standings. Pewamo-Westphalia placed third in the 1,600 relay and missed an opportunity to win the team competition. Had the Pirates placed second, they would have earned eight points and won the title by one over Ithaca.
In addition to Allen's fine finishes in the two distance races, Ithaca received valuable points in the field events. Alex VanDeWeghe won the shot put at 59 feet, 7 inches, and placed fifth in the discus. Ithaca's Baylee Chaffin placed second in the discus with a throw of 161 feet, 1 inch.
Winners all
Detroit Edison senior Brian Taylor and Morley Stanwood junior Aiden McLaughlin earned championships in the 400 and 800, respectively. Harrison also anchored New Lothrop's winning 400 relay. 
Warren Michigan Collegiate won the 800 relay, and Harbor Springs took the 1,600 and 3,200 relays with Kloss leading off the former and anchoring the latter. 
Constantine junior Wyatt Alwine won the pole vault, and Pewamo-Westphalia junior Nathan Spitzley claimed the discus title.
PHOTOS: (Top) Saugatuck's Brad Dunn stretches across the finish line in winning the 110 hurdles Saturday at Jenison. (Middle) Ransom Allen scored big points to help Ithaca to the team title. (Photos by Annette Tipton. Click to see more from RunMichigan.com.)