Heritage Sprinter Off to Stunning Start
May 2, 2018
When Marcus Montgomery took the advice of his good friend Juwan Roberts and joined the Saginaw Heritage track team prior to the 2017 season, he did it with the simple expectation of having fun.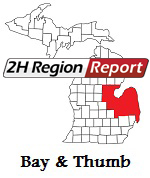 He never imagined where he would be a year later – among the top 400-meter runners in the state and starting to see interest from Division I colleges. Montgomery's personal best 400 time of 48.81 seconds, in a race he didn't run competitively until this past winter, ranks third in the state this season in all divisions.
It's an emergence longtime Heritage boys track coach Gary Loubert called "nothing short of stunning."
"I wouldn't have believed (this was possible)," the Heritage senior said. "Last year, at the beginning of the season, (Heritage girls track coach Ricky Flowers) did say that he was going to get me to states, but that was for the 100. But now, he's got me somewhere I never thought I would be in a whole different event."
As a junior, Montgomery started as a jumper, and eventually moved to sprints, where he was solid in the 100 and 200. While his times didn't scream championship runner, the raw ability he showed while running at least gave a hint it could be pulled out of him. At 6-foot-4, Montgomery had the stride length – he just needed to learn how to use it.
Enter Flowers, a former World Class sprinter who ran at Michigan State University. Flowers, who coaches sprinters for both Heritage teams, took Montgomery under his wing, and even through the disappointment of him being academically ineligible to run in the 2017 Regional meet, he stuck with the talented youngster, encouraging him to work on the sport in the offseason.
"I just saw the length that he had and how he ran, and I said, 'This kid probably could do something with some teaching,'" Flowers said. "I started giving him workouts and teaching him just how to run. This fall, I put it out to some of the kids to join my track club … long story short, Marcus ran indoors, he ran a 48. He came to all my practices, he got a taste of winning and learning how to run and finish races. Now we can't keep him off the track. The best is yet to come."
Montgomery's first 400-meter run was more of a learning experience than a triumph. He finished it in about 54 seconds after running with no plan in place.
"For my first time, I did not have a strategy at all," he said. "I full-on sprinted. I'm not going to lie, I was winded halfway through it. I honestly didn't think (it would be my race) because of how winded I was, but just kept working at it."
He ran at the Michigan Indoor Track Series meet in Saginaw and placed fourth with a time of 49.39 seconds, and won the Saginaw Valley State University Division 1 Indoor Invitational with a time of 49.2. He also qualified for the national competition in New York, but did not make the trip.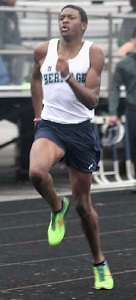 Now, even though the weather has been less than ideal for displays of speed, he's carried that momentum over into his outdoor season, where he's yet to be defeated in the 400. His success on the track has led to more focus off it, as Montgomery has put more focus on his school work.
"The success Marcus has been enjoying is transformative on so many other levels," Loubert said. "He has grown in wonderful ways with a confident, but courteous attitude. He is extremely outgoing and a pure joy to coach. His teammates have really enjoyed watching the growth, too. He has definitely become a lead-by-example athlete. They are inspired by his progress and admire how smooth he runs. A little hard work and a growing positive attitude have been a catalyst for not only Marcus, but others are noticing and buying in. He is writing a story that will help strengthen our culture as a program."
The prospect of running collegiately is a major motivator for Montgomery, who realizes that listening to his friend and coming out for track a year ago could very well have changed his life. He said the possibility has made him want to become a better student, as well as a better athlete.
But on the track, the future isn't his concern.
"Coach has talked to me about that, about the things I can do and the things I have possibly in the future," Montgomery said. "Myself, I'm more concentrated on right now. I'm sure when that time comes, it will hit me and my mind will be blown."
Montgomery is worrying about being the best 400-meter runner he can be. Being the best 400-meter runner in Heritage history (the school record is within sight at 48.1), and the best 400-meter runner in the state.
"I want to be one of those guys that brings back a state championship for Heritage," he said. "Most of this I'm doing not only for myself, but for my family and my school in general. I want to make everyone proud."

Paul Costanzo served as a sportswriter at The Port Huron Times Herald from 2006-15, including three years as lead sportswriter, and prior to that as sports editor at the Hillsdale Daily News from 2005-06. He can be reached at paulcostanzo3@gmail.com with story ideas for Genesee, Lapeer, St. Clair, Sanilac, Huron, Tuscola, Saginaw, Bay, Arenac, Midland and Gladwin counties.
PHOTOS: (Top) Marcus Montgomery (196) charges through a turn during the 400 at the MITS state meet in February at Saginaw Valley State University. (Middle) Montgomery sprints the final stretch during a race this spring. (Top photo by RunMichigan.com; bottom photo courtesy of Marcus Montgomery.)