Jesuit Emerges from Meet Full of Close Finishes with 1st Team Title Since 1993
ROCKFORD – Jaiden Reed had faith in the Detroit U-D Jesuit 1,600-meter relay team.
Despite the fact the Cubs qualified into the slowest of the three race heats out of the Regional, Reed knew Cameron Hendrix, Bryson Wade, Nick Johnson and Devin Grantham would come through.
His faith was rewarded.
The foursome finished the first heat with a time of 3 minutes, 21.67 seconds, a time that held up enough through two more heats to clinch the Lower Peninsula Division 1 Finals title.
"I'm excited – my emotions are everywhere right now," Reed said. "I was looking, and it was a one-point lead from what we were looking at. It's just a lot of emotions. My heart was racing. It stopped, it was skipping beats. But I knew they were going to do it. I knew they were going to pull through. Even without our original four, I still knew they were going to do what they had to do."
Thanks in part to that third-place 1,600 relay, U-D Jesuit finished with 41 points, 10 ahead of second-place Farmington.
The Cubs thought they had a one-point win, as East Kentwood's 1,600 relay team was the initial winner, which would have made the top two scores U-D Jesuit 40, East Kentwood 39. But the Falcons were disqualified from the race, and finished tied for third with Clinton Township Chippewa Valley at 29. Rochester Adams rounded out the top five with 24 points.
It was the second team Finals title for the Cubs, with their last coming in Class B in 1993.
"They started talking about it in the winter, 'What's the goal? It's a state title,'" U-D Jesuit coach Carl Brock said. "So to be able to manifest it, it's something special for them. State meets, everything has to go well and you have to have some luck, and that happened today. For Jaiden to not win the 100 or the 200 (he finished second and fourth, respectively) and us still win the team title, something had to break in our favor, and it did."
The Cubs did not have an individual champion, but won both the 400 and 800 relays. Reed was joined by Johnson, Grantham and Hendrix on both relays, which won in 42.39 and 1:28.06. The 1,600 relay team finished third after the East Kentwood DQ.
"Watching them develop their brotherhood," Brock said. "Watching them come together as family. Some of these kids have traveled all over the country running with one another. They've stayed in hotel rooms together, they've developed that brotherly bond. They're running for each other, and that's what it's all about."
The only athlete to win multiple individual titles Saturday was Clinton Township Chippewa Valley's Shamar Heard, who claimed both sprint crowns. He won the 100 in 10.77 and the 200 in 21.32.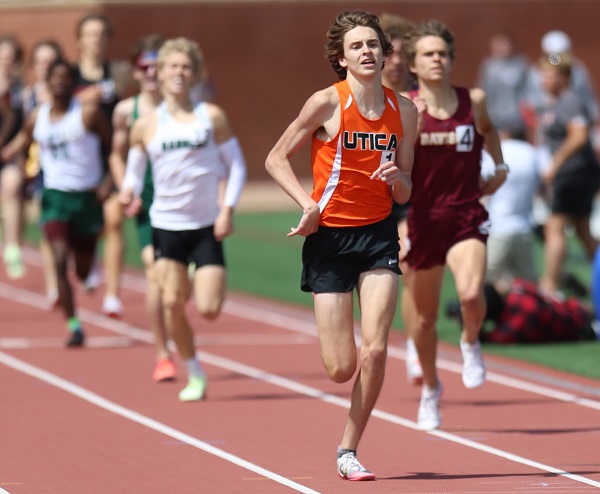 There were plenty of surprises on the day, though, and plenty of tight finishes.
One even needed a camera review, as East Kentwood freshman Malachi Mosley eked out a victory over Oak Park's Josh Flake in the 400. Each runner finished with an official time of 48.85, but Mosley was four thousandths of a second better.
"I just went out there and had to run my race," Mosley said. "I was supposed to be in Lane 7, they moved me to Lane 2, and I was just really surprised. When I realized I could have a chance to catch those top people, I just pulled ahead. I tried to push myself harder than I ever have, and it worked. I was able to catch him."
The 800 featured another tight, exciting finish, as Utica's Trent McFarland used a final kick to pass Davison's Brady McAardle in the final 20 meters, and win in 1:52.03. That race got an unexpected early spark when Saline's Jason Whitton put up a 1:54.81 in the first heat, a time that only McArdle had bested during the season. He ended up finishing sixth.
"A kick is all heart, it's all effort," McFarland said. "Usually I'm known for giving my all at the end. The race went just to plan, I did it perfectly, paced it perfectly. I knew I had to take off that last 300 meters. I saw I was in position for the win in the last 100 meters and I just went. (Whitton) definitely added a little bit of pressure. But me and the other top runners in the group, we talked, we knew what we were going to do. We all wanted to go 1:53, 1:52, and it worked out for some of us."
Hartland's Riley Hough won the 1,600 in his final meet, finishing with a time of 4:07.61, less than a second ahead of Seth Norder of Grand Haven who was second at 4:07.99.
Hough was in an equally tight top two in the 3,200, but this time he came in second to Grand Rapids Ottawa Hills' Benne Anderson, who won the race in 9:02.89, less than a second ahead of Hough.
Kalamazoo Central's Kayenn Mabin won the 110 hurdles in 14.27, 0.02 ahead of Ypsilanti Lincoln's Melik Williams.
Rochester Adams' Armon Howard won the 300 hurdles in 37.32, in a race that saw four runners at 38 flat or lower.
Detroit Cass Tech's team of Renard Richmond, Michael Davis-Hawkins, Aydan Myers and Tamaal Myers II won the 1,600 relay in 3:20.24 after the East Kentwood DQ. That was also a photo finish.
Northville won the 3,200 relay in 7:44.71 with a team of Brandon Latta, Brock Malaikal, David Whitaker and Brendan Herger.
Battle Creek Lakeview's Andrew Berryhill won the shot put with a toss of 57 feet, 9 inches.
"I wanted to throw farther," Berryhill said. "I had a good week of practice in shot put. I was being really consistent all week at 56, 57, so I knew I had it."
Farmington's Jake Steslicki won the discus with a throw of 174-1. Canton's Nathan Levine won the high jump with a jump of 6-8. Muskegon Mona Shores' Demitri Roberson won the long jump with a jump of 23-6.75. Temperance Bedford's Ethan Lingle won the pole vault, clearing 15-9.
PHOTOS (Top) Detroit U-D Jesuit completes an exchange during the 1,600 relay Saturday at Rockford High School. (Middle) Utica's Trent McFarland surges toward the finish of the 800. (Click for more from Jamie McNinch/Run Michigan.)