Many Contribute in Marquette Boys Repeat
June 5, 2016
KINGSFORD — The Houghton boys gave chase, but Marquette withstood the Gremlins' challenge while retaining the Upper Peninsula Division 1 track and field title Saturday.
Marquette collected 144 points to repeat and win its fifth title in seven seasons. Houghton followed with 111 points, and Kingsford tallied 72.
"We had a lot of guys step up," said Marquette coach Kyle Detmers. "I'm proud of their effort. Hats off to Houghton. They had a great meet. I think they'll be the team to beat next year."
Senior distance ace Lance Rambo provided the Redmen with victories in the 800-meter run at 1 minute, 59.23 seconds and 1,600 (4:25.26).
Then in the 3,200, Rambo was well ahead of the field on the last turn of the sixth lap (of eight) when he suddenly hopped off the track in a great deal of pain caused by plantar fasciitis.
"I've had it for about a week," Rambo said. "It's really not that bad, but I didn't get to ice it down after the 800 and it got worse during the 3,200. I'm happy about my first two races and the fact our team did so well. I had decent times in the 800 and 1,600."
Rambo's misfortune opened the door for Escanaba junior Joey Wolfe, who won in a personal-best 9:59.78.
"Hats off to Joey," said Rambo. "He ran a great race."
Lance's brother, Luke Rambo, was runner-up (10:05.29) and Sault Ste. Marie's Aaron Kinsella took third (10:07.11) in a race where the Division 1 and 2 runners ran together.
"It was a tragedy and a blessing," said Wolfe. "I saw Lance go off the track and didn't know what to think. Nate (Carey of Iron Mountain) and the kid from the Sault were right next to me. I told myself, 'this is my chance,' and took off in the last lap. Anything can happen. That's why you always try to do your best. Yet, I feel bad for Lance. I just hope it wasn't anything too serious."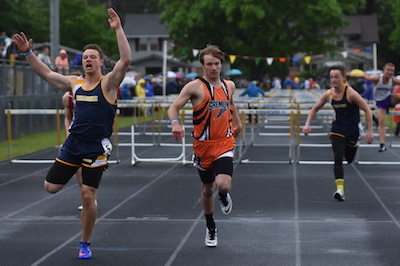 Marquette's Pat Burmeister won the 100 (11.4), placed second in the 200 (23.36) and anchored the runner-up sprint relays.
Teammate Brad Seaborg added a first in the 300 hurdles (42.32). Payton Muljo won shot put at 44 feet, ½ inch, and Taylor Althouse took high jump (5-10).
"Lance ran great races in the 800 and 1,600," said Detmers. "Luke really helped us by taking second in the 3,200 when Lance went down. We scored about 40 points in the field events, which hasn't been common for us. We were seeded fourth in long jump and we got second and fifth. The only disappointment we had is our 3,200 relay got disqualified."
Houghton won the day's opening race in 8:15.38, and Clayton Sayen captured the 400 (51.7), took second in the 800 (2:02.49) and third in the 1,600 (4:38.48). Brad Ohtonen added a first in discus (120-2).
Kingsford's sprint relays, anchored by Ben Moreau, took first in the 400 (45.01) and 800 (1:34.1).
The Flivvers also got a first from Mike Jamar in long jump (20-1¼), with Marquette's Wyatt Goodwin runner-up (20-½).
PHOTOS: (Top) Marquette and Houghton battle during the 3,200 relay, won by the eventual overall runner-up Gremlins. (Middle) Negaunee's Joe Grasso (far left) celebrates his 110 hurdles championship. (Photos by Cara Kamps.)