Marquette Pushes Title Run to 3 Straight
June 3, 2017
KINGSFORD — The Marquette boys quietly went about their business Saturday and were rewarded with their third straight Upper Peninsula Division 1 track & field title.
Marquette collected 128 points. Iron Mountain edged Houghton 76½-73 for the runner-up trophy, and Kingsford was fourth at 61.
The Redmen grabbed the top three places in high jump, with Jedidiah Weber leading the way at 6 feet, 2 inches. Raphael Millado took second and Taylor Althouse was third, both clearing six feet. 
"That was huge for us," said Marquette senior Alex DuVall, who anchored the winning 1,600-meter relay. "We have a lot of young guys. The future looks pretty good. Houghton, Kingsford and Iron Mountain have a lot of good runners. It feels good to bring the title home again."
Senior Wyatt Goodwin added a first in long jump (20-2), and DuVall helped the Redmen take second in the 400 and 800 relay at 45.30 seconds and 1:35.23, respectively. They were clocked at 3:31.33 in the 1,600.
DuVall, who plans to play football and basketball at Lawrence University in Appleton, Wis., in 2017-18, added a fourth place in the 100 (11.74).
"We ran our best time all year in the 1,600 relay," he added. "Our handoffs went real well. We've been working on handoffs in practice, and we've got them down."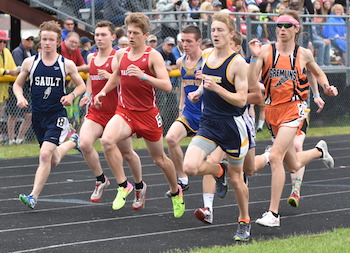 Iron Mountain's Aaron Bolo won the 110 hurdles (15.79), followed by teammate Charlie Gerhard (15.86) and Marquette senior Collin Shinners (15.89).
The Mountaineers captured the 800 relay (1:34.48). Gerhard took the 300 hurdles (41.34), and Bolo was runner-up in long jump (20-0).
Junior Clayton Sayen paced Houghton with victories in the 200 (22.63) and 400 (50.24) and by anchoring the winning 3,200 relay (8:15.7). Kamron Simpkin added a victory in pole vault (12-9).
Kingsford senior Trevor Roberts captured the 100 (11.25), anchored the winning 400 relay (45.25) and took second in the 200 (23.21) and third in long jump (19-6½). 
"This was a rebuilding year for us," said Kingsford coach Doug Roberts. "We lost quite a few seniors last year. Marquette has a real good team. Yes, they're a bigger school. But they have quality athletes and coaches. Hats off to them."
Negaunee junior Colton Yesney won the 1,600 (4:24.81). Marquette junior Garrett Rudden was runner-up (4:30.49) and Sault Ste. Marie senior Ryan Sanderson (4:34.70) squeezed past Gladstone sophomore Adam Bruce by two hundredths of a second for third.
Sanderson took the 800 (2:01.35), edging Yesney by a half-second. 
"He (Yesney) is a good runner," said Sanderson, who's attending Michigan State on an academic scholarship this fall. "He ran a great mile. I've been here for four years and waited and waited to get one (U.P. title). Now that I got one, it's a great feeling. It has been a great ride."
Bruce earned his first U.P. title in the 3,200 (10:20.00), followed by Yesney (10:22.63), Rudden (10:28.43) and Houghton's Seth Helman (10:28.62). 
"I'm super happy," said Bruce. "I wasn't going to run the 3,200 this year.
"I can't ask for a better team. We're a family. We get along real well. I really enjoy running for Mr. (Gary) Whitmer. He makes it fun."
PHOTOS: (Top) Marquette's Raphael Millado lays out over the high jump bar; he finished second in the event. (Middle) A pack of contenders stays close during the 1,600. (Photos by Cara Kamps.)