Marquette Rises to Match Challengers
June 2, 2018
KINGSFORD — The Marquette boys continued their hold on the Upper Peninsula Division 1 track title Saturday, winning for the fourth straight season with 110 points.
Houghton edged Gladstone 86-76 for runner-up honors.
"Competition in D-1 was the tightest I've seen in a long time," said Marquette coach Kyle Detmers. "It was very competitive. It was a battle until the 3,200 when it was just a seven-point difference between us and Houghton.
"It was just packed. I haven't been in a D-1 Track Finals that was this competitive to the end."
Senior Garrett Rudden helped the Redmen gain some separation by placing third in the 3,200-meter run in 10 minutes, 14.41 seconds and helping the winning 1,600 relay (3:35.87). Teammate Garrett Zueger took fourth in the 3,200 (10:28.68) and helped the Redmen take the 3,200 relay (8:30.74).
The Redmen had a double winner in junior Raphael Millado, who captured high jump (6-2) and long jump (19-6).
"Raphael has jumped as high as 6-6 and more than 21 feet (in long jump)," said Detmers. "The wind swirling around down there may have affected the jumping events. We also had a guy (Ethan Martysz) pull up with a hamstring injury in the 100 and pull out of the 200, but the guys fought through it. Drew Thomas taking second in the 110 hurdles and Garrett's second in the 1,600 were huge for us, and Matt (Pillifant) was seeded seventh and placed fourth in pole vault. We stayed steady and scored in all the field events. I'm thankful for the guys' resilience and ability to pick each other up. Every point mattered."
Houghton senior Clayton Sayen won four individual events, taking the 100 (11.47), 200 (23.19), 400 (51.25) and 800 (1:59.31), in the last edging Negaunee senior Colton Yesney (2:00.24).
"It was fun," said Sayen, who plans to continue his track career at Michigan Tech. "I rely on my speed for everything. I'm thankful for our coaches who always knew that was best for me. Without their guidance, I wouldn't have been able to achieve what I did. I also want to make a special shout-out to Seth Helman. Running against him in the 800 was a bittersweet moment. He's my closest friend; I'm really going to miss the time we had together. I'm thankful for the competition we had."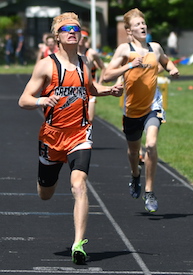 Houghton coach Dan Juntilla said he was pleased with the team's effort.
"Our guys gave it their all, but Marquette was a little too deep for us," he added. "I'm real proud of the guys. Seth and Clayton had a great day, and placing second in the 3,200 relay set the tone. Plus, taking three places in pole vault gave us some big points.
"We're looking forward to having our new facility next year and really excited about what the taxpayers of Houghton did for us."
Yesney, who plans to continue his running career at the University of Michigan, won the 1,600 in a school-record 4:23.49 and 3,200 (9:54.43), missing the U.P. meet record by four tenths of a second.
"I'm a little bummed out," he said. "I thought I had the record. I could envision myself getting the school record in the 1,600. Usually, when that happens it works out well. I thought I had (Sayen) in the 800, but he has that sprinter's speed and just enough endurance to get it done.
"I'm really looking forward to going to U-M, running for one of the best programs in the nation and running against some of the best runners in the nation."
Gladstone's leader was freshman Calvin Thibault, who won the 110 hurdles (16.12) and 300s in a school-record 40.04 seconds.
"I knew what was at stake with us being so close to Marquette (before the 300s)," said Thibault, who's battling an asthmatic condition. "My family and girlfriend (junior Hannah Christe) were here, and I thought about them during the race. Hannah makes sure I get enough rest and energy to run. At the beginning of the season, I didn't think I'd be able to do this well, especially in the 300 hurdles. I didn't know what to expect."
PHOTOS: (Top) Marquette's Raphael Millado clears the bar on one of his high jumps. (Middle) Houghton's Clayton Sayen, left, outkicks Negaunee's Colton Yesney to win the 800. (Photos by Cara Kamps. Click for more at RunMichigan.com.)