North Dickinson sprints, hurdles to first in D3
June 2, 2013
KINGSFORD — Hurdles and sprints have been major strengths for the Felch North Dickinson boys track and field team all season.
That continued at Saturday's Upper Peninsula Track Finals, as the Nordics gained their first Division 3 title in five years with 77 points.
Five points then separated the next five teams, with defending champ Pickford taking runner-up honors this time with 51. The Panthers were followed by St. Ignace with 48, Rapid River at 47 and Rock Mid-Peninsula and Bessemer with 46 apiece.
The Nordics, led by junior Tim Hruska, scored 32 points in field events to go with 28 in the sprints.
Hruska finished as a triple winner, taking the 100-meter dash in 11.53 seconds, 110 hurdles (16.17) and 300 in a personal-best 41.89.
"I just practiced a lot on hurdles," Hruska said. "I was hoping to get first in the hurdles, and the 100 was a bonus. This is awesome. Now that I know I can run these times, I hope to be faster next year."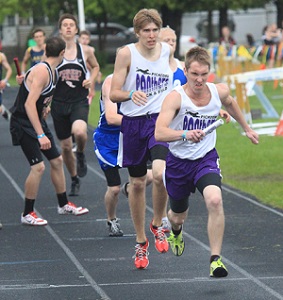 Senior teammate Ken Pekarek grabbed third in the 110 hurdles (17.16) and junior Logan O'Neil took third in the 300 (43.46).
"This is really about the whole team," said Nordics' coach Mike Lindholm. "Everybody pushes each other. They've had confidence all year."
Mid-Peninsula senior Brett Branstrom was also a triple winner, including his personal-best leap of 6 feet, 1 inch in high jump. He also captured shot put (47-11½) and discus (153-9¼).
"I think just being here helped," said Branstrom, who will play basketball at Northern Michigan University next winter. "I didn't have my best throws in shot and disc, although going 3 for 3 is a nice way to end it. We had a perfect day for it. I just didn't perform as well as I liked."
Bessemer junior Alex Smith had a hand in two firsts, winning long jump (20-5) and helping the Speedboys take the 400 relay in a school-record 45.91 seconds.
"We were really pumped to come here," Smith said. "Our handoffs were working real well, and we really wanted to get the record for our school."
Cedarville senior Josh Hester won the 800 and 1,600 in season-best times of 2:03.63 and 4:37.79, respectively.
"The nice track and nice weather helped," said Hester, who plans to run cross country and track at Lake Superior State University next school year. "My training has gone well, and it paid off. We've been doing speed work the past couple weeks, and that also helped. I didn't want to go out too hard in the 1,600 because I didn't want to burn myself out in the first lap."
PHOTOS: (Top) Three North Dickinson hurdlers (including eventual winner Tim Hruska, far right) made up nearly half the field of the 110 hurdles final. (Middle) Pickford won the 1,600 relay and finished second overall in U.P. Division 2. (Photo by Paul Gerard. Click to see more photo coverage from RunMichigan.com.)