Record Falls, Goals Attained at LPD1 Final
ROCKFORD – Jaron Flournoy had his mind set on winning an MHSAA Finals this season.
In order to do so, the sprinter from Westland John Glenn knew he had to do two things: train harder and make a change.
Flournoy finished third in the 200-meter dash last season and failed to make the final in the 100. But he started Saturday's Lower Peninsula Division 1 Track and Field Final with a burst as he won the 100 with a time of 10:56. In the 200, his best event, Flournoy won with a time of 21.25.
Flournoy had to fend off a charge from friend Skyler Bowden of Saline to win the 200.
"I worked hard this year to get here," Flournoy said. "I expected (to win the 100). A lot of guys I train with ran with me today. I knew what to expect.
"It's just a friendship," Bowden added. "He was going to win the 100. I won the 400. It came down to this."
Last summer, Flournoy worked with Stanley Edwards, a former track and football star at Detroit Kettering and the University Michigan, and then with Ann Arbor Huron boys track and field coach Rad Greaves.
"The workouts had more intensity (with Greaves)," Flournoy said. "I got stronger. I'm more flexible. Speed-wise, coming out of the blocks, I'm faster."
Flournoy also quit competing in the 400 to concentrate on the other two sprints. The changes and the hard work paid off. Flournoy, who also played football at John Glenn, signed with Louisiana State University for track.
Bowden had the last laugh, however. Saline won the MHSAA team title, its second and first since 2006, with 71 points. East Kentwood, champions in five of the previous six seasons, was second with 52½ points. Monroe was third with 36, Ypsilanti Lincoln fourth with 27 and Grand Blanc took fifth with 26 points.   
"It's been about team total all year," Saline coach Al Leslie said. "Skyler Bowden worked hard to get here. He was a baseball player as a freshman. 
"I have so much respect for the East Kentwood program. We try to pull all of our best athletes from the other programs to compete. We had 200 kids in the program last year and we have 165 this year. I'm the defensive line coach, and we got three football players to come out for the first time."
Saline reached the MHSAA Finals (Division 1) in football for the first time this past season.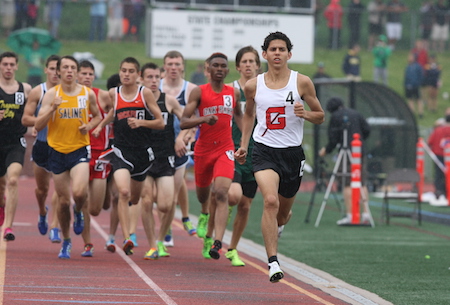 For Grant Fisher, his final day competing for Grand Blanc will be something for the record books.
Fisher won the 1,600 run with an all-Finals record time of 4:00.28, which also will place him second all-time nationally. For much of the race Fisher seemed to be running by himself, and indeed the last half he was five to six seconds ahead of his nearest competitors. Logan Wetzel (4:08.04) of Saline finished second with a time of 4:08.04, leaving Fisher to finish the race all by himself.
The 3,200 run held more drama. Senior Ryan Robinson of Waterford Mott set the pace and Fisher stalked, conserving energy by drafting. With 220 meters remaining, Fisher made his move and passed Robinson. Fisher raced down the final straightaway as if he was finishing a 200 dash, winning easily with a time of  8:53.41. Robinson was second with a time of 9:00.65.  
"I felt really good," Fisher said of his fabulous kick. "It was tough on Ryan. (Running) into the wind it, helped me tremendously to follow him. He's a great runner.
"The plan was to kick whenever necessary. I just had to gauge it."
Last week, Robinson won the Oakland County meet with a time of 8:56.6.
Fisher's time in the 1,600 crushed the previous all-Finals record held by fellow Grand Blanc graduate Omar Kaddurah. Kaddurah ran 4:07.67 in 2010.
"I never raced against Omar," Fisher said. "I thought it was incredible he ran a 4:10. It's nice to keep it in Grand Blanc. He was someone I looked up to."
Next up for Fisher, who signed with Stanford University, is a mile run in New York City in two weeks. It's a race he's competed in before, and he said it should be fun because "there's a rabbit" in the field.
Robie Webster of Ypsilanti Lincoln won both hurdles events,  the 110 with a time of 14 seconds and the 300 with a time of 38.03. Webster missed qualifying for the 110 final as a junior, then increased his offseason training to reach his goals.
"I actually hit a few hurdles (in the 110) today," he said.
Webster signed with Boston University and is looking forward to even greater challenges.
"My mom and I talked about colleges," he said. "And she wanted me to look at schools with high education and athletics. My first option was BU. I went there on two visits and knew it was the place for me."
Two more all-Finals records were broken, but by those who already held them. Grand Rapids Kenowa Hills' Donavan Brazier lowered his 800 record time to 1:48.98. Saline's 3,200 relay, made up this season of Logan Wetzel, Josiah Humphrey, Austin Welch and Kevin Hall, lowered its all-Finals record to 7:38.97.
Both records previously were set last season; Wetzel was the only Saline 3,200 relay runner who also was part of that record performance in 2014.
PHOTOS: (Top) Jaron Flournoy (middle) stays ahead of the field during a championship-winning sprint Saturday. (Middle) Grant Fisher set an MHSAA all-Finals record in the 1,600. (Click to see more from RunMichigan.com. Photos by John Brabbs.)