Record-Setter Leads Bessemer Repeat
June 1, 2019
By Adam Niemi
Special for Second Half
KINGSFORD - Bessemer earned its name.
How could the aptly named Speedboys, whose logo is a winged shoe, not win a track & field meet?
They did just that Saturday at Kingsford High School's Flivver Field.
Bessemer's 136 points were enough to comfortably win its second straight UP Division 3 Finals after taking second place in 2017.
Lake Linden-Hubbell was second this time with 67 points, edging Brimley by a point for the runner-up spot.
"They've done excellent. We have done well for the past few years," Bessemer coach Tracy Rowe said. "We took first place last year, lost by four points the year before. They're a really dedicated group of boys.
"A lot of it starts with these kids in cross country, basketball, football. They're just really good athletes. It's just not one person. You can have one student or one athlete and you're not going to win. Of the 13 who made it, all of them except two or three were doing four events. That's phenomenal. They're multi-talented."
Rapid River took fourth with 60 points, and Powers North Central was fifth with 42.
Bessemer's Uriah Aili set Division 3 UP Finals records in the 800, 1,600 and 3,200.
Aili's 800 was timed at 1:59.93, beating his own record (2:01.08) from 2018.
He set the 1,600 record with a time of 4:28.68, five seconds faster than Cedarville's Thomas Bohn ran in setting the previous record in 2018.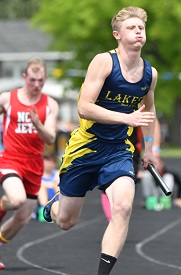 Aili's 3,200 time was 10:08.51. Wakefield's Ryan Holm had set the record in 2001 at 10:10.06. Aili's 3,200 time may have been even better had he not run the 800 shortly beforehand.
"The 800 took some of the wind out of me," Aili said. "This is my last day of high school running. It's definitely a good way to end. This means the world to me. We have such a small school, and the younger kids look up to me. Now they know what's possible."
Jamie Jett gave the Speedboys wins in the 110 and 300 hurdles. He also took fourth in the 200 and fifth in long jump.
Bessemer won the 1,600 and 3,200 relays.
"Have fun. We told them have fun, do your best," Rowe said. "If you do your best, things will fall where they should fall. You can kind of look at where the seeds are. We've had years where everything has gone wrong. A few years ago a person trips on the hurdles, and someone else sprains an ankle the week of. Keep healthy, do your best, work as a team and support each other."
Lake Linden-Hubbell won the 200 and 400 relays. Stephenson's Montell Glover won the 100 dash. Powers North Central's Leo Gorzinski won the 200. Ontonagon's Noah Lukkari won the 400 with a 52.56.
Lake Linden-Hubbell's Cole Gregorie won the high jump at 6 feet. He also won the long jump at 19 feet, 9 inches.
Bessemer's Zach Baross won the pole vault, and teammate Tyler Busch won the shot put at 47-5.50. Rapid River's Gunner Larson won the discus at 141-4.
PHOTOS: (Top) Bessemer's Uriah Aili wins the 800 on Saturday, one of three individual victories for the Speedboys standout. (Middle) Lake Linden-Hubbell's Kellen Klein carries the baton for one of his team's two relay winners. (Photos by Cara Kamps.)