Saginaw's Martin Leaps Into All-Time Elite
May 1, 2019
Sometimes greatness can come from random circumstance.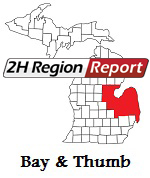 One spring day after having their basketball taken away during lunch, then-Saginaw High sophomore Tony Martin and his friends improvised by playing the game without a ball. With one of his track coaches looking on, Martin received a "pass" from a teammate, ran to the free-throw line and took off, touching the rim before returning to the ground. 
"You're long jumping at our next meet," the coach said, introducing a new event to the sprint specialist, and a star was born. 
In the two years since that fake basketball game, Martin has become arguably the best long jumper in Michigan history. He recently leapt 26 feet, 6 inches, which according to michtrack.org smashed the previous record by a Michigan high schooler of 25-2½, set by Lansing Everett's Marcel Richardson in 1988.
"I felt it when I hit the board, and when I was in the air, because I had more time in the air to move my legs and reach," said Martin of his record-breaking jump, which he achieved April 25 in a home dual meet against Saginaw Arthur Hill. "I had more of a fold in my legs when I was landing. I felt it in my spine when I was stretching. My reaction was, I looked at it and it said 26-6, and I had to look again because it's an unbelievable jump. I had to look at it again and again when they marked it." 
Martin, who opened his senior season at Saginaw by breaking the school's 45-year-old long jump record, came into the year looking to set school and state records. As the calendar turns to May, he's setting his sights farther.
"Right now, it would have to be me breaking the national record," Martin said. "It has to be the national one now, because really there's no other one. The only other thing I could think about is actually hitting the Olympic standard." 
The national high school record as regarded by the National Federation of State High School Associations (NFHS) is 26-4¾, jumped by Tulane Union, California's James Stallworth in 1989. Others consider the national record to be 26-10, set in 2009 by current San Francisco 49ers wide receiver Marquise Goodwin while a high schooler at a USA Track & Field junior championships meet. The Olympic standard is 8.22 meters, which is a little more than 26-11½.  
The MHSAA record book includes only Finals performances, and the MHSAA generally confirms records to the National Federation record committee that have occurred only during Finals, where officials are on hand to certify results and conditions including wind speed. (The MHSAA Finals record of 24-2¾ was set in 2017 at the Lower Peninsula Division 1 meet by Salem's Mason Phillips.) However, an official will be on hand at Friday's Bay City Western Invitational to monitor the long jump and certify the national record if Martin breaks it. 
Martin's 26-6 would tie for seventh all-time nationally, with only four people ever jumping farther at the high school level. Among them is United States Track & Field legend Carl Lewis, who had an official high school best of 26-8¼.  
"I've watched him jump against Mike Powell every day," Martin said of the epic 1991 showdown between Powell and Lewis at the 1991 World Championships, where Powell broke the world record. "That's what I study, that video of Mike Powell breaking the record. That's like my favorite track video ever (along with) videos of Usain Bolt. It's definitely an honor joining somebody that I've watched."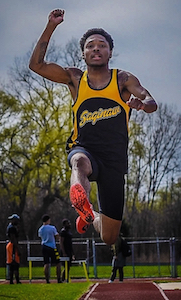 Saginaw coach DeEddie Sanders believes Martin can reach those goals. 
"He's got the potential, if he keeps working hard, to make the Olympic team," Sanders said. "That's what he wants, and I know he's going to keep working hard." 
Martin, who has signed to compete for Michigan State University, came into this season plenty accomplished. He is the reigning Division 2 MHSAA Finals champion in the long jump, and a returning state placer in the 100 (fourth) and 200 (third) meters. He was also part of Saginaw's fifth-place 400 relay team.  
Last season's Finals were a high point for his career, but also something he saw as just the beginning. 
"It was pretty exciting," Martin said. "It was emotional, because I was really tired at the state meet my sophomore year from jumping. I was not ready for the state meet at all (as a sophomore), so I had to win something (as a junior). That's my goal (this year); I have to win all three for me to be satisfied, really. That is my goal, and I feel like I really have a chance this year." 
Martin has official personal bests of 10.71 seconds in the 100 and 21.71 in the 200, although he's been hand-timed at 10.25 and 21.5. He said his goal is to get under 10.5 and 21 officially (fully automatic time), which would certainly put him in the running for a sprint double at this year's Finals. 
He should be a heavy favorite in the long jump, of course, and a lot of that can be attributed to taking a longer approach. After lining up about 80 feet from the pit in past years, Martin was urged to move backward to about 100 feet by the coaches he spoke with on his college visits. That allows him to build up more speed before takeoff. 
"Ever since I changed my mark from indoor to outdoor, because I got faster, every time I jump is a (personal record), or over my best from last year," Martin said.  
In his first meet of the season, Martin showed that off, jumping 24-¼ to eclipse his previous best of 23-4¾, and the Saginaw High record of 23-7¾ set by Larry Foster in 1974. 
"That was something that I cherished for a long time," said Foster, who went on to play football and basketball at Northern Illinois, and now lives in Atlanta. "I'm glad I was alive to see him break it. I didn't think it was going to last 45 years. I thought maybe in the 80s or 90s, somebody would break it. But my daughter, she was born in '74, and when she turned 45, I realized that was a long time. I'm so proud of that young guy. He did a fantastic job." 
Foster, who said he went to school with Martin's grandmother, said he was able to speak with Martin and congratulate him after the record was broken. 
"In a way, I was hoping it would (last) a little longer," Foster said. "But 45 years, that's long enough for me. When he goes to college, I'm going to follow him. I'm very proud of him." 
What Foster will be following is an athlete who believes he can further tap into his potential at MSU – a potential that even amazes Martin himself. 
"To me, it's unbelievable, because I'm only in high school and I've only been jumping since my sophomore year," Martin said. "I'm kind of surprising myself every meet. It's kind of unreal." 

Paul Costanzo served as a sportswriter at The Port Huron Times Herald from 2006-15, including three years as lead sportswriter, and prior to that as sports editor at the Hillsdale Daily News from 2005-06. He can be reached at paulcostanzo3@gmail.com with story ideas for Genesee, Lapeer, St. Clair, Sanilac, Huron, Tuscola, Saginaw, Bay, Arenac, Midland and Gladwin counties.
PHOTOS: (Top) Saginaw High sprinter and long jumper Tony Martin prepares to launch. (Middle) Martin is taking aim this spring at MHSAA Finals and national records. (Photos by Scott Keyes.)