Saugatuck Speedster Aiming for Historic Performance
May 12, 2021
SAUGATUCK -- Saugatuck boys track & field coach Rick Bauer frequently tosses out a nickname for one of his elite runners.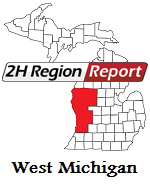 Benny "The Jet" Diaz, a junior sprinter, has definitely lived up to the moniker.
"I don't remember who gave me that nickname, but coach Bauer uses it a lot," Diaz said. "I don't mind it, and it refers to Benny and the Jets or from the movie Sandlot."
Wherever it came from, it fits, as Diaz has turned up the jets this spring on the track and blossomed into one of the fastest runners and hurdlers in the state.
Whether it's in the sprints (100, 200 or 400 meters) or the hurdles (110 and 300), Diaz possesses blazing speed and athleticism. 
"He's fast, and he was born with some talent for sprinting, but his real talent is just how hard he works at it," Bauer said. "I don't think people understand that this is a 365-day thing for Benny and his dad working on speed."
As a freshman, Diaz placed third in the 300 hurdles at the MHSAA Division 4 Finals and helped his team place second overall. 
He worked hard for another opportunity to shine in his sophomore season, but it was wiped out due to COVID-19.
"It was pretty tough, and just not being able to compete was not fun," Diaz said. 
Diaz would have to wait another year, and now his training and intense drive to succeed is coming to fruition.
Entering this week, Diaz has posted the fifth-fastest time in the state in the 100 after running a personal-best 10.85 seconds at last week's Shepherd Invitational.
He's ranked No. 2 in the 110 hurdles (14.86) and in the top 20 in the 200 dash and 300 hurdles. 
For Diaz, who also excels in football and baseball, track was somewhat of an afterthought before learning of his potential.
"In sixth grade it was something to fill my time and get faster for football and baseball," he said. "But once I was in middle school, I started seeing results and it just became more fun and I was getting better every meet.
"I started doing indoor track and competed in the winter and spring and started getting a lot better. It's become a job a little bit to try and get myself faster, stronger and better throughout the season."
Diaz's dad, Mario, has been instrumental in his son's success. He also serves as the team's sprint coach.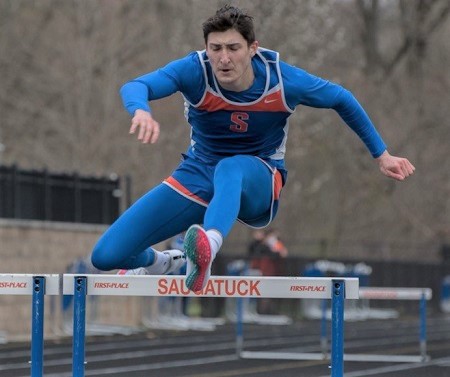 "He's definitely helped by pushing me, and we study some things together," Diaz said. "How to get a better block start, and how to strengthen my legs to get quicker and explosive. He spends a lot of his time with me working on those kinds of things, so I'm pretty appreciative of him."
Diaz also travels outside of the area and state to compete in various events.
He thrives off the challenges he faces from racing against runners with similar abilities.  
"It's been fun going up against better competition," Diaz said. "I run faster with competition because sometimes always winning isn't too fun. Competition is always fun, even if you lose sometimes, and it's just still fun going up against people who are the same or better."
While Diaz simply enjoys competing, some events stand out from the others.
"The 200 is fun because I can come off the curve and just run people down," he said. "I go past them and then separate on the straightaway. The 100 has been good to me, running under 11 (seconds), and the 400 is fun, but it hurts."
Diaz has lofty goals for this year's Finals, which will take place June 5 in Hudsonville.
The only decision now is deciding which events he's going to run.
"It's no secret what we're going after," Bauer said. "He wants to win four individual events, and that's what we're going to try and do.
"It's just a matter of which events he's going to do. Everyone has their own opinions, but we're getting there. It's a major goal to try and win four, so let's do something that very few have done."
Only eight athletes – and only two from the Lower Peninsula – have won four individual events at an MHSAA Boys Track & Field Finals.
Said Diaz: "I want to win all four of my events, and we will try to figure out what's best to get all 40 points and get the best times I can before summer track."

Dean Holzwarth has covered primarily high school sports for Grand Rapids-based WOOD-TV for four years after serving at the Grand Rapids Press and MLive for 16 years along with shorter stints at the Ionia Sentinel and WZZM. Contact him at dream100@comcast.net with story ideas for Allegan, Kent and Ottawa counties. 
PHOTOS: (Top) Saugatuck's Benny Diaz outpaces the competition in a sprint during a recent meet. (Middle) Diaz also excels at both hurdles races. (Photos by Dean Holzwarth.)