Small-School Powers Tie for LPD4 Title
May 30, 2015
By Dean Holzwarth
Special for Second Half
HUDSONVILLE – The Saugatuck boys track and field team believed it had to settle for another second-place finish at Saturday's MHSAA Lower Peninsula Division 4 Final at Hudsonville's Baldwin Middle School.
A late scoring change created hysteria among the squad.
After originally thinking it had fallen one point shy, a correction was made in the final 1,600 relay results that created a tie at the top between Saugatuck and defending champion Concord.
Both teams wound up finishing with 40 points, thus sharing the MHSAA Final crown. Muskegon West Michigan Christian placed third with 39 points.
"We saw coach Bauer run out of the tent holding up the No. 1 finger and everybody just exploded," said Saugatuck sophomore Blake Dunn, who anchored the winning 1,600 relay team. "It was so sweet, and I've never had a feeling like that before. It was amazing."
The Indians finished a distant second to Concord a year ago. They won the MHSAA Final in 2013.
"We got second last year and we were so down about it," said Dunn, who also won the 300 hurdles in a time of 39.31 seconds. "There is such a difference between second and first, and when he came out of the tent it was the greatest feeling ever.
"I ran pretty well, but it comes down to the whole team thing. Without my teammates running as well as they did, then we don't get first place. It's not all me, and every point matters."
Saugatuck coach Rick Bauer became emotional after learning his team had won after an official inadvertently forgot to factor in the results of another heat.
"We put so much into this, and this is our life," Bauer said. "And to see their reaction after they found out they won, that's really what it is about. It's a big relief, and it's like a weight getting lifted off your shoulders.
"Now they get to shave my head. I told them if they won then they could shave my head, and it's the best haircut you could ever get."
Concord used a balanced effort to share the crown and repeat.
"That was really exciting," Concord coach Mark Hersha said. "A lot of teams had a chance, so we knew we had to perform really well to give ourselves the best chance. Our kids responded pretty well, and we had a lot of kids scoring and a lot of kids performing really well."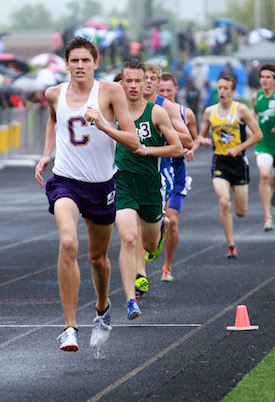 Concord graduated seven from last season, but Hersha said a group of young kids stepped up and filled those shoes.
Veteran leadership also factored in as senior Jesse Hersha won the 3,200 (9:39.87) and finished runner-up in the 1,600.
"I'm really happy for our team," Jesse Hersha said. "It wasn't as deep as last year, but we put in the work and we had a lot of guys step up when we needed it. I was happy to be a part of it and earn some points for my team today.
Harbor Springs senior Luke Anderson wrapped up a stellar career with a pair of victories. He claimed top honors in the 800 (1:57.31) and repeated in the 1,600 (4:17.77).
Anderson also took third in the 3,200.
"The only better way to cap it off would have been to run a second faster in that 1,600, but God was good to me today; I will tell you that," Anderson said. "My goal was to help my team do well, and I wanted to run a season-best in the mile. I did that, and my goal for the 800 was to win it. Not time or anything else, just win it. I couldn't be happier."
Another multi-winner was Union City senior Austin Watson, who blazed to wins in the 100 (10.96) and 200 (22.33).
He also anchored the winning 400 relay team, which clocked a 44.30.
"I've kind of had an injury-riddled season, so it was really good to end it like this on a positive note," said Watson, who won the 100 in LP Division 3 last season.
"I pulled my groin during indoor season, but it feels great because this is just what I worked for, and I got it. I knew our team had a shot to win the 400 relay, and we went out there and did that."
Southfield Christian's Blake Washington established a new LP Division 4 Final record in the 400. The senior speedster clocked a 49.34, eclipsing the old mark of 49.43 set in 2005.
"I can only thank God because he got me through this race," said Washington, who will run at the University of Michigan in the fall. "I've been battling injuries, and it was cold, but God pulled me through."
Washington, who also placed runner-up in the 200, was diagnosed with a rare condition when he was young that prevented him from walking or hearing.
"For me to actually run at all is a blessing, and for me to do what I did today is just a miracle," Washington said. 
PHOTOS: (Top) Saugatuck's Blake Dunn clears a hurdle Saturday in helping his team claim a shared LP Division 4 championship with Concord. (Middle) Concord's Jesse Hersha capped his high school career with a championship in the 3,200 to go with the team title. (Click to see more from RunMichigan.com. Photo by Janina Pollatz.)