Storms Can't Squash Inspired Performances
June 1, 2019
By Matt Schoch
Special for Second Half
ZEELAND – From great-grandparents and former coaches to a mother and a son, athletes at the MHSAA Boys Track & Field Finals became champions in honor of their loved ones on Saturday.
Take senior Emari O'Brien of Harper Woods Chandler Park, who became the 100-meter Division 2 champion at 10.97 seconds at Zeeland Stadium in honor of former coach Paul Zelmanski, who died in January.
"This whole time I've been running, he told me I was going to win it one year," said O'Brien, a Ferris State football signee who wrote "For Z" on his shoes. "Last year when I (took second place), he said next year when you come back, you're going to win it for sure.
"I've been waiting on this for the longest time, so I have to win that for my coach."
Athletes like O'Brien endured a three-and-a-half-hour delay and then another of 45 minutes as storms crept off Lake Michigan. Then, a final delay of more than two hours pushed the event to a 12-hour affair.
On the heels of three event wins, Zeeland West earned the team title with 53 points, topping Yale (37), Fruitport (33), Dearborn Divine Child (27) and Corunna (26).
"That means we have won every meet we have been to," said Zeeland West's Ethan Brooks, the only individual champion for the Dux. "It is awesome."
Zeeland West won the 400 relay at 43.51 seconds, and the 800 relay at 1:29.29.
Brooks won the 300 hurdles at 39.38, edging Fruitport junior Ethan Flores by one hundredth of a second in his quest for a second title on the afternoon. Meanwhile, Flores said he had his family, in particular his great-grandmother, on his mind in the starting blocks for the 110 hurdles, which he won at 14.53 seconds. This, despite a slow start to his spring after basketball season leaked longer than usual.
"I didn't have time to be at the track like I should've," Flores said. "I worked by myself over Memorial Day. I wanted it, and I worked really hard for it."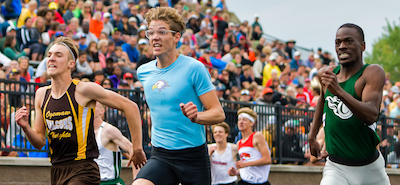 Saginaw senior Tony Martin, who is headed to Michigan State, jumped 22-11.25, winning his second straight Division 2 title. That distance came, he said, despite missing the whole board on the championship jump.
Martin credited his mother, Kishon, for pushing him through hard times this year, including a pulled hamstring that hampered his season. He also said his son, Isaiah, has been an inspiration.
Before the injury, Martin had a regular-season jump of 26-6, which is among the top all-time national jumps.
"For me to come and do what I did is pretty amazing," Martin said. "I'm just happy that I'm back and healthy."
Junior Dylan Targgart of Coldwater continued his decorated career with two more titles, repeating in the discus at 187-7, a personal record, and the shot put at 66-7.50, a Division 2 Finals record, breaking former Detroit Lions defensive lineman Anthony Zettel's 2011 mark for Ogemaw Heights (61-8).
"I had thrown my PR before the delay, so I think maybe it was a good thing since other people had to sit and wait and try and PR after that," Targgart said. "So it might've worked to my advantage that way."
Targgart is probably just being modest though – he won that competition by 14 feet and then the shot by more than six.
Rounding out the field events, junior Matt Veneziano of Parma Western won the high jump at 6 feet, 6 inches, and senior Josh DeVries of Grand Rapids South Christian won the pole vault at 15 feet.
On the track, junior Luke Brenner of Ada Forest Hills Eastern won the 200 at 22.02 seconds. Yale senior Justin Kudera won the 400 at 48.74 seconds, edging last season's champion Jacob Denison of Tecumseh by six hundredths of a second.
Otsego junior Hunter Hartman won the 800 at 1:55.56; and Corunna senior Ben Jacobs won the 1,600 meters at 4:19.79.
Jacobs also overcame a Zeeland West runner to give Corunna a win in the 3,200 relay at 7:53.20.
After the final weather delay, Dearborn Divine Child junior Anthony Hancock won the 3,200 at 9:06.65.
Yale closed the long day with the 1,600 relay win in 3:23.42 to earn second overall.
PHOTOS: (Top) Zeeland West completes a relay hand-off during its team championship run Saturday. (Middle) Runners take off to start a race at Zeeland Stadium. (Photos by Kevin Fowler. Click to see more from RunMichigan.com.)