'Small but Mighty' Gobles Aims for Finals
December 17, 2019
GOBLES — With just seven girls on her team, "we're small but we're mighty," Gobles competitive cheer coach Nicole Durr said discussing her Tigers' prospects this winter.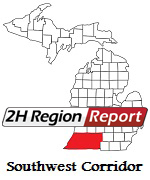 Lack of numbers have not hurt them too much in the past, with the team qualifying for Regional competition the last five years in a row.
However, this is the smallest roster in Durr's four years as Gobles head coach.
"We had 12 my first year with a big senior group," she said. "Ten the next year and nine last year."
No matter the numbers, the goal is still the same: Compete at the MHSAA Competitive Cheer Finals, this season March 6-7 at the Grand Rapids Delta Plex.
Gobles began competition at the Paw Paw CCCAM Scholarship Meet on Saturday, taking first in Division 4 and finishing fourth overall among 22 teams. The team began preparing the second week in November, and conference competition begins in January.
"Cheerleading is a very mental sport," Durr said. "It's a very long season, so it takes a mentally strong team.
"It takes good chemistry because it's a lot different sport than other sports. There's a lot of trust involved, especially in our stunting round."
Winning formula
Trust is what Brielynn Lisowski has in her teammates.
Lisowski, one of three seniors on the team with Lauren Krieger and Annika Brunner, is the flyer.
"It is scary," Lisowski said. "It's a lot of work, but when I do my job, it's not too hard. I do trust them, for sure."
The other four girls are sophomores – Maecy Bills, Alexis Diamond, Ella Miller and Jocelynn Wassenaar – and three competed on the varsity team last year.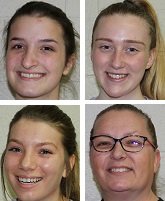 With such a small team, Durr said the girls automatically begin competition by losing 10 points.
"In Round 2, our mandate for our division is six (girls)," she said. "However, there also is a multiplier depending on the difficulty of the skills you're doing.
"Our best bet is to put five girls on, take a 10-point penalty, but our score is going to be high enough that if we did six girls with lower skills, we wouldn't score as high as we will with five."
Two of those five are the other two seniors, both bases, who have worked together the last three years – a bonus, both say.
"It's hard but I feel that's what I've been doing since middle school …," Brunner said. "Lauren and I, we have the dynamic down pretty good.
"We're used to each other and we know how each other works."
Krieger has been cheering since second grade and said it is important that the two bases have chemistry.
"Being with each other for so many years, especially not only in cheer but also being friends, we more or less understand how each other works," she said. "So if a stunt isn't going up, we know that we aren't just going to drop it; we're going to fight to keep it up there.
"Working with each other so long, we know each other's quirks. If we see a certain facial expression, then we know what to expect."
Success and wisdom
Durr brings a wealth of experience to the team. She began her coaching career 29 years ago and has served during the entirety of the MHSAA's sponsorship of the sport, which began in 1994 and continues to provide one of the few "team" competition formats in cheer/spirit in the nation.
Durr began coaching after her first year of college and led the Otsego team for 16 years, before also coaching at Allegan and Plainwell and then landing at Gobles.
"It takes a lot of work (to cheer)," she said. "I think now, more people are starting to understand that cheerleading is a sport and it's not just girls running around trying to be cute.
"They actually come in and they work really hard and they deal with injury and they deal with everything any other athlete deals with. It's a lot of work, and these girls do a really good job."
There are also pressures that come with the sport.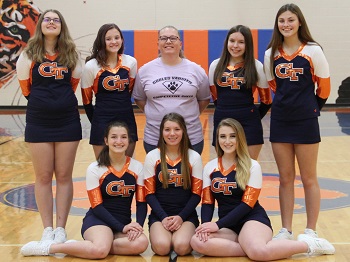 "I feel like there's a lot of pressure mentally that there isn't in other sports because we have to memorize rounds," Brunner said.
"In other sports, you build up your points. In cheer, you start at 100 and go down from there. For me, my biggest fear is to mess up."
The girls can tell if they are "messing up" by how animated their coach is during the routine.
"For me, I had a coach that was always very animated and I kinda fed off that," Durr said.
"I think the girls know sometimes if it's not going well and I'm just kind of standing back there, they're like 'Oh gosh, this can't be good.'"
Athletes are well-versed in what's expected on the way to joining the high school team. Durr's program benefits from a good feeder system in the middle school. Coach Tiffany Burnell is an Otsego grad who cheered for Durr.
"She knows how I like things," Durr said. "She's been with me since she was a sixth grader."
In addition, the high school's volunteer assistant coach, Jessi Andrina, is a nurse practitioner at DeVos Children's Hospital in Grand Rapids and structures some of the conditioning.
"We did Alma College's workout last year for conditioning," Krieger said. "Jess has us do a lot of circuit workouts while we're doing jump drills or tumbling, which really helps build our strength."
The athletes do an hour of conditioning before working on their routines.
Most also have participated in sideline cheer during the football season. But as they get older, a lot have jobs and cannot commit to two seasons, Durr said.
"In a perfect world, I would have 25 girls on my sideline team and 25 girls on my competitive cheer team," Durr said.
"I think we need a bigger school," she added, laughing.

Pam Shebest served as a sportswriter at the Kalamazoo Gazette from 1985-2009 after 11 years part-time with the Gazette while teaching French and English at White Pigeon High School. She can be reached at pamkzoo@aol.com with story ideas for Calhoun, Kalamazoo and Van Buren counties.
PHOTOS: (Top) Gobles' seven-member competitive cheer team participated in its first meet this season Saturday at Paw Paw. (Middle) Clockwise from top left: Seniors Annika Brunner and Lauren Krieger, coach Nicole Durr and senior Brielyn Lisowski. (Below) Gobles is aiming to take the next tournament step and reach the MHSAA Finals. (Photos by Pam Shebest.)