5-0 Oakridge Healing 2018 Heartbreak
By Tom Kendra
Special for Second Half
Muskegon Oakridge had an extra reason to celebrate in the rain on Friday night.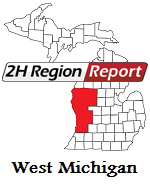 It was about more than just overcoming sloppy conditions and the never-say-die Montague Wildcats in a matchup of No. 1 vs. No. 2 in The Associated Press' Division 5 rankings. There was more to it than getting a leg up in the West Michigan Conference race with a thrilling 15-13 overtime win.
This was about overcoming two of the most heartbreaking losses imaginable one year ago – and dedicating the win to those who never got a shot at redemption.
"That win was for those seniors from last year," said Oakridge running back Leroy Quinn, a four-year starter who rushed for both of his team's touchdowns and a game-high 144 yards, putting him over 4,000 rushing yards for his career. "I love those guys, and I miss them. We all grieved together last year, and now we're celebrating for them."
Oakridge led Montague in their 2018 meeting 24-10 with 3:45 remaining, when the Wildcats roared back with two touchdown passes and then a game-winning, 2-point conversion run by Sebastian Archer with no time on the clock for a 25-24 win.
It was the type of gut-wrenching loss which is hard to shake off.
"It's a helpless feeling," said Oakridge senior nose guard and offensive tackle Will Scraver. "The only thing you can do is try to forget and focus on the next game."
Unfortunately, less than one month later, Oakridge would experience an even more bitter defeat. The Eagles' second loss had finality as it came in the MHSAA District championship game, as they squandered a seemingly safe 35-8 halftime lead in a stunning 40-37 loss to Hudsonville Unity Christian. Adding salt to the wound was having to sit home and watch Unity then roll over its next three opponents en route to the Division 5 championship.
"Sometimes it's hard to put those losses behind when you have umpteen people coming up to you at the store or the gas station asking you what the heck happened," said Harger, who is in his ninth year as the Oakridge coach after serving for 16 years under Jack Schugars, the all-time winningest coach in Muskegon-area football history.
"All we can do, as coaches and players, is to learn from our mistakes and to take care of all the little things so that we win those kind of games."
Oakridge, 5-0 and now No. 1 in Division 5 in the latest Associated Press poll, has been focused and motivated this fall – starting with a tough road test at Belding and most recently with the big revenge win at Montague.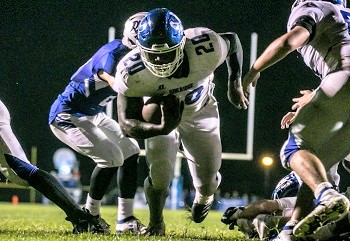 Oakridge and Montague were scoreless through three quarters and tied, 7-7, after regulation. Quinn scored from three yards out in overtime, then added what proved to be the game-winning 2-point conversion run. Montague answered with a 10-yard pass from Drew Collins to Brennan Schwarz, but Nate Fair and Corey Vanderputte stuffed the 2-point conversion attempt.
Quinn, a 6-foot-1, 233-pound battering ram, has led the way with 465 rushing yards and eight touchdowns. He now has 4,065 career rushing yards, eclipsing David Nelson's previous school record, and needs five more rushing TDs to pass Jamie Potts for that school mark.
Quinn's play thus far has been no surprise, but how quickly others have stepped up in the backfield and on the line is the reason why Oakridge is back to No. 1 in the state.
Junior quarterback Ethen Dailey (5-11, 145) has done a solid job managing the Eagles' offense, and speedy sophomore Vanderputte has emerged as the breakaway threat.
But it was the play of the offensive line, where Fair is the only returning starter, that keyed the win at Montague.
Oakridge, which lined up in a double tight end, full-house backfield look most of the game and threw only two passes (completing none), finished with a 222-70 edge in rushing yards.
"With the tradition out here, there are always new players ready to step up," said Fair, who also starts at inside linebacker. "We might not have a lot of big names on the line, but we knew we were going to be good."
Four of the Eagles' five interior linemen are seniors, with the lone exception sophomore center Derek Driscoll. The guards are seniors Josh Havermans and Jason Pego and the tackles are Fair and Scraver. Starting at tight end are junior Luke Martin and sophomore Ethan Josza.
Harger is not ready to start talking about avenging last year's playoff loss, as his team still has tough games remaining at North Muskegon in Week 7 and the final two weeks of the regular season at home against Ravenna and first-time opponent Traverse City St. Francis.
Oakridge could also have a couple of new playoff challenges close to home. While the Eagles appear a lock to be in Division 5, they may be joined by resurgent neighbor Muskegon Orchard View (on the bubble of Division 4 and 5) and Montague (on the Division 5 and 6 bubble).
"Our motto this year is: 'Exceed Expectations' and, considering the group we lost last year, these guys have done that so far," said Harger, who is 75-16 and has made the playoffs in each of his first eight years as head coach.
"This is not a real rah-rah group of kids. I think they just love to play football and with the way last year ended, they are thankful for the opportunity to come out and play again."

Tom Kendra worked 23 years at The Muskegon Chronicle, including five as assistant sports editor and the final six as sports editor through 2011. E-mail him at kendra.tom@gmail.com with story ideas for Muskegon, Oceana, Mason, Lake, Oceola, Mecosta and Newaygo counties.
PHOTOS: (Top) The Oakridge sideline celebrates late in the Eagles' 15-13 overtime win at Montague. (Middle) Oakridge senior Leroy Quinn, who became the school's all-time leading career rusher earlier this season, runs through a big hole into the end zone for a touchdown. (Photos by Tim Reilly.)