After Lean Years, Ubly Returns to Regional
November 9, 2016
Aaron Klama sat in the stands in 2008 watching his brothers play for Ubly in the Division 7 championship game at Ford Field.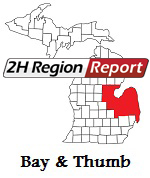 Klama was 10, and Ubly was at the peak of the strongest decade in program history. Even though his brothers and their teammates lost against Traverse City St. Francis, Klama remembers wanting to be like them. Wanting to have the same opportunity to play on that field.
There's plenty of work for Klama and his Ubly teammates left to do, but after some rough years for the program, the Bearcats are 11-0 and two wins from getting back to the pinnacle of high school football in Michigan.
"I feel like it's amazing just being able to possibly be in the same shoes as my brothers," Klama, a senior offensive and defensive tackle for Ubly, said. "Hopefully I'll be able to push my team further than they even went. But everything has just been amazing this year."
Ubly is in the middle of its best season since 2010. It will play at 1 p.m. Saturday against New Lothrop at Chesaning High School in a Division 7 Regional Final. A win sends the Bearcats to the Semifinals for the first time since 2009 and the fifth time in school history. All four of the previous trips came between 2003 and 2009, during a 12-year playoff streak for Ubly that stretched through 2012.
That streak ended in 2013, when the current seniors were freshmen. Ubly was 3-6 during both the 2013 and 2014 seasons.
"We had a couple years where numbers were really down," Ubly coach Dave Kaufman, who took over the program in 2011, said. "In (2013 and 2014), we were playing with 14 to 16 kids. We had some small senior classes.
"It was tough. We're used to being in the 20s, and the first couple years our numbers were pretty good. We had some small senior classes, and the injury bug kicked our butt, too. When you're down in numbers as it is, that's when you're starting to bring up freshmen and sophomores."
That included running back Derek Brown, who started as a freshman for the Bearcats and has rushed for 1,000 yards in each of his four seasons. It included Klama, running back and defensive back Nate Keller and several others who were playing at the varsity level as sophomores.
As much as it may have hurt at the time, getting that experience is paying dividends now.
"I think (having players play as underclassmen) helped," Kaufman said. "I think it also helps that we have a really good senior group. Some of these kids have been playing for three or four years, and that definitely helps."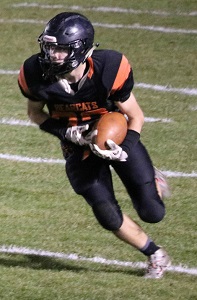 In 2015, Ubly was back in the postseason, finishing the year 7-3 and turning the program back in the right direction. What happened between the end of that season and the beginning of this one is what Ubly's players credit for their current success.
"Everybody was in the weight room all winter, and everybody wants to win on the team," Keller said. "We didn't just have two guys in the weight room; it was 15 or 16 guys in there, busting their butts.
"We had guys that would be telling everybody to get into the weight room, because we want to win more than anybody. We had a few leaders that told everybody to get in there."
After struggling as underclassmen, turning things around in 2015 and setting the tone with a strong offseason prior to this fall, Ubly had high hopes entering its Week 1 game against a tough Unionville-Sebewaing opponent.
Then the Bearcats fumbled on their first offensive play.
"It was kind of like, 'We can only go up from here, I guess,'" Keller said. "I think that just fueled the fire. We were ready to play from there."
Ubly responded, and won 28-18, showing its coach something in the process.
"That could have went the wrong way there," Kaufman said. "That told me a lot about my team right there."
His team showed him more in a 21-16 win against Cass City, a game in which the Bearcats trailed during the second half. A 54-34 win against Vassar had Ubly sitting at 3-0 after a stretch Kaufman said he would have been happy to finish 2-1.
Ubly rolled through the Greater Thumb Conference East, outscoring opponents by an average of 37.4 points per game. It has picked up playoff wins against Elkton-Pigeon-Bay Port and Unionville-Sebewaing, setting itself up for the matchup with a tough New Lothrop team.
Ubly is back where it expects to be, and it has done it the same way it did during the 2000s, by wearing on its opponents with a strong run game out of the T-formation and a strong defense.
Ubly has rushed for 3,500 yards and 51 touchdowns this season, taking advantage of an offensive line (including tight ends) that features five seniors. Brown has led the way with 1,188 yards and 18 touchdowns on the ground, while senior Jonathon Brandel has 861 yards and 14 touchdowns -- adding four receiving scores plus two interception returns and one punt return for touchdowns. Keller and junior quarterback Matt Maikzrek have combined for nearly 1,000 yards and 14 more rushing touchdowns.
"We have no problem chugging away, eating up clock," Kaufman said. "When teams haven't faced (the T-formation) in a little bit, they struggle a little bit with the keys. We try to hide the football as well as we can, and we're happy getting three, four or five yards a crack. There's not a better defense than an offense that stays on the field."
Ubly's offense is a lot like its attitude through the rough times – just keep moving forward.
"As we walk through the locker room every day, we have a little billboard that says, 'Those who stay will become champions,'" Klama said. "We slap it on the way out. The coaches even told us that if we stay and work hard, we weren't going to regret it. They always taught us about loyalty and determination."

Paul Costanzo served as a sportswriter at The Port Huron Times Herald from 2006-15, including three years as lead sportswriter, and prior to that as sports editor at the Hillsdale Daily News from 2005-06. He can be reached at paulcostanzo3@gmail.com with story ideas for Genesee, Lapeer, St. Clair, Sanilac, Huron, Tuscola, Saginaw, Bay, Arenac, Midland and Gladwin counties.
PHOTOS: (Top) Ubly's Casey Sweeney breaks through a pack against Unionville-Sebewaing this season. (Middle) Jonathan Brandel carries the ball for the Bearcats. (Photos courtesy of the Ubly yearbook staff.)