After Slight Delay, Veteran Spring Lake Impresses in Long-Awaited Launch
September 9, 2021
Spring Lake returned 17 starters and, understandably, couldn't wait to get this season started.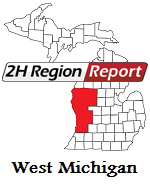 But just as the Lakers were revving up their engine for takeoff, they were idled for another week.
Spring Lake picked up a forfeit victory in Week 1 after Muskegon Orchard View decided to not field a varsity team this fall, so the Lakers put in another week of practice and then unleashed all of their pent-up energy on Zeeland East last Thursday.
Christian Folkert rushed 11 times for 211 yards and four touchdowns as Spring Lake sprinted to a 42-0 halftime lead and then cruised to a convincing 56-21 nonleague victory.
"We were so excited and pumped," said Folkert, a 5-foot-11, 195-pound senior. "We wanted to go out there and send a message and show everyone what we have this year."
After the Lakers' front line and Folkert established itself in the first quarter, senior quarterback Jackson Core (6-1, 170) did his thing in the second quarter, connecting on touchdown passes to senior Joe Westhoff and junior Derrick Paggeot.
Core finished 6-of-7 passing for 90 yards, and Paggeot had four catches for 71 yards. SL piled up 401 total rushing yards, with eight ball carriers.
The final score was a surprise to many throughout West Michigan, considering Zeeland East plays in the larger Ottawa-Kent Conference Green and has qualified for the playoffs 10 straight seasons. About the only people not surprised were Spring Lake's 19 seniors, who are used to winning – and winning big.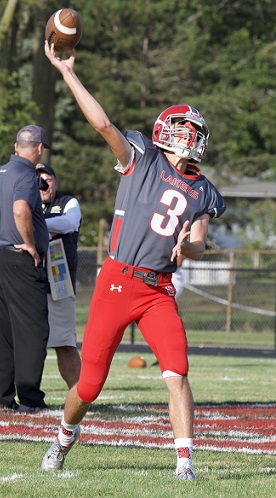 The Lakers' senior class went undefeated in seventh grade, lost one game in eighth grade (to Hudsonville Unity Christian), then went unbeaten as freshmen and sophomores – despite having five of the best players from the class playing on the varsity as sophomores. Those five who were called up in 2019 were Folkert, twin brothers and linemen Travis and Hunter Throop, RJ Lisman (C/LB) and Ty French (H-back/DE).
"Our senior class is used to winning, and that gives us confidence," explained Core, whose father, Bill, is Spring Lake's longtime basketball and softball coach. "It's not just a couple of us seniors, we have a lot guys who can play and push each other. I guess that's why we're so excited for this season."
Spring Lake broke through last season and beat Fremont (48-0) in a Division 4 District opener, snapping a 12-game playoff losing streak dating back to 2001, before falling to Ada Forest Hills Eastern (28-21) in the District Semifinal.
The bulk of that 5-3 team is back, led by Folkert, who combines size and speed – and now another intangible, according to sixth-year Lakers coach Dan Start.
"In the past, Christian was more of a battering ram who ran people over," explained Start, a former player at Grandville, who coached football in Florida before taking the Spring Lake job in 2016. "He can still do that, for sure, but he's learned how to make them miss, too. His change of direction and vision is much-improved."
Folkert is also a leader of the Lakers' 4-2-5 defensive look from his defensive end position. With Folkert and French setting the edge at the two defensive end spots and the Throop brothers plugging up the middle, Zeeland East was unable to run the ball.
Spring Lake begins league play in the rugged O-K Blue this week at Holland Christian. The real test comes over the final four weeks of the conference season at home against Hudsonville Unity Christian and Coopersville, at Grand Rapids West Catholic and at home against Allendale – all of whom are 2-0 thus far.
"We've only won one game, so we obviously have a long way to go," said Folkert, who also gave a shout out to his school's student section, which was loud and raucous for the Zeeland East game, clad in matching black shirts. "You never know what is going to happen. We have a lot of good players, but we have to go out there and ball and get it done. I mean, everyone said we were going to lose to Zeeland East and that didn't happen."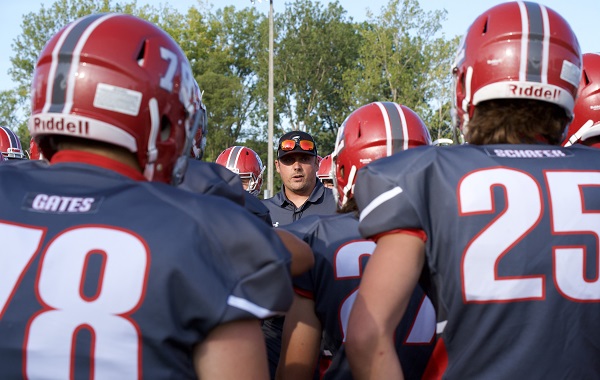 Spring Lake has had two undefeated teams during the playoff era, in 1980 and 1982, but neither qualified for the playoffs – which at that time included just 32 teams in the entire state, broken into four classes. The 1982 team was a particularly hard-luck story, posting eight shutouts in nine games and outscoring its opponents by a combined score of 266-6.
The Lakers' best playoff run came in 2000, when they made it all the way to the Division 5 championship game at the Pontiac Silverdome, losing to Jackson Lumen Christi, 42-15.
Spring Lake reached the second round the following year, but before last fall, the Lakers went "one and done" in the playoffs 11 straight times.
After snapping that skid, this year's senior-laden Lakers squad is focused on making a long playoff run.
Spring Lake is the largest school in Division 4 with 825 students, which means many of its conference opponents could become early-round playoff foes as well.
"First off, we do play in a very difficult conference," said Start, whose assistants include offensive coordinator Kyle Jewett and defensive coordinator Aaron West. "So we feel like if we can do well in our conference, then we can do well in the playoffs.
"But honestly, that is so far away. Our goal right now is to get one percent better every day. If we actually do that, the results will take care of themselves."

Tom Kendra worked 23 years at The Muskegon Chronicle, including five as assistant sports editor and the final six as sports editor through 2011. E-mail him at kendra.tom@gmail.com with story ideas for Muskegon, Oceana, Mason, Lake, Oceola, Mecosta and Newaygo counties.
PHOTOS: (Top) Spring Lake senior running back Christian Folkert breaks through a huge hole on a 57-yard touchdown run in the first quarter of the Lakers' 56-21 win over visiting Zeeland East on Sept. 3. Joe Westhoff (24) and Hunter Throop (77) provide additional blocking for Folkert, who finished with 11 carries for 211 yards and four touchdowns. (Middle) Spring Lake senior quarterback Jackson Core launches a pass during his team's win over Zeeland East. He completed 6-of-7 passes for 90 yards and two touchdowns. (Below) Spring Lake coach Dan Start, now in his sixth season, addresses his team before the start of last Thursday's game. (Photos by Kelly Gates.)