Bad Axe Sharp Again in Building on 2020 Success with 5-0 Start
September 30, 2021
When it comes to dishing out praise for the newfound success of the Bad Axe football program, those involved are doing plenty of finger pointing.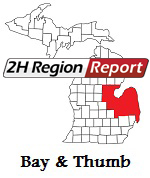 The good kind.
"I think it's all the responsibility of our head coach, coach (Kal) Pokley," Bad Axe senior offensive and defensive lineman Sam Hass said. "He was essential to our team – just his coaching skills and bringing us all together and getting us focused for our games."
Pokley pointed right back.
"It really comes down to the kids and the parents," he said. "The kids have really bought into the program. They've bought into our offense and our defense. They trust it, and they know it works. Because of that, we've been able to be more successful. They're very hard workers, and they've been willing to put in the work in the offseason."
They're both right, and now the Hatchets are reaping the benefits. After a 2020 season that saw it win a share of the Greater Thumb Conference West title and earn its first playoff victory since 1978, Bad Axe is now off to a 5-0 start, its best since 2001. 
"It's a blast to see all of our hard work pay off – all the hard work we put in through the offseason," junior quarterback and defensive back Keaton Braun said. "I think last year, winning our first league title in who knows how long, and our first playoff win and everything, it kind of puts in perspective how hard work can lead you in the right direction."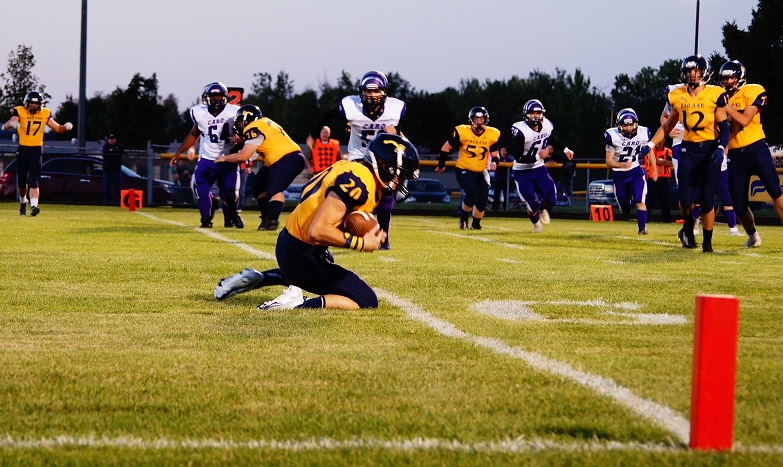 Pokley took over the Bad Axe program as head coach prior to the 2020 season, after serving as a junior high and junior varsity coach the previous four seasons. He inherited a program that had a single playoff appearance (2014) since 2001, and just nine winning seasons during the playoff era (since 1975). The 1978 team lost in the Class C Final, but the three playoff wins that season represented the only three in program history prior to 2020.
But Pokley had coached the JV team to a perfect record in 2019, and saw the potential in the players within the program. While they opened the 2020 season with a 36-6 loss to Sandusky, Pokley's optimism for the program didn't waver, and his players backed that up, showing up early for a Sunday film session following that game. The Hatchets would win their next four, not allowing a "here we go again" attitude to creep in.
"As a coaching staff, that wasn't going to be an option, so it wasn't talked about," Pokley said. "We had done some preseason polls, some meetings with the kids, and a bunch of the seniors from last year, they were very vocal early on that they weren't OK with that, and they weren't going to let that happen."
The Hatchets finished the regular season 4-2, their other loss coming against Division 8 finalist Ubly, and defeated rival Elkton-Pigeon-Bay Port Laker in the opening round of the playoffs before losing 20-17 to Hemlock in the second round. 
"It felt pretty good knowing that we had changed the culture," Hass said. "For years, Bad Axe had kind of been on the (back) end of the league. Being part of a team that kind of flipped that around felt pretty good."
That has continued into this season, as Bad Axe is perfect heading into Week 6 when it will take on another undefeated GTC West team, Reese. To get to this point, the Hatchets have ridden a balanced offensive attack and a dominant defense. After winning 42-33 in Week 1 against perennial Greater Thumb Conference contender Harbor Beach, the Hatchets have allowed just 14 points total over their past four games.
That defensive effort has been led by junior linebacker Jake MacPhee, who has 41 tackles on the season.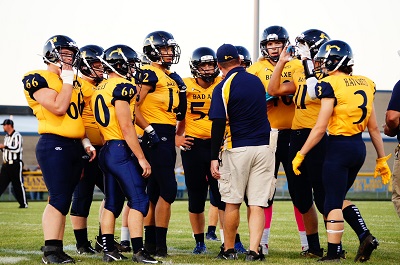 Offensively, the Hatchets have had multiple players stand out on different nights. Braun was the star against Harbor Beach, running for 165 yards and throwing for 146 more, along with two touchdowns. Griffin Meinhold (135 yards, two touchdowns) and Devyn Howard (116 yards, one touchdown) led the attack against Cass City, and Blake Talaski (82 yards, two touchdowns) handled things against Caro.
Braun is averaging an impressive 8.7 yards per carry through five weeks, and he's well behind Meinhold (16.8) and Howard (17.2), who are spitting out big plays nearly every time they touch the ball.
"They're focused, and they know they're capable as long as they're continuing to put in the hard work," Pokley said. "Up to this point, they've really been focused on doing the right things – staying after practice, watching film, staying healthy and getting good grades. It's really a blessing – I can't say enough about this group of kids."
The players said they've noticed a different energy around town and in their school, which has turned into big, excited crowds on Friday nights. 
"There are a lot more people showing up to our games," senior offensive and defensive lineman Austin Volmering said. "There's a lot more cheering, and that helps us get more momentum."
The Hatchets are hoping that momentum turns into another GTC West title, and then a longer playoff run. They aren't shying away from the biggest of goals, either, as they feel they can play with anyone lined up in front of them. After seeing some of their league mates make deep runs, there's a bit of a "why not us?" vibe in a program where that once seemed unthinkable.
"It motivates us a lot to see (Ubly, Harbor Beach and other GTC teams) getting to that stage in the playoffs, and know that a small-town team can play football with the bigger towns and bigger teams," Meinhold said. "It means a lot knowing that they can do that, and we believe that we can, too."

Paul Costanzo served as a sportswriter at The Port Huron Times Herald from 2006-15, including three years as lead sportswriter, and prior to that as sports editor at the Hillsdale Daily News from 2005-06. He can be reached at paulcostanzo3@gmail.com with story ideas for Genesee, Lapeer, St. Clair, Sanilac, Huron, Tuscola, Saginaw, Bay, Arenac, Midland and Gladwin counties.
PHOTOS (Top) The Bad Axe offense, including Noah Braun (53) and Draiden Romas (24), lines up against Caro during their Week 5 matchup. (Middle) Blake Talaski (20) pulls in a touchdown grab against the Tigers. (Below) The Hatchets are off to their best season start since 2001. (Photos courtesy of the Bad Axe football program.)