Broncos, Panthers Rally for Vulcans Hero
September 21, 2012
By Geoff Kimmerly
Second Half editor
Both North Branch football coach Patrick Forster and Birch Run coach Chris Gilliam remember facing Travis Mills when he suited up for the opposing Vassar Vulcans as a talented running back just short of a decade ago.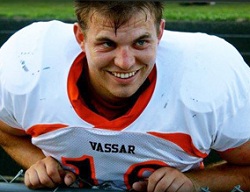 And that made them more than glad to help out the U.S. Army Staff Sergeant as he recovers from serious injuries sustained during his third tour of duty in Afghanistan.
The Broncos and Panthers and their respective communities have been raising money to assist Mills, a 2005 Vassar High School graduate who according to the web site TravisMills.org, is only the fourth quadruple amputee from the wars in Iraq and Afghanistan to survive those injuries.
Mills' parents Dennis and Cheri will be presented with a donation during a brief ceremony at halftime of tonight's Panthers/Broncos football game at North Branch High School. 
Mills currently is out of state, but according to a recent Tuscola County Advertiser report will be moving back to Vassar on Oct. 3, and will attend the school's Homecoming game two days. His incredible story and recovery have made national news, links to which can be found on his update web site along with donation directions and information.
For additional media coverage heading into tonight's event, click WJRT-12 and Lapeer Area Review.
PHOTO courtesy of TravisMills.org.