Byron Brother & Sister Teaming Up Once More
October 23, 2018
When it was announced Sunday night that Byron was included in the Division 6 playoff bracket, it wasn't a surprise for the 5-4 Eagles – but it did provide new opportunities.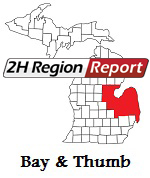 An opportunity to play another game. An opportunity to avenge a Week 1 defeat against Flint Hamady. An opportunity to stay together for at least one more week as a team.
In the Marvin household, it provided one other unique opportunity: a chance for senior TJ and his younger sister Sarah, a sophomore, to be teammates on the Eagles' offensive and defensive lines. Sarah Marvin was a captain on the Eagles' junior varsity team this year, and is among a group of players moving up to the varsity for the postseason.
"That's awesome to be able to play football with your sister," TJ Marvin said. "But to play the same positions and not have to go easy, it's good, because I can still get a good look."
It's the second straight year the Marvins have had this opportunity, and in 2017 they actually were able to line up next to each other late in the Eagles' loss to Ithaca.
When it comes to practice, being on the same field is nothing new as Byron's varsity and JV teams often practice together. That means brother and sister – who both play defensive end and offensive tackle -- not only share a field, but also get to square off throughout the season.
"It's fun," TJ Marvin said. "It's cool to be up against your sibling. Caliber of player wise, she lines up just like all the other guys, so I'm still getting a good look. It's not much different."
The Marvins get to spend plenty of time together athletically, as both are also throwers on the track & field team, along with Sarah's twin sister, Becky. Sarah and Becky also get to play basketball for their mother, Theresa, who is the Byron girls varsity basketball coach.
"Everyone in my family knows about throwing," Sarah said. "All of the sports – you can go home and talk about it, and everyone in your family understands."
Football is also a family thing, but it's something special TJ and Sarah share. They started playing while she was in first grade and he was in third, and often times found themselves not only as teammates, but also lined up next to each other on the offensive line.
Starting in the male-dominated sport was something Sarah didn't think twice about.
"I don't know if it was something that so much drew me to it. It was just that all of my boy cousins always played," Sarah Marvin said. "I have (two younger cousins, two younger brothers), an older brother and an older cousin, and we would always rough house."
Theresa Marvin said her daughter has always loved the game -- whether it be watching or playing -- and became a student of it. TJ agreed.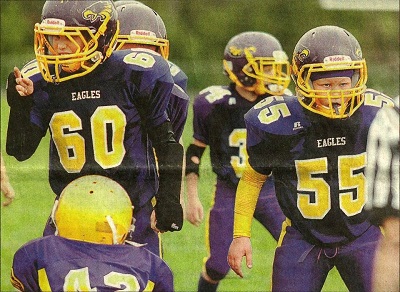 "Sometimes I'll give her tips and stuff, but she is very athletically smart," TJ Marvin said. "She knows the game, watches a lot of football and she's very good at big picture plays and seeing what's going on. Any sport, really, but especially football where there is so much going on, she really analyzes the game."
While they started playing at the same time, TJ does have plenty of experience he can pass onto his younger sister. Injuries kept him off the field for the majority of his freshman and sophomore seasons, but the 6-foot-3, 235-pound two-way starter was an all-conference selection as a junior. He also is a varsity captain this season.
Sarah Marvin already has established herself as an all-state athlete, finishing third this spring at the Lower Peninsula Division 3 track & field championships in the discus and shot put. She was also an honorable mention all-state selection in basketball during her freshman year.
Throwing appears to be her future as an athlete, and continuing to play football is something they're taking year by year.
"All through my freshman year I was dead set on it, that I'm going to play all four years," Sarah Marvin said. "I think that's changed a little bit. I had a kind of close call where a kid went to make a tackle and I was behind our running back, and he fell right into my knee. So that's the main thing, is not getting hurt."
Worrying about getting injured, however, has nothing to do with Sarah's gender.
"Sometimes I worry about it, but I don't worry about her anymore than I would other guys on the field," TJ Marvin said. "I worry about it a little bit with her coming up on varsity where there are much bigger players and it's a little more intense, but I know what she can do physicality wise and the kind of athlete she is. I worry about her getting hurt, but I worry about every one of my teammates getting hurt."
Sarah is simply a member of the team, and she says that's something that resonates through the program.
"Within my grade level and even the grade older, since I've played since the first grade, I think they're just used to it -- we're definitely just regular teammates," she said. "They don't treat me any different than the other kids; they're just out there to play football. I'd probably be annoyed if they didn't hit me as hard as they hit everyone else."
Despite that, the Marvin siblings realize their situation is unique, and they feel fortunate to be able to experience playing together for at least one more week.
"(Getting on the field together) would be a really cool thing to do," Sarah Marvin said. "Especially in his senior year."

Paul Costanzo served as a sportswriter at The Port Huron Times Herald from 2006-15, including three years as lead sportswriter, and prior to that as sports editor at the Hillsdale Daily News from 2005-06. He can be reached at paulcostanzo3@gmail.com with story ideas for Genesee, Lapeer, St. Clair, Sanilac, Huron, Tuscola, Saginaw, Bay, Arenac, Midland and Gladwin counties.
PHOTOS: (Top) TJ, left, and Sarah Marvin take the field for Byron's varsity and junior varsity teams, respectively, this season. (Middle) TJ and Sarah first teamed up nine years ago when TJ was in 3rd grade and Sarah in 1st. (Photos courtesy of the Marvin family.)