Central Lake/Ellsworth Remains Model of Football Cooperation
The year was 1989, and Dutch Essenberg was a freshman at Ellsworth High School. Playing football simply was not an option.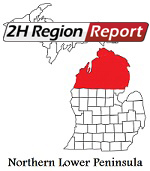 His Lancers hadn't fielded a team in years.
Little did he know that he would get the opportunity to play football his junior and senior years thanks to the vision of Hugh Campbell and Denny YoungeDyke. 
Campbell, a renowned community member of Ellsworth, and YoungeDyke, then the football coach at Central Lake, started discussing a co-operative agreement between the two schools – located just seven miles apart – about the time Essenberg was entering high school.
Also at that time, Jack Roberts became the MHSAA's executive director, a post he held for 32 years. If you ask Campbell, Roberts got there just in time. Roberts is credited with developing plans for smaller schools to sponsor cooperative teams, and his legacy also includes being a champion of 8-player football. 
The co-op produced great results immediately.  The Trojans went undefeated the first year and suffered only two losses the second. 
Today, without a co-op and the 8-player format, student-athletes at Ellsworth and Central Lake would not be playing high school football.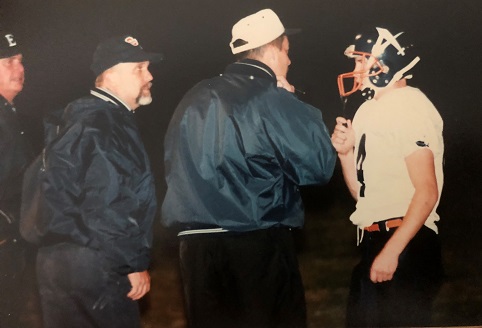 That's something of which Daryl Purdy is extremely aware. He was a senior lineman at Central Lake when the schools started playing football together in 1991. Today his son Garrett is a senior at Central Lake playing for the Central Lake/Ellsworth Trojans. And, Daryl serves as assistant coach for the team.
The Trojans share the honor of the longest-running football co-op in Michigan history with Manistee Catholic Central/Mason County Eastern, which also participates in 8-player. Central Lake/Ellsworth moved to 8-player in 2017, and immediate captured the Division 1 championship.
The Trojans are hosting Homecoming and Bellaire, a big rival, tonight on the gridiron.
"Without the co-op today, we would not have football in Central Lake - period," Daryl Purdy pointed out. "Even with the two schools combined, we have to go 8-man to be competitive.
"As much as it meant to me to play football, it means even more to me to watch my son play and be able to help assistant coach … and be there with him and share the experience with him — it is just mind-blowing to me."
The co-op is extra special for Garrett, knowing his Dad played on the first team and competed against the Lancers in other sports right after.
"It is special, that's for sure," the senior center and nose guard said.  "I am pretty good friends with everyone from Ellsworth. 
"We all have a bond that lasts after football season too," he continued. "We are still a family after football."
Purdy, the coach, agrees.
"That's what amazes me the most … the kids even then and today,"  he said. "We are a family and friends during football season. 
"And then we go turn back to warriors again during basketball and baseball season," he added. "It also makes it more special and even more competitive."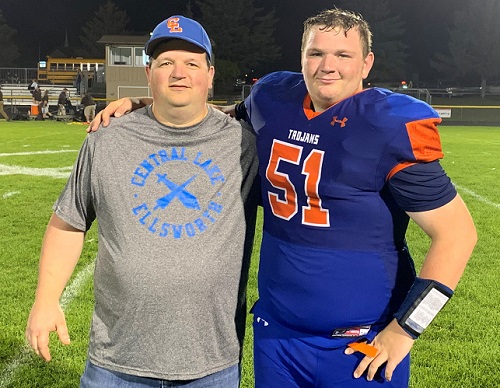 YoungeDyke, now retired, coached 17 years total at Central Lake. He was assisted in the successful co-op launch by Campbell, then the Lancers' basketball coach and now president of the Ellsworth village council.
YoungeDyke cites Campbell as the key to all of the co-op's success today. As a basketball coach, Campbell welcomed the additional training the boys could get in the fall.
"He's kind of Mr. Ellsworth," YoungeDyke said.  "His whole life has been dedicated to kids of Ellsworth."
YoungeDyke insisted Campbell come on board for the first season to help the community buy-in process.
"(Campbell) goes, 'Ah, I am not a football coach,'" YoungeDyke recalled. "I said, 'You know what Hugh, you're a coach. A coach is a coach. It's the only way it's going to work.'"
Campbell, who remained the assistant coach for nearly a decade, credits Roberts with making the co-op a reality.
"Denny (YoungeDyke) and I and some others in Central Lake had been talking about (a co-op) for a while," Campbell said. "We didn't get anywhere until the new MHSAA director (Roberts) came from Wisconsin, and he liked co-ops. It's really helped a lot of kids."
The blessing of the co-op by the MHSAA led to a new helmet melding the Ellsworth Lancers and the Central Lake Trojans featuring a Trojan sword crossing an Ellsworth lance. It was designed by the co-op's first manager, 11-year old Drew YoungeDyke, the coach's son. 
Drew went to play quarterback in the fall of 1996 and 1997 for the Trojans, alongside Nick Hopp, the Trojans' current athletic director.
The younger YoungeDyke recalls his father wanting to make sure the Ellsworth players felt welcomed in the co-op and thought a new helmet design would extend the welcome mat.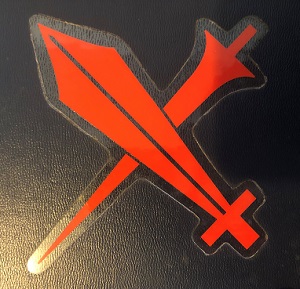 "The two mascots — the Lancers and the Trojans — just made it real simple," Drew said. "I just took a lance and I took a Trojan's broadsword, and I just crossed them.
"I was 11, and it wasn't like I was a design expert then," he continued. "I remember sketching it out in my little like Trapper Keeper. It's pretty cool to see that years later."
Many like Drew believe football in the two communities would have ended within five years had the co-op not been created. 
Central Lake/Ellsworth is 1-3 this fall after a 44-40 loss to Pellston last week, but also will be added to the MHSAA record book when this season is done after combining with Indian River Inland Lakes for the highest-scoring 8-player game in state history. The teams combined for 152 points Sept. 11 in Inland Lakes' 86-66 win.
Today's coach, Chase Hibbard, is thrilled to have nine Ellsworth student-athletes on the 23-player roster.
"If it wasn't for Ellsworth, we would not have a team," Hibbard indicated. "Every year the pool from Ellsworth is growing."
Essenberg, who played receiver, quarterback and running back, liked the idea of playing for the Trojans even if only to get him in better shape for his junior basketball season with the Lancers.
Now Essenberg hopes the co-op will provide his son Nolan with a chance to play high school football.  Nolan is 11.
"We were all kind of nervous because you know it was a rival town," Essenberg said. "I remember coach YoungeDyke saying 'if you don't like it, you can leave.'
"Nobody left."

Tom Spencer is a longtime MHSAA-registered basketball and soccer official, and former softball and baseball official, and he also has coached in the northern Lower Peninsula area. He previously has written for the Saginaw News, Bay County Sports Page and Midland Daily News. He can be reached at tomspencer@chartermi.net with story ideas for Manistee, Wexford, Missaukee, Roscommon, Ogemaw, Iosco, Alcona, Oscoda, Crawford, Kalkaska, Grand Traverse, Benzie, Leelanau, Antrim, Otsego, Montmorency, Alpena, Presque Isle, Cheboygan, Charlevoix and Emmet counties.
PHOTOS: (Top) Central Lake/Ellsworth's receivers line up during a Week 4 game against Pellston. (2) Coaches (from left) Hugh Campbell, Denny YoungeDyke and Matt Peters talk things over with quarterback Drew YoungeDyke during the 1997 season. (3) Daryl, left, and Garrett Purdy. (4) Drew YoungeDyke's helmet logo design remains a symbol of the community's football cooperation 25 seasons later. (Photos courtesy of the Central Lake/Ellsworth football program.)