Climax-Scotts '11' Playing for 1 More Run
October 16, 2018
CLIMAX — Braden Butler plans to make history twice at Climax-Scotts High School – and he is already halfway there.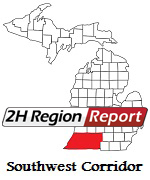 Butler and his teammates are part of the last 11-player football team at the school.
Next year, the underclassmen will make their debut in 8-player football, a first for the small school.
With just 148 students in grades 9-12, the Panthers are the smallest public school in Michigan to field an 11-player team.
Only the Detroit Catholic League's Waterford Our Lady and Clarkston Everest Collegiate have smaller enrollments.
"I'm blessed to be in the position of being on the first 8-man team for next year," said Butler, who was tagged with the nickname 'Shakespeare" by coach Kevin Langs after the 20-year coach's former nickname for him morphed from "2 B" to "2 B or not 2 B."
"I'm very happy with my teammates, with my coaches, with how we've all planned this out. It's going to be a very eye-opening experience for the rest of my life."
Although the school is small, it has been successful, qualifying for the playoffs the past 15 years. But Climax-Scotts faces a must-win scenario this week to earn one more trip before next year's switch.
The Panthers take a 3-4 record into their final regular-season game, a four-plus hour journey to Lincoln Alcona on Friday. With a 4-4 record, the team would have a chance at an at-large playoff berth. The field will be announced Sunday night.
"Fortunately, because of a couple of generous donors, we will travel on a charter bus for that trip," Langs said.
"If we can get playoffs, our season will go down in history," Butler said. "We played the top teams in the state, top-ranked teams. We've played teams that have gone undefeated until now, and we've competed against all of those teams which is honestly the best part of the season."
The Panthers defeated Martin (26-0), Adrian Lenawee Christian (62-20) and Athens (28-14), and lost to Sand Creek (27-16), Clarkston Everest Collegiate (44-38 in 2OT), Pittsford (17-16) and Breckenridge (19-0). Pittsford and Lenawee Christian joined Climax-Scotts in sharing the Southern Central Athletic Association title, and Breckenridge and Everest Collegiate won their respective leagues as well.
Sand Creek, Martin and Athens can clinch automatic playoff berths with wins this weekend.
Langs, who is also athletic director, said the school has been preparing the athletes and the community for the switch to 8-player for three years.
"It's been a process," Langs said. "Twenty-10 was the MHSAA's first year going 8-man. We've been across the state talking to the U.P., all over, trying to see what we could do to save small-school 11-man. And lost that fight.
"About three years ago, we had a community meeting because we could see this coming. We just said, 'Hey, listen. We're going to try to hold out through this year, 2018, and after that financially, physically, mentally, emotionally, we're going to go 8-man.'"
The 18 seniors on this year's team were a big reason the Panthers kept 11-player this year.
"When you go to 8, you lose six starters," Langs said "Those are a lot of young men who couldn't have played. 
"So we were willing to say, 'Hey, we're going to do it so these young men still get to play instead of taking their spots away.'"
Senior defensive lineman/fullback Hunter Mejeur has mixed feelings about missing a chance to play next year.
"I think it would be unique to play 8-man," he said. "I've never done it before, but I think it's cool to leave a legacy as the last 11-man team."
He said there are both advantages and disadvantages to small school 11-player football.
"There's no backup really. There's one backup lineman, a couple running backs," he said, adding, "The best part is getting to play a lot."
Butler said going to 8-player will be nothing new for most of the underclassmen.
"Our first year of 8-man in junior varsity, we only lost one game out of eight," he said. "Hopefully that transitions into varsity so next year we hopefully see the same outcome. I'm really excited for it."
Climax-Scotts is just one of four teams playing 11-player in the 15-school SCAA.
The others are Athens, Adrian Lenawee Christian and Pittsford.
Switching to 8-player, the Panthers will renew their rivalry with Battle Creek St. Philip.
"They're our archrivals and we haven't played them in seven or eight years, so we're excited to play them again," Langs said.
With just three league games, Langs had to find six more opponents – resulting in just one home game this season, the win over Lenawee Christian. 
The Panthers suffered a blow during that game.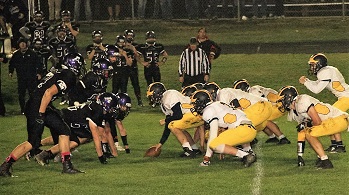 "(Senior quarterback) Jake Lane, a three-year starter, on a two-point conversion, hurt his shoulder, so he's out," Langs said. 
"We lost our center, (senior) Noah Gray, too. It's like losing your middle infield. Hopefully, it's like the old saying, 'Next brother up, next man up.'"
With an unfilled Week 4, Climax-Scotts will finish the regular season with only eight games.
 "We have been so blessed to have some successful teams over the last 20 years, so people always remember that," Langs said. "So, when you go to schedule, they're hesitant, which I understand.
"What happens is, if they're willing to play you, they're going to be really, really good or a lot bigger than you, and then they say you've got to play us at our place."
Langs said the team worked hard the last 20 years to become one of the better 11-player programs in the state.
"So now, old dog, new tricks," he said. "What can we do at 8-man? We don't know. So we're going to find out.
"I think the biggest transition is going to be the vertical spacing of the game. There's a little bit more space for people to run and you can't cover."
He compares the change to math.
"For two years I said 11-man is algebra; 8-man is geometry. They're both math, but there's a conceptual difference.
"I've noticed that I've had to get used to that, and we're slowly starting to figure out the geometry thing a little better."
Other seniors on the team are Luke Mobley, Brock Borden, Zachary Sleeman, Jordan Tutt, Cole Eshuis, Sabdiel Escobedo, David Arnett, Erik Reyes, Dylan Peck, Alec Roggow, Michael Minne, Cooper Simmons, Jason Myers, Andrew Elenga and Todd Sims.
Juniors include Blake Borden, Lane Glover, Johnny Hunter, Josiah Kenney, Geano Royle, Jackson Ling, Alexandro Rojas and Ethan Huff.
The five sophomores are Ernesto Escobedo, Nathan Peck, Cole Newton, Andrew VanMiddlesworth and Ian Strong. Jackson Lawrence is the lone freshman.

Pam Shebest served as a sportswriter at the Kalamazoo Gazette from 1985-2009 after 11 years part-time with the Gazette while teaching French and English at White Pigeon High School. She can be reached at pamkzoo@aol.com with story ideas for Calhoun, Kalamazoo and Van Buren counties.
PHOTOS: (Top) Climax-Scotts' defensive front breaks toward the play during a Week 1 win over Martin. (Middle) From top, coach Kevin Langs, junior Branden Butler and senior Hunter Mejeur. (Below) The Panthers' offense is on the move against Athens in Week 7. (Action photos by Mary Longman; head shots by Pam Shebest.)