'Coach Dad' Angers Takes Time to Be Fan
February 21, 2020
By Tom Spencer
Special for Second Half
For the second time in four years, Jerry Angers walked onto Ford Field last fall with his Maple City Glen Lake football team seeking an MHSAA Finals championship.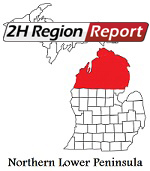 It is not likely he'll do so again.
The next time he sees those athletes play who he led to the Finals in 2016 and 2019, they will be suiting up all over the Midwest and possibly country for college football competition. It may even be in professional football stadiums, as some of his former players have experienced.
Angers announced his plans to step down as the Glen Lake head football coach at the end of an 11-year run with a 74-42 record. After the 7-0 loss to Monroe St. Mary in November's Division 6 championship game, he made the difficult decision many MHSAA coaches face.
He's putting his family, and in particular son Duke, first.
The younger Angers plays football for Saginaw Valley State University. He'll be starting his junior campaign in August, and "Coach Dad" (as Duke calls him) will be there watching every game and supporting his son. At the same time, Jerry will watch several others he coached play with — and against — his son's Cardinals team.
The younger Angers is one of 70 football players Coach Dad has mentored in high schools all over Michigan who have gone on to or will play college football. Duke plays H-back and tight end for the Cardinals. Two current Lakers, Ben Kroll and Jonathan Wright, are headed to SVSU next year to play with Duke. A few other Glen Lake grads from the team that fell in the 2016 Division 6 Final, 26-14 to Jackson Lumen Christi, also are playing at the college level. That gives Coach Dad lots of chances to see his former players compete.
In particular he's excited to see Cade and Drew Peterson when Grand Valley State University and the Cardinals meet in Great Lakes Intercollegiate Athletic Association play, although the Peterson brothers will be on the opposing sideline.
Like many were, Duke was a little stunned by his Dad's decision.
"His first comment was, 'Dad, those kids need you more than I do,'" Jerry Angers recalled. "I told him I need to be there for you."
Angers will continue as a teacher at Glen Lake and head up the Lakers' strength and conditioning program and serve as the assistant track coach.  He's excited to have a little more time to travel with his wife Kathy, and to just watch football and visit his daughter Megan in Denver.
"Thankfully, Coach Angers isn't going anywhere," said Lakers athletic director Mark Mattson. "He will still play a very important role in our school and for our students, regardless of whether or not they participate in sports. While I am still somewhat shocked by Jerry's decision, I am not completely surprised because I know how hard it has been on him to not spend more time with his family. He has tried to give his all to Glen Lake and his family."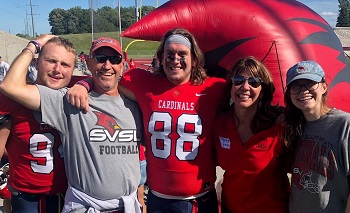 Mattson's thoughts sum up the reaction to Anger's decision, Coach Dad believes.
"Everyone has been very supportive here from the administration, the community, the players to the staff," Angers said. "I am still here and will continue to do all the other things I've been doing."
As Coach Dad looks to next football season, he is hoping to continue playing a special role for another one of his former players, Keegan Royston. Keegan's father, Eric, a long-time MHSAA basketball and soccer referee and educator in the Lansing and Traverse City areas, died in 2019 after a lengthy battle with pancreatic cancer.
Angers is taking the senior long-snapper down to SVSU in the near future. The Cardinals have their eyes on him for next year's team. Angers and Royston will be having dinner with the three other Cardinals football players with ties to Glen Lake.
"I am looking forward to it," Angers said. "Before Eric passed away, he told me Keegan is going to need a strong role model to look up to. It's pretty special for me as a coach to have this opportunity to help."
Angers' coaching career included stops at Bay City Handy, Traverse City Central, Traverse City West, Royal Oak and Waterford Kettering. A handful of his former players made it to the National Football League. He admits it is awesome to know he played a role in their development, but all of his former players are special to him.
"Ah, 'Coach' – that is the word, the label you always want and love to hear," Angers said. "It is something to run into former players and get a greeting with 'Hey coach!'"
And while Angers won't be coaching Glen Lake in the fall, he is certain the Lakers will continue to raise the bar and find new ways to clear it.
"I believe the Lakers will continue to rise," he predicted.
"They're not going to fall off one bit. They are a great bunch of kids. And they want to compete."

Tom Spencer is a longtime MHSAA-registered basketball and soccer official, and former softball and baseball official, and he also has coached in the northern Lower Peninsula area. He previously has written for the Saginaw News, Bay County Sports Page and Midland Daily News. He can be reached at tomspencer@chartermi.net with story ideas for Manistee, Wexford, Missaukee, Roscommon, Ogemaw, Iosco, Alcona, Oscoda, Crawford, Kalkaska, Grand Traverse, Benzie, Leelanau, Antrim, Otsego, Montmorency, Alpena, Presque Isle, Cheboygan, Charlevoix and Emmet counties.
PHOTOS: (Top) Recently-retired Maple City Glen Lake football coach Jerry Angers, with wife Kathy, son Duke and daughter Megan during Duke's Lakers career. (Middle) Angers attends one of Duke's games at Saginaw Valley State University with his family. Duke is No. 88 and his roommate Jake Dorn also is pictured. (Photos courtesy of the Angers family.)